Scott King
You're My Favourite Artist
The Vinyl Factory
SOLD OUT
Out of stock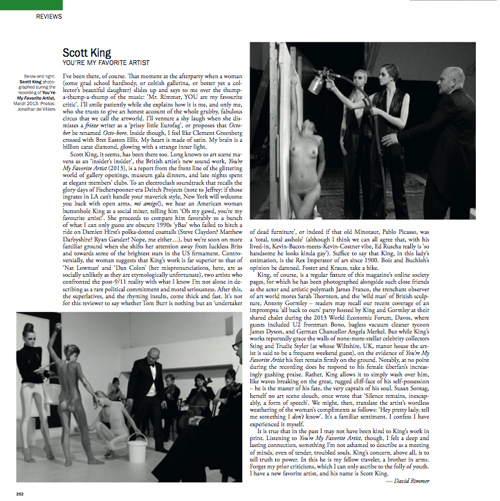 * Limited edition of 100 copies
* Hand numbered and signed by the artist
* Concept, artwork and lyrics by Scott King
* Mastered for vinyl by Noel Summerville at 3345
* Pressed on 180-gram black vinyl on the EMI 1400
The Vinyl Factory has collaborated with legendary creative director and British artist Scott King to release his first record, an art-world send up and celebrity satire called 'You're My Favorite Artist'.
Invited to make a record by The Vinyl Factory, Scott King recruited old friend  James Fry (Earl Brutus), producer Tim Larcombe and singer Polly Martyn to create a song based on a real experience King had in New York.
'You're My Favorite Artist' is a dance track with a difference, a bitter and sweeping comment on celebrity, success and 'phoniness' in the art world.  The sleeve is an imagined and glowing review of 'You're My Favorite  Artist' from New York art bible Artforum – an excitable hack fawning  over King's 'new sound work' in a world defined by pretentious art dinners, charity events and celebrity suck up.
About Scott King:
Scott King was born in 1969 in Goole, Yorkshire, England. Past work includes: Art Director of i-D and Creative Director of Sleazenation magazines. King has also created record sleeves for the Pet Shop Boys, Suicide and Morrissey.
For over 15 years King has produced work under the banner 'CRASH!' with writer and historian Matthew Worley and more recently has collaborated with artist Matthew Darbyshire under the  banner 'Ways of Sitting'.
King's work has been exhibited extensively worldwide at such institutions as the ICA and the Barbican,  London; Kunst-Werke Berlin; The State Hermitage Museum, St Petersburg,  Museum of Contemporary Art, Chicago and the Museum of Modern Art, New York.
THIS EDITION HAS NOW SOLD OUT.