Published on
April 9, 2013
Category
News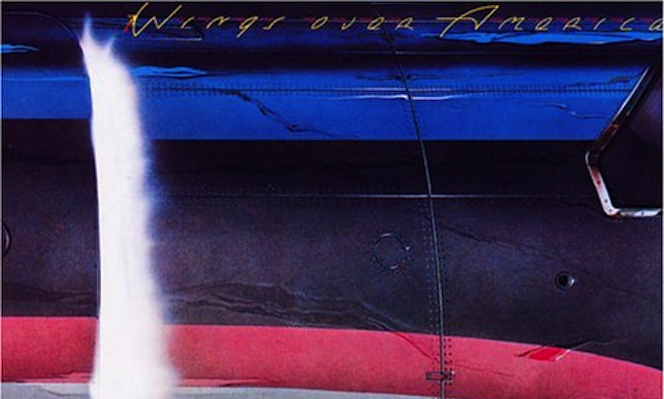 The latest in a drawn out series of McCartney solo reissues, details about the 1976 live album Wings Over America have leaked with the release expected on 28th May.
Although as yet unconfirmed, news of the reissuse has been circling for some days, with Vintage Vinyl News reporting (via Billboard) that the release will come in a series of formats, from hi-res digital to triple LP vinyl.
While all but ten songs were written by Paul and Linda McCartney, Wings Over America caused a degree of controversy when Paul elected to reverse the songwriter credits on the old Beatles tracks from Lennon-McCartney to McCartney-Lennon.
VVN go on to report that the new reissue will include 8 previously unreleased live tracks from the tour's San Francisco date. Of course, there will also be a bunch of other extras included which you can peruse at your leisure below, the coolest of which are undoubtedly the 80-pages of drawings by Humphrey Ocean capturing Paul and Linda's off-stage life.
Track List:
Disc 1 (Standard / Deluxe / LP)
Venus And Mars / Rock Show / Jet
Let Me Roll It
Spirits Of Ancient Egypt
Medicine Jar
Maybe I'm Amazed
Call Me Back Again
Lady Madonna
The Long And Winding Road
Live And Let Die
Picasso's Last Words
Richard Cory
Bluebird
I've Just Seen A Face
Blackbird
Yesterday
Disc 2 (Standard / Deluxe / LP)
You Gave Me The Answer
Magneto And Titanium Man
Go Now
My Love
Listen To What The Man Said
Let 'Em In
Time To Hide
Silly Love Songs
Beware My Love
Letting Go
Band on the Run
Hi Hi Hi
Soily
Disc 3 (Deluxe only)
Let Me Roll It
Maybe I'm Amazed
Lady Madonna
Live And Let Die
Picasso's Last Words
Bluebird
Blackbird
Yesterday
Extras (Deluxe Only)
80 pages of drawings by Humphrey Ocean
60 pages of exclusive photos from the diary of the tour by Linda McCartney
136 pages telling this tour anthology (programs, pictures, memorabilia, lyrics, notes …)
8 unreleased tracks recorded live at the Cow Palace in San Francisco
a DVD featuring the legendary film of 75 minutes "Wings Over The World".