Published on
April 16, 2015
Category
News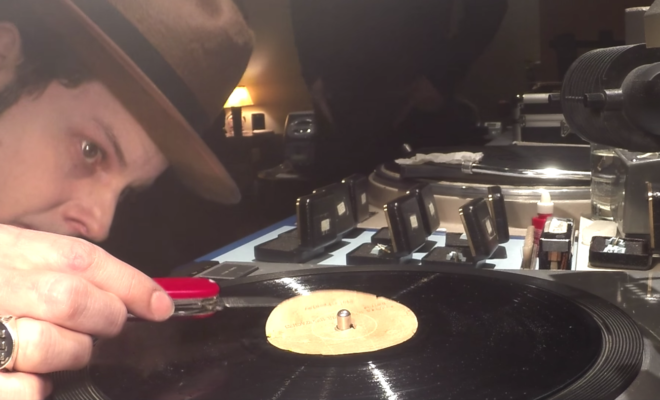 Earlier this year, Jack White revealed himself as the anonymous buyer of Elvis Presley's first ever recording.
Purchased at auction for a staggering $300,000, the 10″ acetate of 'My Happiness' and 'That's When Your Heartaches Begin' was recorded in Sun Records studio in Memphis in July 1953 when Elvis was just 18 years old.
Intending to share the recording with the world with a reissue on Third Man Records for Record Store Day this weekend, Jack White has unveiled a fascinating video of the vinyl-to-digital transfer, overseen by curator at Nashville's Country Music Hall of Fame and Museum Alan Stoker.
A lovely insight into one of the rarest records of all time, White investigates the record, to discover that the centre label was in fact a taken from a Prisonaires release which was just flipped over and re-used.
Watch the video below:
As well as releasing the single, Third Man will also be inviting fans to follow in Elvis' footsteps and record themselves to acetate as part of the day's celebrations. Last week Jack White unveiled plans for a new documentary series charting the influence of the gramophone on American music. [via The Guardian]