Published on
June 5, 2013
Category
News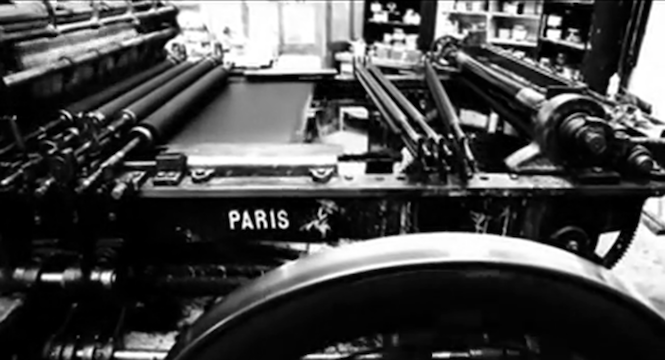 Maverick director and musician David Lynch has cast his surrealist lens on Paris's 19th century print house Idem.
Entitled Idem Paris, the eight minute film is an intimate document of the manual and mechanical processes of lithograph print making in the iconic Montparnasse atelier. Lynch is the latest to add his name to the list of artists to use the studio built by the printer Emile Dufrenoy in 1880, which reads like a who's who of 20th century European art: Matisse, Picasso, Miro, Braque, Chagall, Léger and many more all turned to Idem's steam powered flat-bed machines to produce their historic work.
Having been invited to visit the print works – which continues to operate with the same 19th century machinery today – by Hervé Chandès of the Fondation Cartier, Lynch was so mesmerised by the artistic processes of lithograph making and the unique atmosphere he perceived amongst the ancient wrought-iron presses that he was compelled to make the film. Here's how he describes the experience:
I see this incredible place, and I get the opportunity to work there. And this was like a dream! It just opened up this brand-new world of the lithography and the magic of lithography, the magic of the stones. And it was a great, great thing! This thing of lithography, this channel of lithography opened up and a bunch of ideas came flowing out and it led to about a hundred lithographs. I will say that Idem printing studio has a unique, very special mood, and it is so conducive to creating… It's a combination of the stone, the place, the people, this mood, and out comes these certain ideas.
Watch the beautifully shot, black and white film below:
Lynch's new album A Big Dream is out on July 15th.
[via Open Culture]