Published on
September 3, 2014
Category
News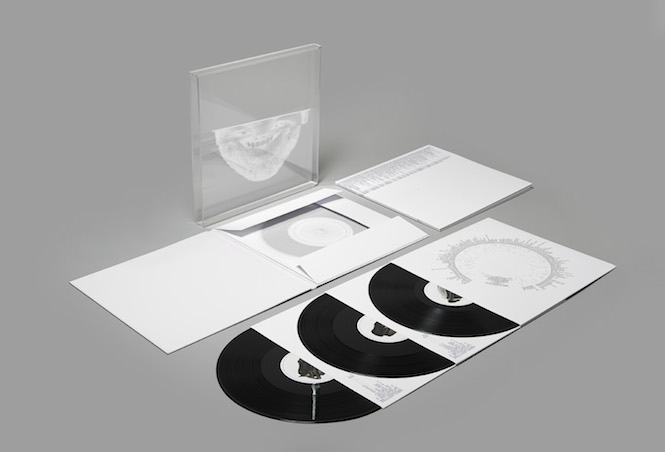 Following weeks of teaser marketing, including a blimp gliding over London and graffiti in New York streets, the artwork and packaging for Aphex Twin's eagerly anticipated album, Syro, has been revealed.
The first Aphex Twin album since 2001, Syro has been surrounded by mystique and teasing publicity. What we do know is that it will be released on triple-vinyl with a limited edition triple-vinyl available for ballot winners. And now details have emerged that the artwork and packaging has been created by The Designer's Republic, a graphic design studio with close ties to Warp. Lucky limited edition vinyl grabbers will see the stunning perspex package (displayed above) join their collection, which includes a bonus track that is pressed into fabric (see below). A unique feature on both vinyl editions of Syro is the inclusion of every production cost and a 'disinfographic' outlining all the equipment used in making the album.
Ian Anderson, founder of The Designer's Republic, explains how early conversations with Richard James (Aphex Twin) gave way to three ideas behind the packaging: "At the beginning of the process we discussed a few ideas Richard wanted to explore – one was the idea of pressing the album or a single track into the fabric of the cover, effectively as a deboss; a second was to use shots of the raw vinyl pucks albums are pressed from; and the third was to document in some way every cost involved in the production of the specific album format the purchaser had in their hands."
Syro will be released on 22nd September, pre-order it here, and scroll through the images of the artwork and packaging below (via Creative Review).