Published on
October 19, 2016
Category
News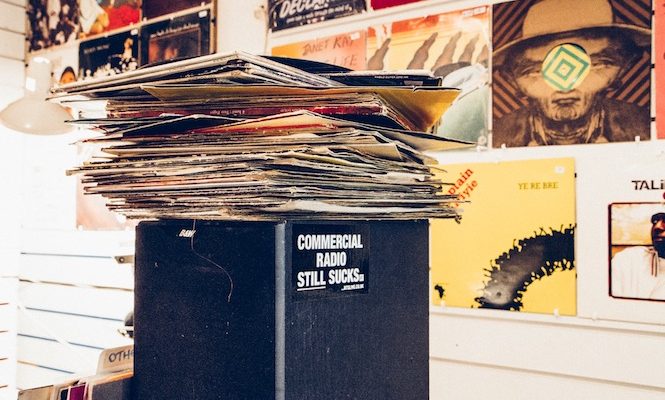 An atmospheric session.
While we do our best to keep on top of all the new releases and reissues in our weekly top new records list, sometimes you just need a little more space to let the music breathe. Continuing our monthly residency at Soho Radio, you can listen to the show in full below.
For those of you who don't know, our Soho Radio show is recorded at midday on a Monday, and as such, sometimes we're still a little sleepy. It's safe to say that this month's show was dreamier than most.
It show begins with the last in Trevor Jackson's wonderful nine-EP Playgroup series, featuring a young Kieran Hebden aka Four Tet on guitar, new music from Buchla disciples Suzanne Ciani & Kaitlyn Aurelia Smith on RVNG and the latest of Music From Memory's fantastic outer-national reissue comps.
We also play music from The Vinyl Factory's Infinite Mix show, and the first solo project from former Sigur Rós member Kjartan Sveinsson as well as new music from D.D. Dumbo, Azymuth and Romare and a brace of '70s erotic film soundtracks to get the pulse racing.
---
Tracklist:
Playgroup – Little Things (Yes Wave)
Suzanne Ciani & Kaitlyn Aurelia Smith – New Day (RVNG. Intl)
Roberto Musci – Nexus On The Beach (Music from Memory)
Yves Tumor – The Feeling When You Walk Away (PAN)
D.D. Dumbo – Walrus (4AD)
The Comet Is Coming – Journey Through The Asteroid Belt (Leaf)
Patrick Cowley & Candida Royale – Candida Cosmica (Dark Entries)
Alden Shuman ft. Linda November – I'm Coming Home (The Devil In Miss Jones theme) (Janus)
Masahiko Sato – Belladonna (Finders Keepers)
Anna – Systems Breaking Down (Be With records)
San jay ft. Shelly Belly – Belleh (The Vinyl Factory)
Yaroze Dream Suite ft. Hannah Mack – In The Moonlight (Local Action)
Shabaka and the Ancestors – Mzwandile (Brownswood)
Azymuth – Villa Mariana (Pela Madrugada) (Far Out)
Laraaji – The Dance #1 (EG Editions)
Kjartan Sveinsson & Ragnar Kjartansson – Der Klang Der Offenbarung Des Göttlichen (Part II) (Bel-Air Glamour records / The Vinyl Factory)
Vangelis Katsoulis – Enigma (Young Marco remix) (Into The Light)
Tiff's Joints 001 – Batuki (Tiff's Joints)
Romare – Who Loves You (Ninja Tune)