Published on
September 3, 2013
Category
News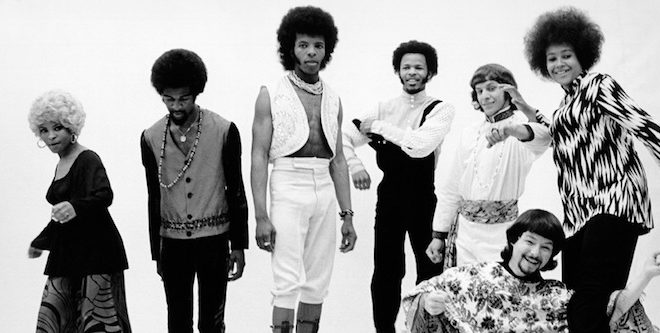 Blood's thicker than mud.
Sly and the Family Stone's long-awaited retrospective box set Higher! has landed as a lavish 8LP box set to rival the best of them. Released to celebrate the incomparable Sly Stone's 70th birthday (who recently told The Guardian he's planning a comeback with an all-albino band), the set showcases 17 unreleased tracks among the 77 to be spread liberally across eight heavyweight vinyl LPs.
Among the unreleased material are unheard early versions of classic tracks, and concert performances as well as rarities from Sly Stewarts' pre-Family Stone period, studio outtakes, and instrumentals, which will sit alongside classics like "Family Affair", "I Want To Take You Higher!", "Underdog" and "Thank You (Falettinme Be Mice Elf Agin)". Having appeared on previous Sly anthologies, the iconic "Don't Call me Nigger, Whitey" from the band's 1969 breakthrough album Stand! is one of the few tracks conspicuous by its absence.
Released on Epic/Legacy the box set will also include a 104-page, 12-inch book of rare photographs and memorabilia, and extensive liner notes by Jeff Kaliss, who says of the box set that "refracted in these treasures are colors you may be unused to seeing in Sly: old R&B, jazz, nursery rhymes, gospel, and even country, fused and transformed by a precious visionary and his fellow musical alchemists."
Higher! is out now and you can pre-order here.