Published on
December 12, 2016
Category
News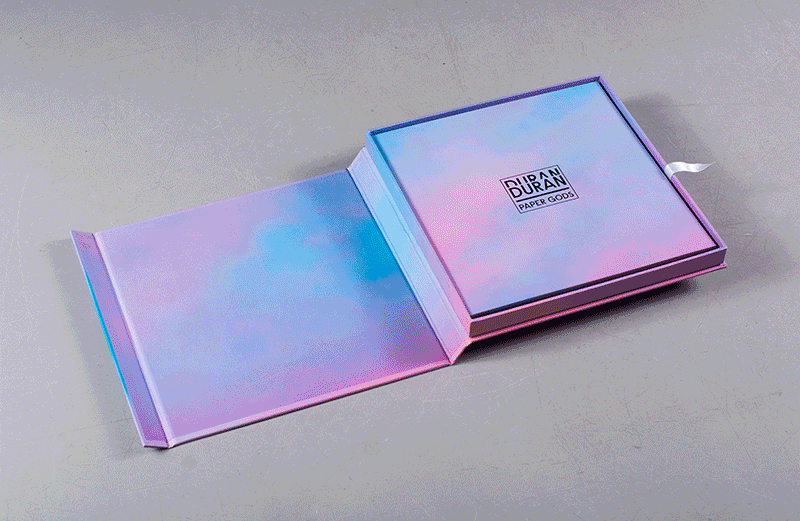 A true collector's item.
"This record really goes back to that strange early Duran mix: the hard-edged pop coexisting with the dark, weird and experimental," says John Taylor of the album's development.
Working with renowned LA-based artist Alex Israel, the stunning box set release of Paper Gods seeks to replicate that unease. Mining Hollywood for inspiration as "the world's primary desire factory", Israel's artwork encourages fans to search beyond perceptible positivity for signs of darkness in the artwork.
Custom-made under the the creative direction of China Chow, the magnetic box – a reproduction of Israel's "Sky Backdrop" painting – comes with a set of seventeen wilfully naive kiss-cut magnets representing various stages of Duran Duran's storied career, allowing fans to build their own record covers by attaching them to the sleeve.
It's a design which reflects the making of the record. "We're fortunate to be able to be inspired by our own back catalogue," says Roger Taylor, allowing Israel to embrace a style that exudes the hygienic optimism of celebrity culture, while allowing viewers to unpack its darker, Gothic undertones.
A stunning piece of contemporary design, the four-LP white vinyl edition is housed in a clamshell box set that includes four screen-printed Rainbow mirri board prints, a thirty-six page booklet, and a certificate hand-signed by Israel and the whole band. It is the only product to collect the complete set of songs recorded for the Paper Gods sessions, including exlusive versions of 'Pressure Off' and previously unreleased track 'As Seen From A Distance.'
With pre-orders now shipping, explore the gallery below to see the release in more detail and order your copy here.