Published on
July 9, 2019
Category
News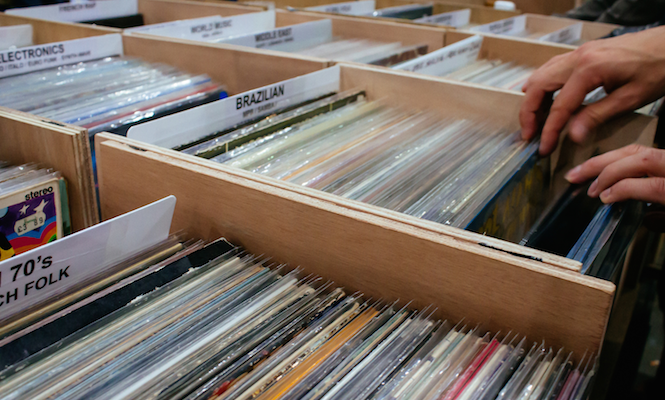 "We are the champions…" (Again.)
The UK's top 40 best selling vinyl albums and singles from January to June 2019 have been announced by Official Charts.
In albums, Queen have once again topped the list with their Greatest Hits LP selling 15,700 copies. The group was followed Billie Eilish with her debut LP When We Fall Asleep, Where Do We Go?, Joy Division's Unknown Pleasures, which celebrated its 40th anniversary this year, and Lewis Capaldi's Divinely Uninspired To A Hellish Extent.
Meanwhile in singles territory, Liam Gallager came through at number one with 'Shockwave'. The singer was followed by New Order's 'Ceremony', David Bowie's 'Boys Will Keep Swinging', Idles' 'Queens', and Bowie alongside Rebels with 'Revolutionary Song'.
Check out the top 10 best sellers below, and head here for the complete lists.
UK's best selling vinyl albums: January – June 2019
1. Queen – Greatest Hits
2. Billie Eilish – When We Fall Asleep Where Do We Go
3. Joy Division – Unknown Pleasures
4. Fleetwood Mac – Rumour
5. Lewis Capaldi – Divinely Uninspired To A Hellish Extent
6. Pink Floyd – The Dark Side Of The Moon
7. David Bowie – Legacy
8. Various Artists – The Greatest Showman soundtrack
9. Foals – Everything Not Saved Will Be Lost Part 1
10. Nirvana – Nevermind
UK's best selling vinyl singles: January – June 2019
1. Liam Gallager – 'Shockwave'
2. New Order – 'Ceremony'
3. David Bowie – 'Boys Will Keep Swinging'
4. Idles – 'Queens'
5. David Bowie & Rebels – 'Revolutionary Song'
6. Noel Gallagher's High Flying Birds – 'Wait And Return'
7. Kate Bush – 'Cloudbusting'
8. Morrissey – 'Wedding Bell Blues'
9. U2 – 'Euphoria'
10. Queen – 'Bohemian Rapsody'