Published on
May 23, 2018
Category
News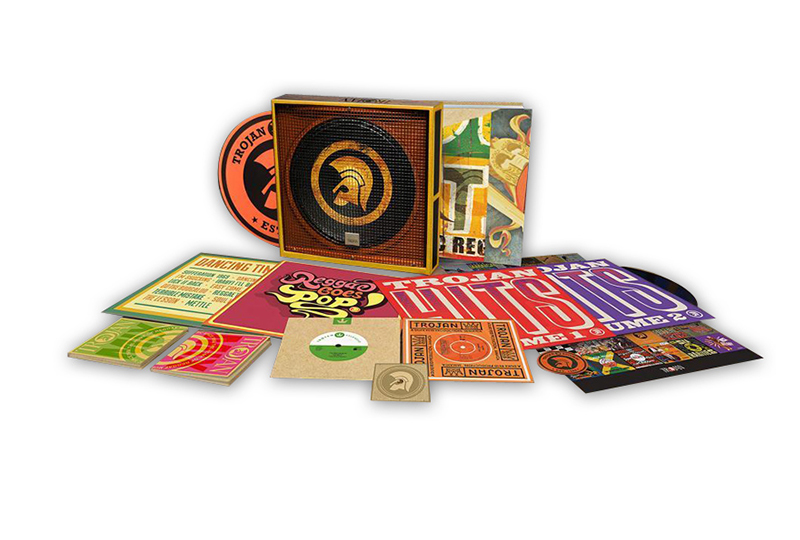 With hits and rarities from Desmond Dekker, The Upsetters, The Ethiopians and more
Iconic UK imprint Trojan Records has a new 50th anniversary box set on the way, this June.
Read more: An introduction to Lee Scratch Perry in 10 records
Established in summer 1967 as a sub-label by Lee Gopthal and Island Records' founder Chris Blackwell, the Trojan was instrumental in bringing reggae sounds to Europe in the seventies.
During its heyday, Trojan released hundreds of records including music by Desmond Dekker, Toots and the Maytals, Bob & Marcia, and The Ethiopians.
Trojan Records' 50th anniversary box set includes hits alongside rarities, as well as two recordings from new label Trojan Reloaded, with 4xLPs, 2×7″ singles, 2xCDs, a 50 page book, a Trojan slipmat, and a Trojan 7″ single adapter.
Pre-order a copy here ahead of its 29th June release, and check out the track lists below.
Tracklists:
Trojan Hits Vol.1 LP
Side A
1. Red Red Wine – Tony Tribe
2. Return of Django – The Upsetters
3. Skinhead Moonstomp – Symarip
4. Long Shot Kick De Bucket – The Pioneers
5. Liquidator – Harry J Allstars
6. Sweet Sensation – The Melodians
Side B
1. To Be Young Gifted and Black – Bob & Marcia
2. Monkey Man – The Maytals
3. Love of the Common People – Nicky Thomas
4. You Can Get It If You Really Want – Desmond Dekker
5. Black Pearl – Horace Faith
6. Double Barrel – Dave & Ansel Collins
Trojan Hits Vol.2 LP
Side A
1. Rain – Bruce Ruffin
2. Pied Piper – Bob & Marcia
3. Black and White – Greyhound
4. Monkey Spanner – Dave & Ansel Collins
5. Let Your Yeah Be Yeah – The Pioneers
6. Moon River – Greyhound
Side B
1. Give and Take (Give a Little, Take a Little) – The Pioneers
2. I Am What I Am – Greyhound
3. Suzanne Beware of the Devil – Dandy Livingstone
4. Big Seven – Judge Dread
5. Everything I Own – Ken Boothe
6. Help Me Make It Through the Night – John Holt
Dancing Time LP
Side A
1. Sufferation 1969 – Justin Hinds & The Dominoes & Tommy McCook & The Supersonics
2. Dancing Time – Desmond Dekker & The Aces
3. I'm Shocking – The Ethiopians
4. (Baby) I'll Be Yours – The Gaylads
5. Lick It Back – Winston Samuels
6. Easy Come, Easy Go – The Pioneers
Side B
1. Do the Boogaloo – The Maytals
2. Soul Love – Joey & Group & Tommy McCook & The Supersonics
3. Reggae to Jeggae – Tommy McCook
4. Terrible Mistake – Eric Morris
5. The Lesson – The Teacher Man & Tommy McCook & The Supersonics
6. Mettle – The Pioneers
Reggae Goes Pop! LP
Side A
1. What Am I to Do – Tony Scott
2. Got to Come Back – Delano Stewart
3. Feel a Little Better – Lloyd Parks & The Techniques
4. Fire and Rain – The Gaylads
5. Lonely Man – Dave Barker
6. Weep – Bob Andy
Side B
1. Funny – Rupert Cunningham
2. Working On It Night and Day – The Aces
3. Suzanne Beware of the Devil – Nicky Thomas
4. A Little Bit of Soap – The Pioneers
5. Lord Pity Us All – Martin Riley
6. Come On Girl – Jackie Edwards
7"
1. You Have Caught Me – The Melodians
1. The Little That You Have – Justin Hinds & The Dominoes
7"
1. Real Reggae Music – Reggae Roast Soundsystem
1. Real Reggae Music – Reggae Roast Soundsystem