Published on
March 12, 2018
Category
News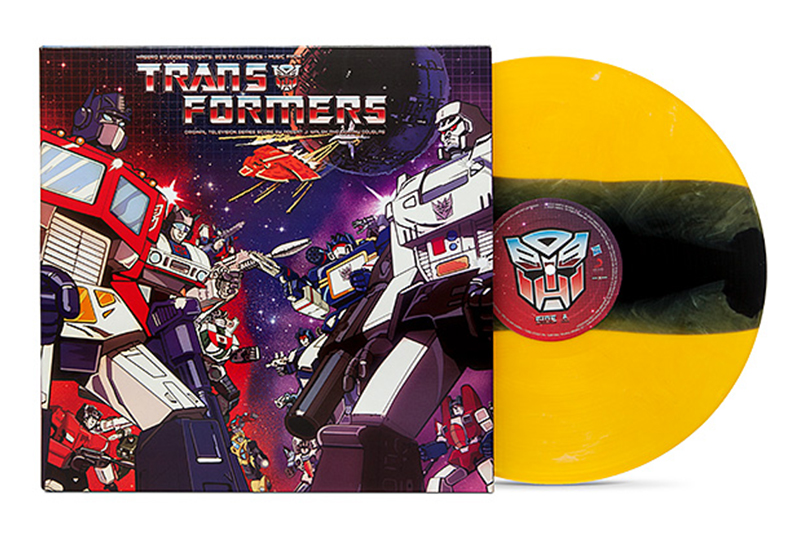 Sounds from the iconic cartoon.
The original soundtrack from Hasbro's 1980s Transformers animated television series has been remastered for a new release on limited vinyl, this March via Enjoy The Ride Records.
Featuring forty tracks that appeared on the show's 3 seasons, this is the first ever release of the soundtrack on any format.
Limited to 2,000 copies worldwide, the Transformers LP is available in three variants: "Megatron" (grey with purple splatter), "Optimus Prime" (blue and red stripe with grey splatter), and "Bumblebee" (black and yellow stripe).
Head here for more info on where to pick-up a copy, listen to the opening theme song and check out the track list below.
Tracklist
Side A
1. Opening theme song
2. Life
3. Cybertron Sorrow
4. The Bridge to Iacon
5. Unwelcoming Committee
6. Prepare
7. Attack! Attack!
8. Decepticon Drama
9. Explore! Repair!
10. Facing Disaster
11. Ominous Discovery
12. Elements of Danger
13. Something's Wrong
14. Overcoming the Unstoppable
15. No More Worries
16. Unyielding
17. Heavy Mettle
18. Man and Machine
19. Matters and Antimatters
20. Battle Fearlessly
21. Ancient Legends
22. The March of War
Side B
1. Roll for Home
2. The Glimmer of Hope
3. Earth to Cybertron
4. Into the Jaws of Death
5. Doomed Together
6. The Wrong Readings Mean the Right Doom
7. Transformers Medley
8. Mad Planet
9. Conflict on Cassette
10. Pastoral Tranquility
11. From the Secret Files of Teletraan II
12. Separation Anxiety
13. Synthesized Magic
14. Sinister
15. Uneasy Advances
16. Epic Struggles
17. Mysterious Airs
18. Waking Nightmare