Published on
September 21, 2016
Category
News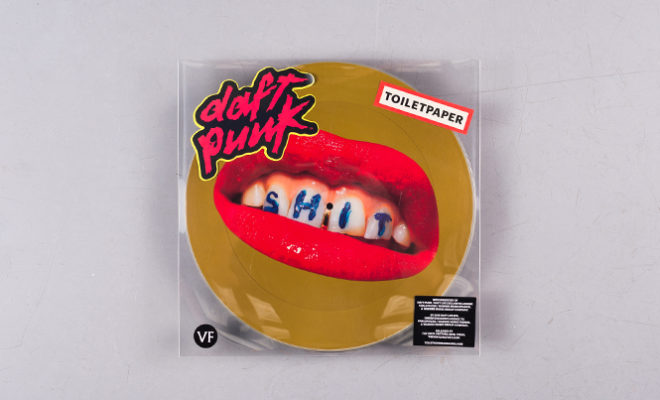 Daft Punk's 1995 single 'Da Funk' gets a flash reboot.
To celebrate its first million copies, Maurizio Cattelan and photographer Pierpaolo Ferrari's artists' magazine TOILETPAPER has created a special golden vinyl of Daft Punk's 1995 classic track 'Da Funk'.
Originally released on Soma Quality Recordings, the track is backed by 'Teachers', which also appeared on Daft Punk's ground-breaking 1997 debut Homework.
Taking inspiration from the classic "golden record" motif usually used to mark milestone releases in the the music industry, the 12″ picture disc was created in collaboration with The Vinyl Factory and is limited to just 1,000 copies.
Combining commercial photography with twisted narrative and surrealistic imagery, Toilet Paper was born in 2010 and as a publication that is itself a work of art, exploiting accessibility and distribution channels to challenge the limits of the contemporary art economy.
Out today, the 12″ is available for exclusively via The Vinyl Factory online shop, toiletpapermagazine.com and in person at The Store, 180 The Strand, London WC2.