Published on
May 20, 2016
Category
News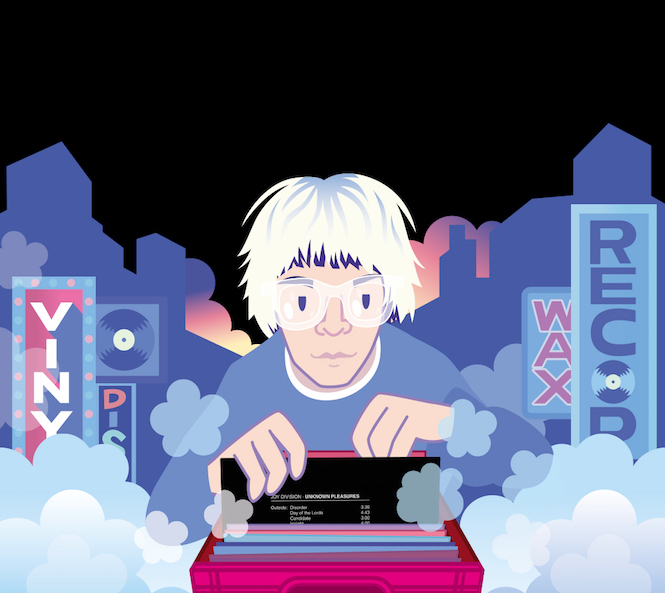 Joy Division, Allen Ginsberg and Tchaikovsky appear on new release.
Charlatans frontman and vinyl warrior Tim Burgess has announced a new compilation called Vinyl Adventures from Istanbul to San Francisco, to coincide with his book release of the same name.
A celebration of vinyl culture, the book follows a digging road trip undertaken by Tim Burgess tracking down records recommended by the likes of Ian Rankin, Iggy Pop, Tony Wilson, Daniel Miller, Kim Gordon and more. The forthcoming compilation collects those timeless recommendations across double vinyl.
Reading like an all-star list, rarely will you find an album with Love next to Tchaikovsky, The Durutti Column besides Allen Ginsberg and Isao Tomita sitting with Duane Eddy. Find the complete tracklist below.
Due on 29th July on O Genesis, the release is available as a regular edition, a limited edition and a bundle with the book. Pre-order here.
Presents…Vinyl Adventures from Istanbul to San Francisco'
Tracklist
01. The Durutti Column – Otis (selected by Tony Wilson)
02. The Clash – Rebel Waltz (selected by Freddie Cowan / Vaccines)
03. Lou Christie – Waco (selected by Bob Stanley)
04. Love – A House Is Not A Motel (selected by Cosey Fanni Tutti)
05. Joy Division – She's Lost Control (selected by Ian Rankin)
06. Junior Wells Chicago Blues Band – Snatch It Back and Hold It (selected by Iggy Pop)
07. Allen Ginsberg – Goin' to San Diego (selected by Peter Gordon)
08. Duane Eddy – Rebel Rouser (selected by Howard Marks)
09. Isao Tomita – Reverie (selected by Edwyn Collins)
10. The Modern Lovers – Old World (selected by Nik Void / Factory Floor)
11. Paul Simon – You Can Call Me Al (selected by James Corden)
12. George Jones & Tammy Wynette – I've Seen Better Days (selected by John Cooper Clarke)
13. Loudon Wainwright III – The Drinking Song (selected by Sharon Horgan)
14. John Grant – Grey Tickles, Black Pressure (selected by Dennis & Lois – fans / gig goers from NYC)
15. Sibylle Baier – Tonight (selected by Kim Gordon)
16. Willie Nelson – Blue Skies (selected by Mick Jones)
17. Fad Gadget – State of the Nation (selected by Daniel Miller)
18. Tchaikovsky – Symphony #6 in B Minor " Pathetique" Final Adagio Lamentoso (selected by Vini Reilly)