Published on
August 10, 2015
Category
News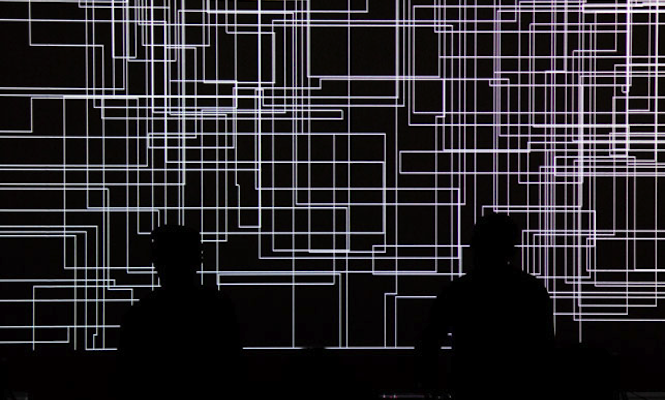 The Vinyl Factory partner with Whitechapel Gallery for programme exploring the intersection of visual art and experimental music.
Taking place throughout the autumn at the contemporary east London gallery, the Music For Museums project has lined up some of the most important and pioneering musicians and composers for a series of shows that challenge the contexts and outer limits of sound and space.
Conceived in association with guest curator Tom Trevor, the programme will be split across six weekends (performances will take place on Thursday evenings and Saturday afternoons), each of which will explore a different element of experimentation, from Fluxus to digital minimalism.
Having both been treated to critically acclaimed solo shows at The Vinyl Factory's Brewer Street Car Park this year, Ryoji Ikeda and Carsten Nicolai will renew their creative collaboration as cyclo. for a one-off performance on the 18th October, taking their place alongside experimental electronic musicians Florian Hecker and SND's Mark Fell on the diverse line-up.
The programme will be concluded by performances from Sonic Youth's Thurston Moore and Rhys Chatham, who cut their teeth in familiar surroundings on New York's downtown no wave scene in the early '80s, as musicians took sound back into the gallery as part of the emerging avant garde.
As well as live performances, Music For Museums will also include a free programme of film screenings exploring the intersection of sound and visual art, with contributions from legends like Nam June Paik and emerging provocateurs like Cory Arcangel.
Music For Museums will run from 17 September to 29 November at Whitechapel Gallery. See the full programme below and visit the galley website to book your tickets.
Music For Museums: Full programme
Fluxus
Apartment House plays Cage, Paik, Maciunas and more
17 September, 8pm (£12/10 concs)
David Toop and guests play Mieko Shiomi
19 September , 4pm (£12/10 concs)
The Voice
Gavin Bryars with Etel Adnan
1 October, 8pm (£18/15 concs)
Cara Tolmie / Mikhail Karikis
3 October, 4pm (£12/10 concs)
Electronica
Florian Hecker
15 October, 8pm (£15/12.50 concs)
Hassan Khan
17 October, 4pm (£15/12.50 concs)
Systems
Ryoji Ikeda and Carsten Nicolai (cyclo.)
29 October, 8pm (£18/15 concs)
Oliver Coates plays Hanne Darboven
31 October, 4pm (£12/10 concs)
Machines
Mark Fell
12 November, 8pm (£15/12.50 concs)
Dominic Murcott plays Conlon Nancarrow
14 November, 4pm (£15/12.50 concs)
Sonic Spaces
Thurston Moore
26 November, 8pm (£15/12.50 concs)
Rhys Chatham
28 November, 4pm (£15/12.50 concs)