Published on
June 30, 2016
Category
News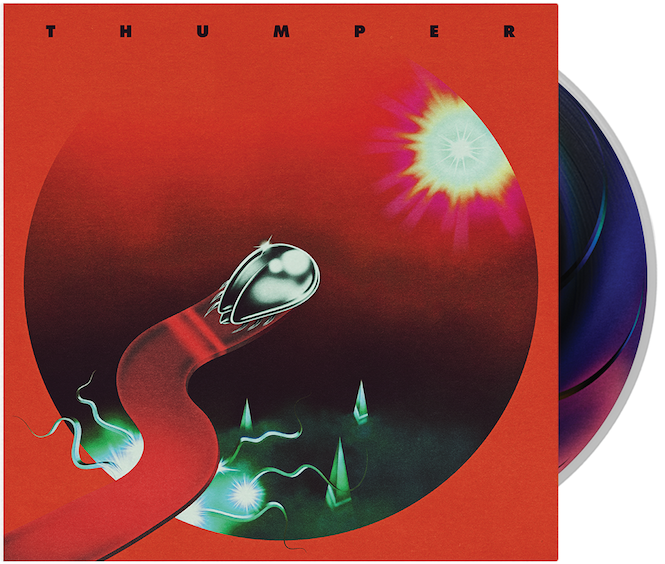 The "rhythm violence game" comes to vinyl.
Though best known as one half of Lightning Bolt, Brian Gibson is also a talented video game designer. He's worked on both Rock Band and Guitar Hero, but in the background there's always been his own rhythm game Thumper.
After being teased last year, developer Drool has confirmed that the trippy music game will be a flagship title for PlayStation VR when it launches this October. Ahead of then, iam8bit has unveiled a collector's edition soundtrack release. The package features a picture disc vinyl, a download code for the game, and cover art by Robert Beatty, the man behind Tame Impala's excellent Currents sleeve.
Read next: How limited edition records are taking video game soundtracks to the next level
The music was composed under a "gameplay first" principle. The label says that most rhythm games take pre-composed songs and fit gameplay around them, whereas for Thumper, Drool first developed the mechanics and levels, and from there Gibson created an ultra-immersive sound experience. "Truly, it's unlike anything you've seen, played or heard – a cocktail of kinetic action and aggressive acoustics," reads press notes.
Out today, you can order the limited edition here. The game drops officially on October 13. Preview the hair raising OST below:
Tracklist
01. Logos
02. Pulser
03. Spiral
04. Transit
05. Disk
06. Servitor
07. Omega
08. Tunnel
09. Hellhead
10. Beetle