Published on
September 8, 2015
Category
News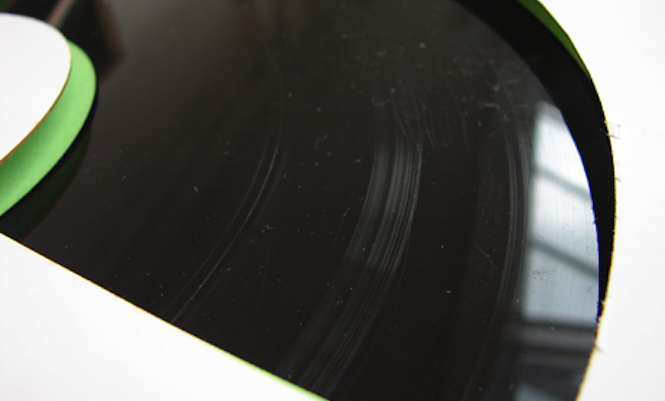 Jeroen Diepenmaat releases destructive sound experiment in limited edition of three records.
The sound of a knife through wax may be enough to make your skin crawl, but for artist Jeroen Diepenmaat it has formed the basis of a new work, in which he has recorded the sound of pristine black wax vinyl being cut with knives and distorted with sandpaper.
Recorded from a live performance at 'Muziek bij de Buren' festival in De Perifeer in which Diepenmaat carved and sculpted four blank records played simultaneously on turntables, the sound from Frayed Air was then pressed to the flip side of three of the records used in the performance, each of which is now being released in a super limited edition of one.
It's not the first time the Dutch artist has worked with vinyl, his playful take on bird song and turntables 'Pour des dents d'un blanc éclatant et saines' one of the iconic images of the definitive 2011 exhibition The Record: Contemporary Art and Vinyl.
Released as a trio of single discs, all three parts of Frayed Air [Sediment 1a, Sediment 1b, and Sediment 1c] have been pressed on 12″ black vinyl, and are housed in laser cut sleeves, with hand-written notes by the artist.
Check out a few more images of the release below and click here for info on how to get hold of one of the editions.
Photos courtesy of the artist.