Published on
June 2, 2016
Category
News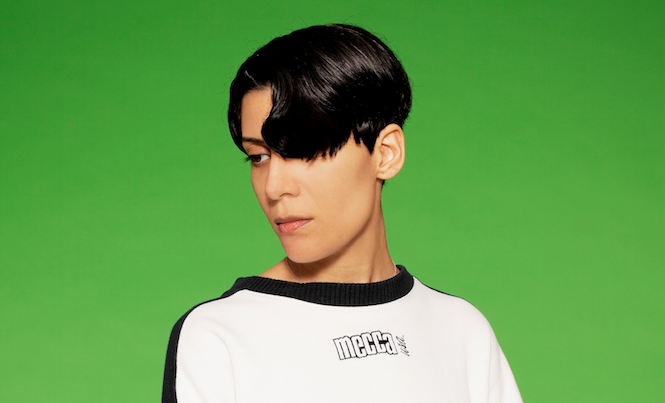 Fatima Al Qadiri, Juliana Huxtable and Nguzunguzu feature on first trio of 12″s.
A collaboration between New York art collective DIS Magazine, Berlin Biennale and The Vinyl Factory, Anthem is the soundtrack to the 9th Berlin Biennale, a collection of artistic and musical creations curated by US-based producer Total Freedom to be released as a series of limited edition 12″ records.
Reflecting the post-internet mash-up of art, music and fashion central to this year's Biennale, the first trio of releases is headed up by Hyperdub's enigmatic Fatima Al Qadiri, who has written the music to lyrics by German filmmaker Hito Steyeri and artist and filmmaker Juliana Huxtable. The result is a haunting choral piece that descends from a secular hymn into a dark and paranoid drone. Pre-order it here.
The second collaborative 12″ features video and performance artist Jacolby Satterwhite and Nightfeelings producer Nick Weiss. Together they craft a hyper-real hybrid of Eastern harmonies and jagged electronics named after Jacolby's mother Patricia. Fade To Mind duo Nguzunguzu join contemporary Turkish artist Halil Altındere and Syrian rapper and political activist Abo Hajar for an iconoclastic slice of LA-meets-Middle Eastern hip hop on Anthem #3.
The Anthem series will be launched this weekend at The Store in Berlin, which will also present a curated edit of unique pieces and products by the Biennale's artists and designers operating at the intersection of culture and commerce.
Each 12″ in the Anthem vinyl series will be released in a limited edition of 300 copies, available at The Store and Biennale shop in Berlin, Phonica Records in London and from The Vinyl Factory online shop, where you can pre-order yours now.
The second series of collaborations includes releases by Kelela and Elysia Crampton.