Published on
May 24, 2016
Category
News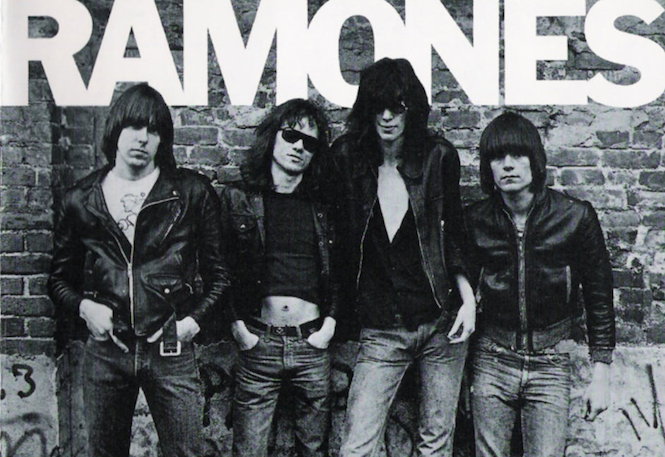 Including rarities, unheard demos and an unreleased live show.
"Depending on who you ask, it's either the purest of the pure punk artefacts, or it's frivolous bubblegum pop, or it's a nasty piece of reactionary fop, or it's an avant-garde masterpiece," reads our review of The Ramones' debut album. 40 years on and The Ramones continues to exert a weird, unstable force – which goes some way to explaining why its regularly tops best albums lists.
To mark its 40th anniversary, Rhino has announced an expanded, luxury tribute to the landmark debut. The package, which arrives in a 12 x 12 hardcover book, includes three CDs and one LP. Included is a "sonically superior" remastered stereo version and a recreated mono mix of the original album, plus rarities, unheard demos, and an unreleased live show, all produced, mixed, and mastered by the album's original producer and mixer Craig Leon.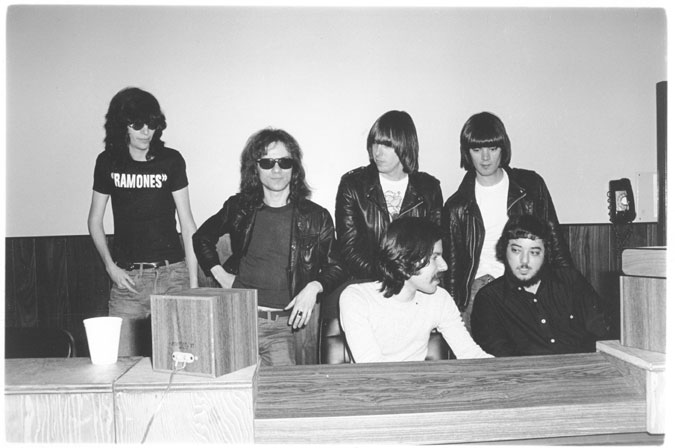 Craig Leon and The Ramones (via Bomb)
"The earliest mixes of the album were virtually mono," said Leon. "We had an idea to record at Abbey Road and do both a mono and stereo version of the album, which was unheard of at the time. I'm thrilled that now, 40 years later, we followed through on that original idea."
Also included are new liner notes, an essay and photos by Roberta Bayley, who took the photograph on the album's cover. Find the full tracklist below.
Ramones: 40th Anniversary Deluxe Edition will be available on July 29 for $64.98. "Limited" to 19,760 copies (why not 1976?), you can place pre-orders here.
Tracklist
Disc One: Original Album
Stereo Version
1. Blitzkrieg Bop
2. Beat On The Brat
3. Judy Is A Punk
4. I Wanna Be Your Boyfriend
5. Chain Saw
6. Now I Wanna Sniff Some Glue
7. I Don't Wanna Go Down To The Basement
8. Loudmouth
9. Havana Affair
10. Listen To My Heart
11. 53rd & 3rd
12. Let's Dance
13. I Don't Wanna Walk Around With You
14. Today Your Love, Tomorrow The World
40th Anniversary Mono Mix
15. Blitzkrieg Bop
16. Beat On The Brat
17. Judy Is A Punk
18. I Wanna Be Your Boyfriend
19. Chain Saw
20. Now I Wanna Sniff Some Glue
21. I Don't Wanna Go Down To The Basement
22. Loudmouth
23. Havana Affair
24. Listen To My Heart
25. 53rd & 3rd
26. Let's Dance
27. I Don't Wanna Walk Around With You
28. Today Your Love, Tomorrow The World
Disc Two: Single Mixes, Outtakes, and Demos
1. Blitzkrieg Bop (Original Stereo Single Version)
2. Blitzkrieg Bop (Original Mono Single Version)
3. Wanna Be Your Boyfriend (Original Stereo Single Version)
4. I Wanna Be Your Boyfriend (Original Mono Single Version)
5. Today Your Love, Tomorrow The World (Original Uncensored Vocals)*
6. I Don't Care (Demo)
7. 53rd & 3rd (Demo)*
8. Loudmouth (Demo)*
9. Chain Saw (Demo)*
10. You Never Should Have Opened That Door (Demo)
11. I Wanna Be Your Boyfriend (Demo)*
12. I Can't Be (Demo)
13. Today Your Love, Tomorrow The World (Demo)*
14. I Don't Wanna Walk Around With You (Demo)*
15. Now I Wanna Sniff Some Glue (Demo)
16. I Don't Wanna Be Learned/I Don't Wanna Be Tamed (Demo)
17. You're Gonna Kill That Girl (Demo)*
18. What's Your Name (Demo)
Disc Three: Live at The Roxy (8/12/76)
Set One
1. Loudmouth
2. Beat On The Brat
3. Blitzkrieg Bop
4. I Remember You
5. Glad To See You Go
6. Chain Saw
7. 53rd & 3rd
8. I Wanna Be Your Boyfriend
9. Havana Affair
10. Listen To My Heart
11. California Sun
12. Judy Is A Punk
13. I Don't Wanna Walk Around With You
14. Today Your Love, Tomorrow The World
15. Now I Wanna Sniff Some Glue
16. Let's Dance
Set Two
17. Loudmouth*
18. Beat On The Brat*
19. Blitzkrieg Bop*
20. I Remember You*
21. Glad To See You Go*
22. Chain Saw*
23. 53rd & 3rd*
24. I Wanna Be Your Boyfriend*
25. Havana Affair*
26. Listen To My Heart*
27. California Sun*
28. Judy Is A Punk*
29. I Don't Wanna Walk Around With You*
30. Today Your Love, Tomorrow The World*
31. Now I Wanna Sniff Some Glue*
32. Let's Dance*
40th Anniversary Mono Mix
LP Track Listing
1. Blitzkrieg Bop*
2. Beat On The Brat*
3. Judy Is A Punk*
4. I Wanna Be Your Boyfriend*
5. Chain Saw*
6. Now I Wanna Sniff Some Glue*
7. I Don't Wanna Go Down To The Basement*
8. Loudmouth*
9. Havana Affair*
10. Listen To My Heart*
11. 53rd & 3rd*
12. Let's Dance*
13. I Don't Wanna Walk Around With You*
14. Today Your Love, Tomorrow The World*
* Previously Unreleased