Published on
February 26, 2020
Category
News
Inspired by French baroque harpsichord music.
The Magnetic Fields are releasing a new album, titled Quickies, on 5xLP this May via Nonesuch Records.
Founded by multi-instrumentalist Stephin Merritt, the band also includes longtime members Sam Davol (cello/flute), Claudia Gonson (piano/percussions/vocals), Shirley Simms (autoharp/ukelele/vocals), and John Woo (banjo/guitar).
The new album features guest appearances from DJ Chris Ewen, accordionist Daniel Handler, and touring band member Pinky Weitzman.
Quickies collects 28 new songs by Merritt, ranging from between 13 seconds and just over 2 minutes.
The LP follows The Magnetic Fields' 2017 album 50 Song Memoir, which was also released on Nonesuch.
Head here for more info in advance of Quickies' 15th May release, check out the artwork and tracklist below.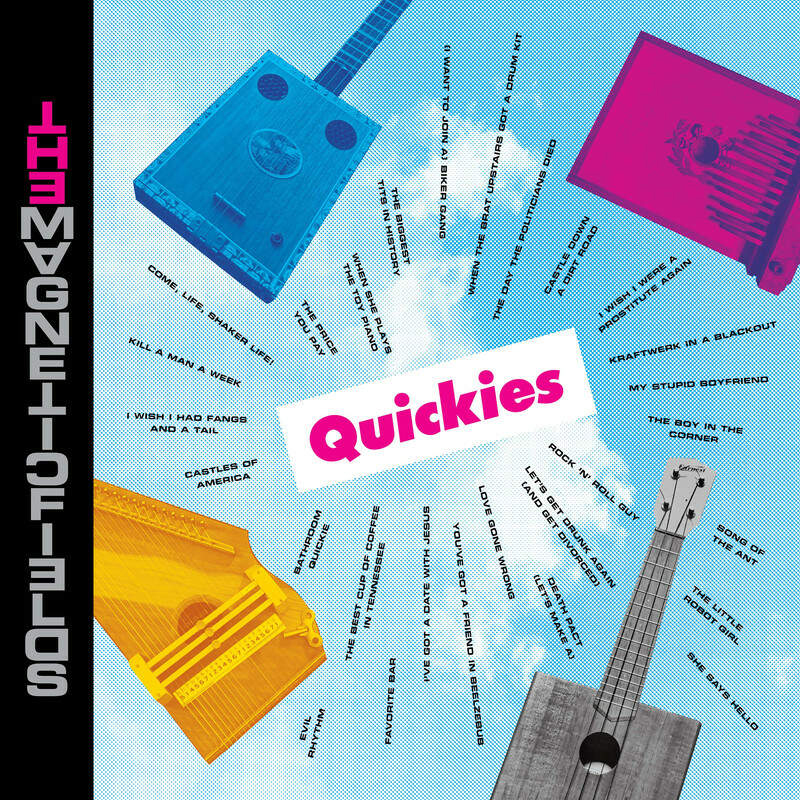 Tracklist:
1. Castles of America
2. The Biggest Tits in History
3. The Day the Politicians Died
4. Castle Down a Dirt Road
5. Bathroom Quickie
6. My Stupid Boyfriend
7. Love Gone Wrong
8. Favorite Bar
9. Kill a Man a Week
10. Kraftwerk in a Blackout
11. When She Plays the Toy Piano
12. Death Pact (Let's Make A)
13. I've Got a Date with Jesus
14. Come, Life, Shaker Life!
15. (I Want to Join A) Biker Gang
16. Rock 'n' Roll Guy
17. You've Got a Friend in Beelzebub
18. Let's Get Drunk Again (And Get Divorced)
19. The Best Cup of Coffee in Tennessee
20. When the Brat Upstairs Got a Drum Kit
21. The Price You Pay
22. The Boy in the Corner
23. Song of the Ant
24. I Wish I Had Fangs and a Tail
25. Evil Rhythm
26. She Says Hello
27. The Little Robot Girl
28. I Wish I Were a Prostitute Again