Published on
June 27, 2016
Category
News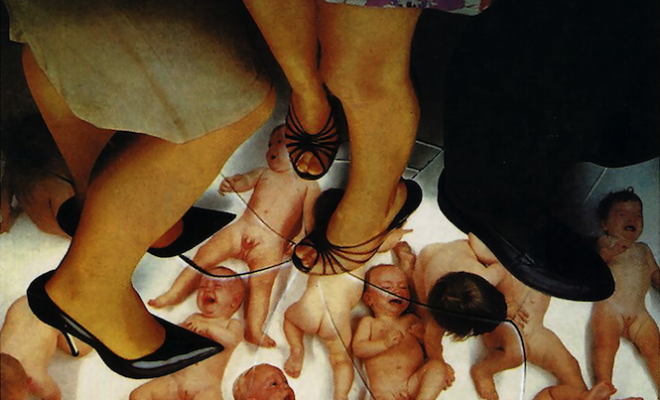 Reproduction and Travelogue are back on wax for the first time in almost thirty years.
According to listings on the ever-reliable Norman Records, synth pop outfit The Human League are having their first two LPs reissued on vinyl for the first time since 1988.
Originally released in 1979, with some of the most disturbing artwork around, Reproduction was an early example of the band's more industrial influence, a darker edge reflecting the record's genesis in Sheffield, where it was recorded. But, as reported by Creative Review, Martyn Ware never expected the cover artwork to be quite so provocative:
"We said we wanted an image of a glass dance floor in a discotheque which people were dancing on and beneath this, a lit room full of babies. It was meant to look like a still from a film – like some kind of dystopian vision of the future – but it just looks like they're treading on babies. We were quite upset but at that time, it was too late to change it."
Released the following year, Travelogue was the last record of the band's original incarnation and subsequently also the last to reflect their more industrial pre-Dare sound.
Due on 15th July, both Reproduction and Travelogue have been reissued on vinyl by Universal. Click the links to pre-order yours now.
https://www.youtube.com/watch?v=qHumSDAsiLg