Published on
March 27, 2018
Category
News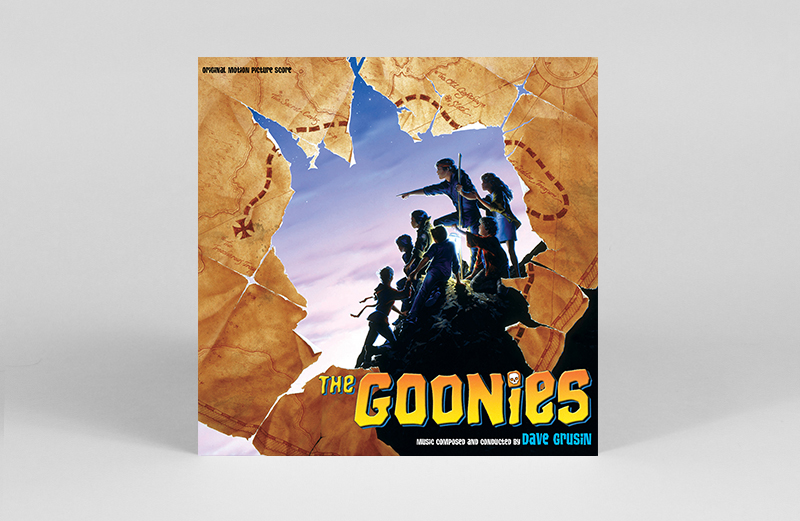 On "Willies Gold" coloured 2xLP.
The original music from cult 1985 film The Goonies will be released on gold coloured double-vinyl, this March via Varèse Sarabande.
Steven Spielberg's story about a crew of ragtag pals on a hunt to find One-Eyed Willie's treasure features an original, 34-track score by Dave Grusin.
Its first ever vinyl release, on gold coloured 2xLP and limited to 750 copies worldwide, includes particular jams such as 'Triple Stones and A Ball', 'Pee Break and Kissing Tunnel', and 'Restaurant Trash'.
The Goonies score will be available 30th March via Varèse Sarabande's new online outpost Varèse Vinyl.
Dave Grusin's original score for 1973 film The Friends of Eddie Coyle will also be released on vinyl for the first time in April, by Wewantsounds this Record Store Day.
Head here for more info, check out the track list and watch The Goonies' 1985 trailer below.
Tracklist
1. Fratelli Chase
2. Map And Willie
3. The Goondocks (Goonies Theme)
4. Doubloon
5. Lighthouse
6. Cellar And Sloth
7. Restaurant Trash
8. The "It," Fifty Dollar Bills And A Stiff
9. It All Starts Here
10. Plumbing
11. Skull And Signature
12. Boulders, Bats And A Blender
13. Wishing Well And The Fratellis Find Coin
14. Mikey's Vision
15. Oath And Bobby Traps
16. Triple Stones And A Ball
17. Pee Break And Kissing Tunnel
18. They're Here And Skull Cave Chase
19. Playing The Bones
20. Water Slide And Galleon
21. Octopus
22. The Inferno
23. One Eyed Willie
24. Treasure, Data & Mouth, And Walk The Plank
25. Sloth & Chunk
26. Mama & Sloth
27. The Fighting Fratellis, Sloth's Choice And Ultimate Booby Trap
28. The Reunion And Fratellis On Beach
29. No Firme And Pirate Ship
30. End Titles (Goonies Theme)
31. Fratelli Chase (Original Version)
32. Triple Stones And A Ball (Original Version)
33. They're Here And Skull Cave Chase (Original Version)
34. Octopus (Original Version)