Published on
February 4, 2014
Category
News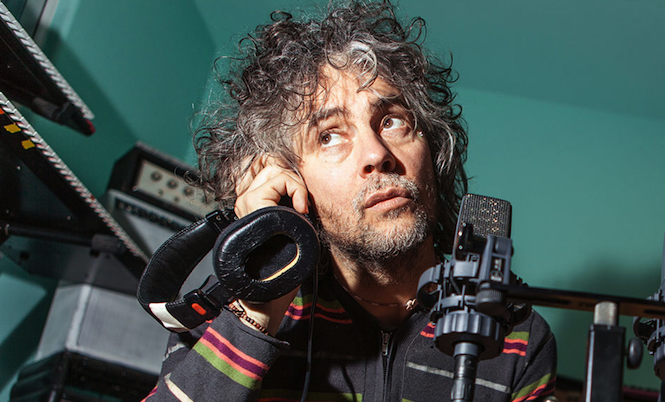 Wayne Coyne embarks on mini record store tour selling limited edition 12″ of the band's 1984 debut.
With more than a touch of the Willy Wonka about it, The Flaming Lips' frontman Wayne Coyne has announced a solo tour of East Coast record stores, at which he'll be flogging an extremely limited edition reissue of the band's self-titled debut EP from 1984, pressed on green vinyl and accompanied by a white chocolate skull.
Pray, why? I hear you ask. Well, each "hand-crafted, custom-made solid chocolate skull" (anatomically correct and lifesize, of course) contains a gold coin, which is redeemable as admission to any headline show by The Flaming Lips anywhere in world. Giving Jack White a run for his money as the king of the vinyl gimmick, Coyne will also be signing each limited edition copy, last available on vinyl in 1986 on the band's own Lovely Sort Of Death Records.
With The Flaming Lips due to play the Amnesty International Concert in New York on 5th Feb, Coyne will embark on his solo record store tour on Saturday, starting off at New York's Other Music and the all new Rough Trade NYC, before dropping in on Boston, Philadelphia and Baltimore later in the week. [via Brooklyn Vegan]
Last year's Record Store Day reissue of The Flaming Lips' 4LP Zaireeka made our list of the Top 100 Vinyl releases of 2013, which you can read in full here. Check out the white chocolate skull below: