Published on
September 17, 2013
Category
News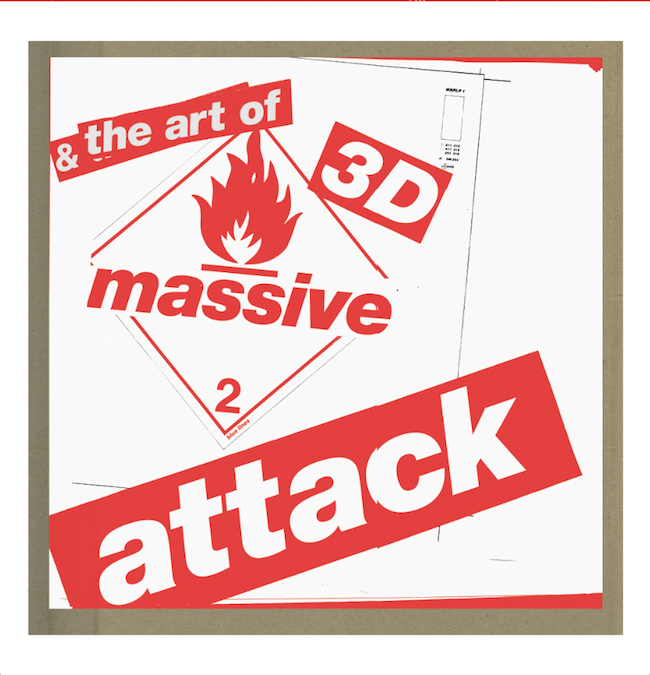 The work of Robert del Naja aka 3D to be celebrated in the first ever visual history of Massive Attack.
The Vinyl Factory is excited to announce the forthcoming release of 3D and the art of Massive Attack, a 400-page hardback book charting the visual history of one of the most influential acts of the last twenty-five years.
Collecting the work of founding member Robert del Naja aka 3D from the graffiti and stencil art of the 80's Wild Bunch era to the modern day and the recent collaboration with filmmaker Adam Curtis, the comprehensive retrospective will set familiar work from the band's iconic back-catalogue alongside new and unseen pieces from 3D's personal archive.
It is a body of work which defies convention every step of the way. Despite receiving the questionable advice that "any artist that wanted to be taken seriously should never do record sleeves", 3D found his niche in the physicality of vinyl records, testing the boundaries of conventional cover artwork as his work both developed with and responded to the band's sound.
Telling the story of Massive Attack from a visual perspective, 3D and the art of Massive Attack also features an in-depth interview with Robert del Naja in which he gives a rare insight into his creative process and sheds light on the band's more turbulent past. Needless to say it's essential reading for fans of the band, as well as anyone with so much as a passing interest in the development of the Bristol scene and 90′s popular culture at large.
Open to contemporary influences, 3D responded to that culture by pursuing a series of visual collaborations also featured in this retrospective, including work with Nick Knight, Tom Hingston, Judy Blame and Michael Nash Associates, as well as unseen photographs documenting their ongoing collaboration with United Visual Artists and the band's recent work with filmmaker Adam Curtis for this year's Manchester International Festival.
3D and the art of Massive Attack will be released in two editions; a standard hardback edition and as a limited edition screen-printed vinyl box set. This limited edition will contain a unique print by 3D, a signed copy of the hardback book with alternative cover artwork and a special 12″ single with a previously unreleased track backed by an etching on the b-side. This collector's edition will be limited to just 350 copies.
Both standard and limited editions of 3D and the art of Massive Attack will be published on the 28th October, with the hardback book available in all good bookstores priced at £50.
The limited edition will be exclusively available for pre-order via The Vinyl Factory online shop from today, 17th September 2013, and is priced at £350. Click HERE to more more info and to pre-order a copy.
See the 10 best Massive Attack sleeves HERE.
Check out some of the images taken from the book below.