Published on
April 27, 2016
Category
News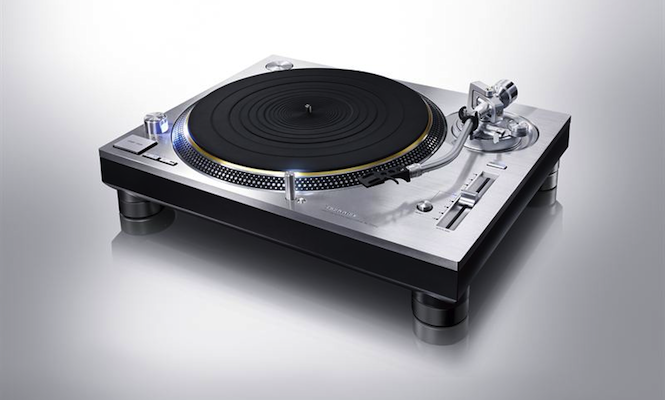 The much anticipated return of the Technics SL-1200 due in Autumn 2016.
Technics has revealed that the new standard edition SL-1200G turntable will hit the market in the Autumn, after news that the 300 limited edition decks released in Japan sold out in just 30 minutes.
Having previously only detailed the 50th anniversary limited edition SL-1200GAE deck, the Japanese company has also now revealed the specs of the standard edition too.
Carrying the same features as the limited edition – notably the inclusion of a set of micro-processor controlled sensors to suppress minor vibrations emanating from the new coreless direct drive motor – the standard edition will also retain the same lightweight magnesium tonearm, a feature Panasonic initially said would be aluminum.
With just 900 further limited edition decks to go on sale worldwide, the standard issue release will be most people's best opportunity to own the updated version of the world's most iconic turntable.
However, it won't come cheap. Almost three times as heavy as the original SL-1200 model (at a whopping 18kg), and with every component built from scratch (bar the dust cover), it has been reported that the limited edition will retail in the UK for £2799, with the standard edition expected to come in at a similar price.
Available to buy in Autumn 2016, you can check out the specs in full below.
Grand Class SL1200G Specification
All new design for Redefining the Direct Drive Turntable
Twin-Rotor Surface-Facing Direct Drive motor
Direct Drive Motor Controller
High Sensitive Tonearm
Brass-Top Turntable Platter
Insulator
Technics Definitive Design
Inherited design from the SL-1200 series
Heavy Aluminum Top Plate
Turntable Section
Type: Direct Drive Manual Turntable
Turntable Speeds: 33 1/3 rpm, 45 rpm, 78 rpm
Variable Range Pitch: ±8%, ±16%
Wow and Flutter: 0.025% W.R.M.S. (JIS C5521)
Rumble: 78dB (IEC 98A Weighted)
Turntable Platter : Weight: Approx. 3.6kg (Including rubber sheet)
Tonearm Section
Type: Universal, Static Balance
Overhang: 15mm
Arm Height Adjustment Range: 0-6mm
Applicable Cartridge Weight Range:
Without auxiliary weight 5.6 – 12.0g
14.3 – 20.7g (including headshell)
With small auxiliary weight
10.0 – 16.4g
18.7 – 25.1g (including headshell)
With large auxiliary weight
14.3 – 19.8g
23.0 – 28.5g (including headshell)
General
Terminal: Phono Output x 1 / SIGNAL GND x 1
Power Supply: AC110-240 V, 50 Hz / 60 Hz
Power Consumption: 14 W / Approx. 0.2W (Standby)
Dimensions: W: 453 mm H: 173 mm D: 372 mm (Height including dust cover)
Weight: Approx. 18kg
Read how the Technics SL-1200 became the world's most popular turntable and explore our interactive timeline charting the evolution of the iconic model.