Published on
January 10, 2014
Category
News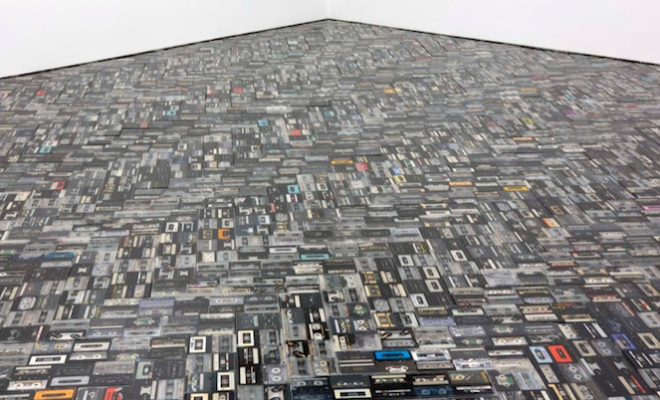 Forget vinyl flooring, Gregor Hildebrandt lays cassette lino at latest New York exhibition.
Berlin-based visual artist Gregor Hildebrandt has unveiled a new exhibition at Galerie Perrotin in New York in which he continues to explore and deconstruct the material quality and emotive potential of analogue sound and video carriers like cassettes, VHS and vinyl. The centrepiece of the exhibition, which sees Hildebrandt continue to use magnetic cassette tape to form the basis of a series of abstract collages, is the creation of his very own Spector-esque "Sonic Wall" built from that most infuriating of vinyl crafts, the crimped record bowl. Here, Hildebrandt has found a much needed alternative use for the junk-sale staple, creating a towering obstacle for visitors to circumvent, consisting of over hundreds and hundreds of the bowls, bought at Berlin's flea markets.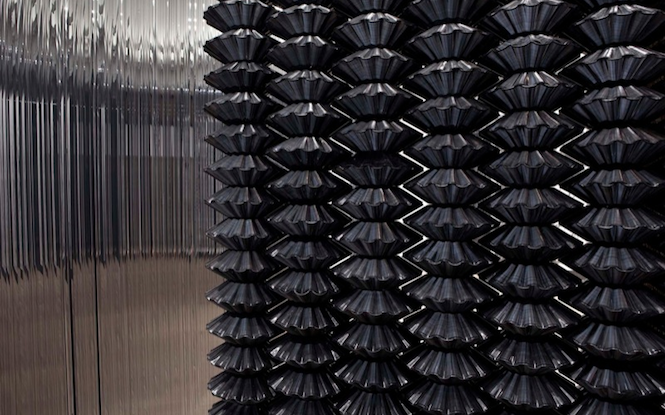 Elsewhere, Hildebrandt creates curtained walls of VHS tape made entirely out of copies of Wim Wenders' classic "Der Himmel über Berlin" [Wings of Desire]. Exploring work in which the nature of the recording is as important as the visual impression, Hildebrandt has also doctored recordings of Berlin industrial pioneers Einstürzende Neubauten to form abstract images, made using what he calls a 'ripping off' process, explained below:
"The coated side of cassette tapes is put on double-sided adhesive tape, the coat is pressed onto it with a painterly gesture with a brush or a roller, and then the cassette tapes are taken off again. This process can be repeated several times on different canvases, resulting in ever more delicate structures. Finally, the tapes are glued onto a canvas for good. They form the negative."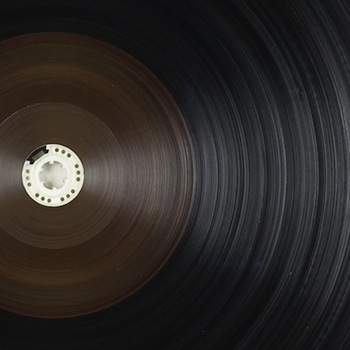 Having displayed work at the landmark 2011 exhibition The Record: Contemporary Art and Vinyl in which he exhibited his "Cassette Record" – a 12″ vinyl made up of magnetic cassette tape, Hildebrandt has continued to unwind and explore the possibilities of deconstructing tapes, tiling the floor of one of the gallery rooms with a herringbone parquet floor of empty cassettes, reminiscent of that in his Berlin apartment and not unlike The Vinyl Factory artist Christian Marclay's site-specific "2822 Records" piece. On the wall above it, he has salvaged 27,000 cassette felts (the pads over which the magnetic tape runs), for a highly conceptual piece entitled "Die Geschichte läuft über uns", translated either as "The Story Runs Across Us" or "History Walks Across Us".
Gregor Hildebrandt will display work at Galerie Perrotin from until 22nd February. Click here for more information and check out some images from the exhibition below.