Published on
April 12, 2019
Category
News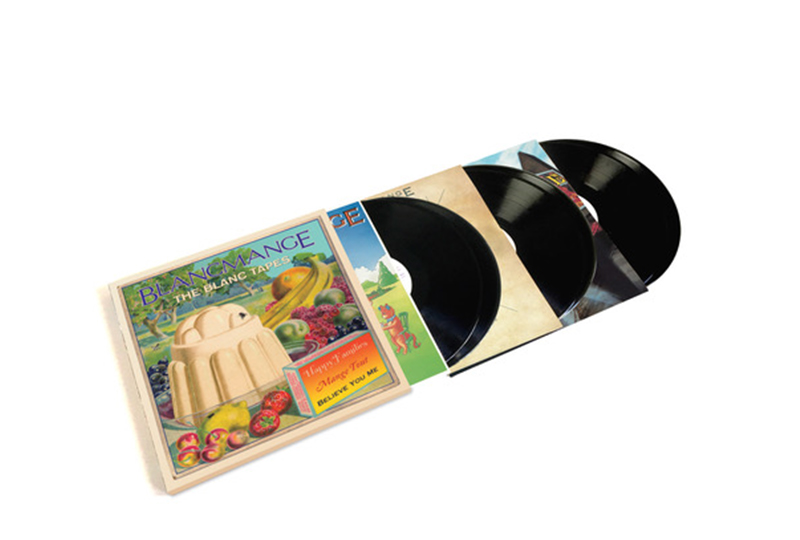 With b-sides, rarities and demos.
UK synth and new wave outfit Blancmange are releasing a new box set called The Blanc Tapes, this May via London Records.
Read more:  Drum patterns and memories: 12 artists reflect on iconic drum machines
It features the group's first three albums – Happy Families (1982), Mange Tout (1984) and Believe You Me (1985) – as well as b-sides, extended versions, previously unreleased tracks and demos.
All of the music has been remastered from the original tapes, with individual artwork slipcases and a 12 x 12″ signed 'Blind Vision' print.
Pre-order a copy here ahead of its 24th May release, listen to our VF Blancmange mix and check out the track lists below.
Tracklist:
Happy Families
Side A
1. I Can't Explain
2. Fell Me
3. I've Seen The Word
4. Wasted
5. Living On The Ceiling
Side B
1. Waves
2. Kind
3. Sad Day
4. Cruel
5. God's Kitchen
Side C
1. Sad Day (Original Version)
2. Holland (Demo)
3. Melodic Piece (Demo)
4. I Can't Explain (Demo)
5. I've Seen The Word (Demo)
6. Black Bell (Demo)
7. Business Steps
Side D
1. Waves (Original Version – No Strings)
2. Living On The Ceiling (Extended)
3. God's Kitchen (12" Mix) D4. Feel Me (Extended 12" Version)
Mange Tout
Side A
1. Don't Tell Me
2. Game Above My Head
3. Blind Vision
4. Time Became The Tide
5. That's Love, That It Is
Side B
1. Murder
2. See The Train
3. All Things Are Nice
4. My Baby
5. The Day Before You Came
Side C
1. Vishnu (Short Version)
2. Game Above My Head (Extended)
3. On Our Way To
4. Don't Tell Me (Extended)
Side D
1. The Day Before You Came (Extended)
2. That's Love, That It Is (Extended)
3. Blind Vision (Long Version)
Believe You Me
Side A
1. Lose Your Love
2. What's Your Problem
3. Paradise Is
4. Why Don't They Leave Things Alone?
5. 22339
Side B
1. Don't You Love It All
2. Believe
3. Lorraine's My Nurse
4. Other Animals
5. No Wonder They Never Made It Back!
6. John
Side C
1. Lose Your Love (Extended)
2. M Diver (Alternate Dream) (Demo)
3. River Of Life (Demo)
4. Scream Down The House
Side D
1. Side Two
2. What's Your Problem? (Extended)
3. I Can See It (Extended)