Published on
November 8, 2017
Category
News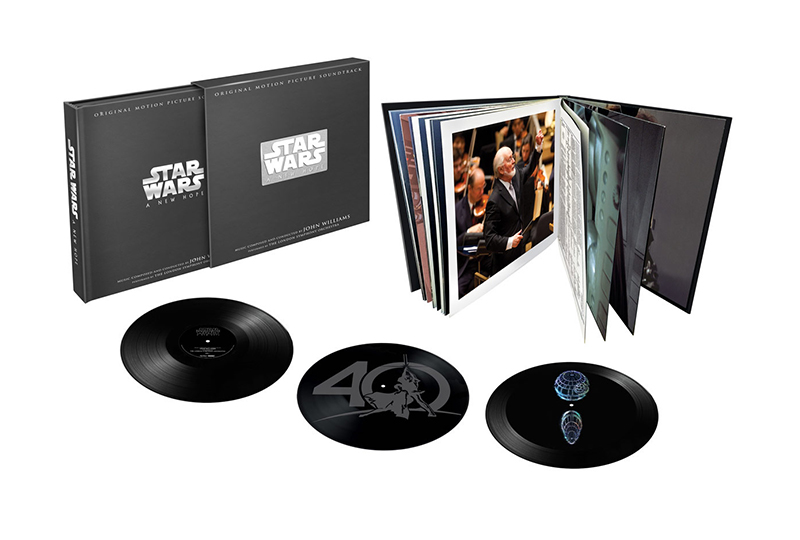 With a hand etched 3D hologram of the Death Star on disc 1.
Walt Disney Records is reissuing John Williams' original Star Wars score in a new, special edition box set, out this November.
The film, which premiered on 25th May 1977, was the first Star Wars movie released in George Lucas' now legendary franchise.
Its music was performed by the London Symphony Orchestra with Williams conducting, and recorded over eight sessions.
Star Wars' iconic opening credits music, one of the most recognisable scores of all time, has since featured in every film in the series.
A disco version of the film's theme by Meco also became a number 1 in America later that summer. (Not to be confused with the Cantina Band's jazzy ditty.)
The score has been remastered for this triple vinyl new box set and features hand etching on two of the discs by artist Tristan Duke: a 3D hologram of the Death Star on disc 1, and a 40th Anniversary Star Wars logo on disc 2. (Duke previously etched holograms of the Millennium Falcon and a TIE fighter on the Star Wars: Episode VII – The Force Awakens vinyl.)
The package also includes a 48-page hard cover book with never-before-seen photographs of Star Wars' production and recording sessions, as well as essays about Williams' life and how his score changed the sounds of cinema forever.
Star Wars: Episode IV – A New Hope 40th Anniversary Box Set ($150) is out 29th November on Walt Disney Records.
Pre-order a copy here, and listen to a ten hour loop of the Star Wars theme music below.