Published on
November 6, 2019
Category
News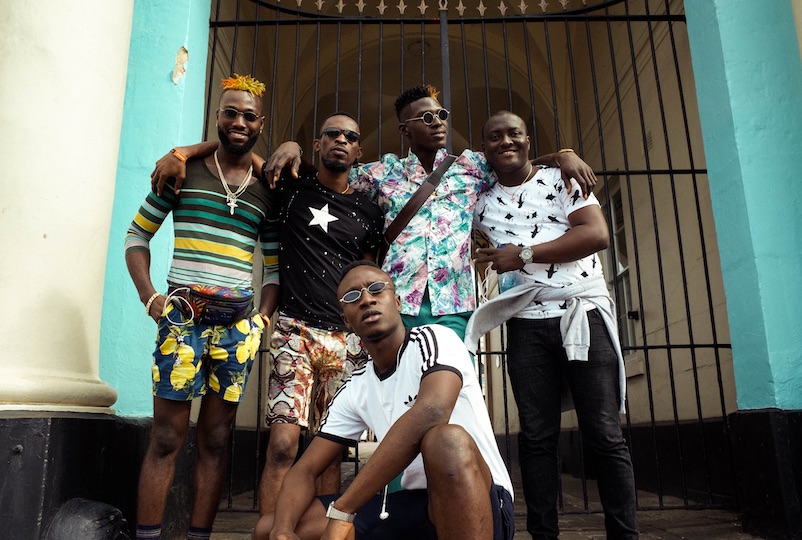 An interview and live session with the Freetown-based MC and band.
One of Sierra Leone's best known rappers, Drizilik has garnered praise beyond the borders of the West African country for his multi-lingual flow and productions which draw on both contemporary and traditional rhythmic influences.
Incorporating bubu, gumbe and milo jazz elements into his music, Drizilik is just as inspired by the likes of Kanye West and Childish Gambino, whose 'This is America' track he adapted as 'This Is Sierra Leone' in 2018.
On a recent UK tour, he was joined by friends and collaborators Freetown Uncut, a collective based in Sierra Leone, whose open-minded approach merges a host of musical influences, from jazz fusion to afrobeat.
With a DIY ethos that found a kindred spirit when they played Steam Down in London, Freetown Uncut host regular jam sessions in the Sierra Leone capital and have become something of a house band for the annual Freetown Music Festival.
VF Editor Anton Spice caught up with Drizilik and the Freetown Uncut band on Soho Radio during their UK tour in September 2019.
Listen to the interview above and see the full tracklist from this month's VF show below.
Tracklist:
1. Milton Nascimento – Maria Maria (Far Out Recordings)
2. Ruby Rushton – Yardley Suite (22a)
3. Junius Paul – Baker's Dozen (International Anthem)
4. Arp – Kalimboid (Mexican Summer)
5. Michael Kiwanuka – Piano Joint (This Kind of Love) [Intro]
6. Michael Kiwanuka – Piano Joint (This Kind of Love)
7. The Midnight Hour – Harmony (Linear Labs)
8. Hector Plimmer – Somebody Else (ft. Andrew Ashong) (Albert's Favourites)
9. Okumu, Herbert, Skinner – One For Charles (The Vinyl Factory)
10. Mood Duo – Eternal Shore (Sacred Bones)
11. Joviale – Storm (DEEK)
12. Osusu – Woman (Cuppa Gumbo / Molten Keys)
13. Osusu – OL Mi Baby (Cuppa Gumbo / Molten Keys)
Sierra Leone interview & session w/ Drizilik & Freetown Uncut
14. Lee 'Scratch' Perry & Peaking Lights – Magik (Stones Throw)
15. Seiho – Triangle (Leaving Records)
16. Valesuchi – Humour (Mambarec)
17. DJ Raff – Resistencia (Dengue Dengue Dengue remix) (Big In Japan)
18. Dorothy Ashby – For Some We Loved (Cadet)