Published on
January 9, 2015
Category
News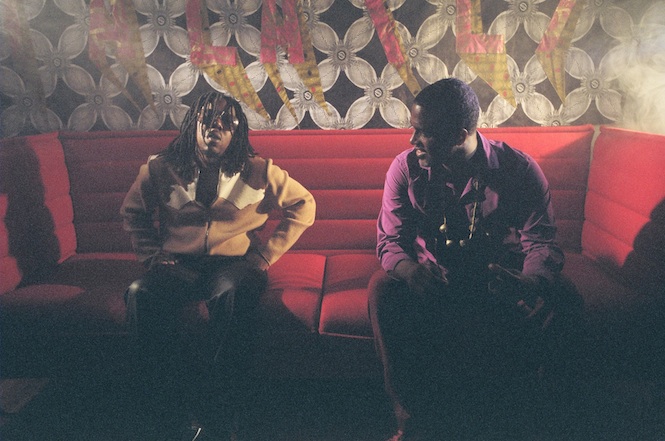 Sub Pop hip hop duo Shabazz Palaces are the next act to step inside Third Man's Blue Room.
Jack White's Third Man Records have announced that Shabazz Palaces will record a live, direct-to-acetate LP at the label's Nashville studios later this month.
Set to take place with a live audience on Saturday, January 17th,  Third Man announced the album on their website:

Very few records from last year got us as excited about the current state and hopeful for the future state of music as Shabazz Palaces' Lese Majesty. Easily the most oft-spun record on the Third Man office turntable in the second half of 2014, it was imperative that we bless the beginning of 2015 with a live direct-to-acetate recording from these psychedelic warriors from the Pacific Northwest. Shabazz Palaces' obstinately original oeuvre emanates from a fully formed higher conscious, they plant their flag in the outermost realms of the hip hop global soundscape where vibrations throb into beat-heavy explorations, chrome covered constellations of higher reveries each offering it's own sonic boom. We couldn't be more excited to host Shabazz Palaces in our Blue Room transcribing their astral suites direct-to-acetate for a live audience, on Saturday January 17th we all blast off together.
Other acts to step into the unique Blue Room include Tom Jones, Black Milk and the Insane Clown Posse. Fans who attend the performance will be able to pre-order the live album on limited edition blue-and-black split-colour vinyl.
(via FACT)