Published on
August 25, 2016
Category
News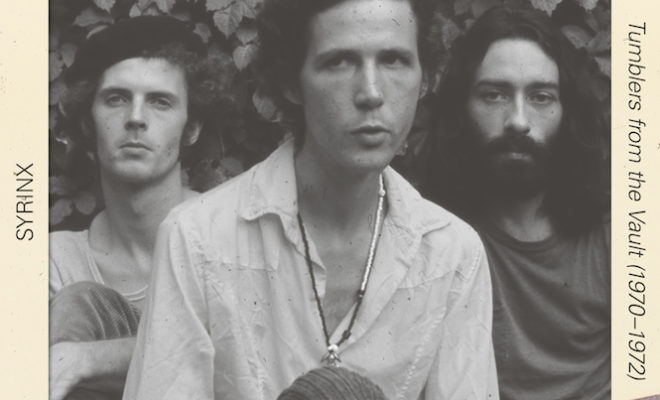 Prepare to be blown away.
The ever-inquisitive RVNG Intl will highlight the work of overlooked Canadian psych synth trio Syrinx with a retrospective box set this Fall.
Tumblers From The Vault collects the band's two albums 1970's Syrinx and 1971's Long Lost Relative. Though the band, led by composer John Mills-Cockell, only existed from 1970 to 1972, they created a pioneering sound built around Moog synthesizer, processed saxophone and percussion.
The deluxe set also includes live performance Stringspace, where they play alongside the Toronto Repertory Ensemble, and 'Tillicum,' a track that became a genuine hit as the theme music to Here Come The Seventies. The release is accompanied a new documentary about the group by Zoe Kirk-Gushowaty, which will screen at select venues.
Tumblers From The Vault arrives as a triple vinyl set on October 14, pre-order here. Listen to the "visual single" for 'Hollywood Dream Trip' and find the tracklist below.
Tracklist
01. Tumblers To The Vault
02. Syren
03. December Angel
04. Ibistix
05. Field Hymn (Epilogue)
06. Tillicum
07. Better Deaf And Dumb From The First
08. Aurora Spinray
09. Melina's Torch
10. Journey Tree
11. Field Hymn
12. Chant For Your Dragon King
13. Hollywood Dream Trip
14. Father Of Light
15. Appaloosa – Pegasus
16. Tillicum (Single Mix)
17. Melina's Torch (Solo)
18. Better Deaf And Dumb From The First (Alternate / Vocal)
19. December Angel (Demo)
20. Stringspace Live – Syren
21. Stringspace Live – December Angel
22. Stringspace Live – Ibistix
23. Stringspace Live – Field Hymn (Epilogue)