Published on
May 1, 2018
Category
News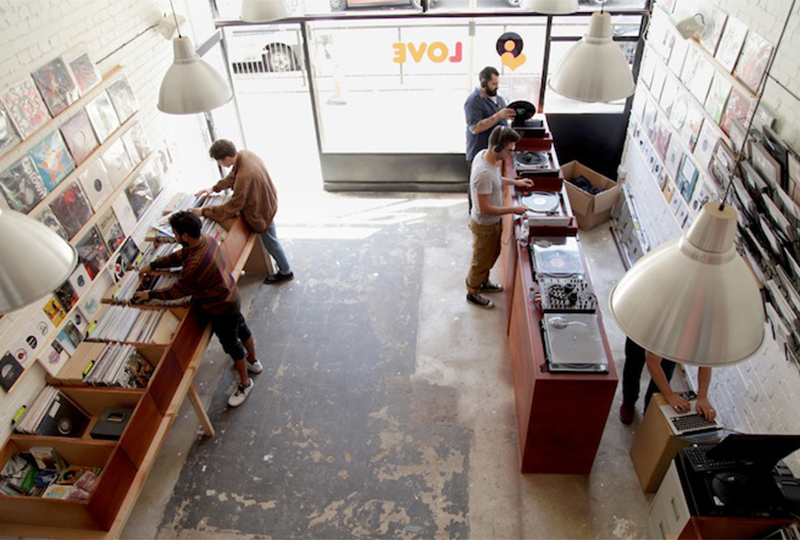 With 90,000 records sold in the UK alone on the day.
This year's Record Store Day fuelled an all-time high for vinyl sales worldwide, reports the BBC.
Read more: Watch all of Phonica's Record Store Day DJ sets
In the UK, 60,000 albums and 30,000 singles were bought on the 21st of April, a 16% increase on last year.
David Bowie's Welcome To The Blackout was the top selling album in the UK, followed by Arcade Fire's self titled LP, and Pink Floyd's The Piper at the Gates of Dawn.
In the US, 773,000 albums were sold on vinyl the week of Record Store Day, reports Billboard 124,000 more than in 2017.
Bruce Springsteen's Greatest Hits was the top selling album in the US, followed by David Bowie's Welcome To The Blackout, and Neil Young's Tonight's the Night Live at the Roxy.
Even Spongebob Squarepants made the list, eeking in at number 19 with single '(Just a) Simple Sponge'.
Of all of the records sold, 580,000 of those were by independent retailers, accounting for a total sales increase of 17% on 2017. (Without independent retailer sales overall sales would have been down by 2.5%)
Check out the vinyl sales charts below lists below.
---
UK: Record Store Day 2018 – Best selling albums
1. David Bowie – Welcome to the Blackout Welcome to the Blackout – David Bowie
2. Arcade Fire – Arcade Fire
3. Pink Floyd – The Piper at the Gates of Dawn (Mono)
4. David Bowie – Now
5. The National – Boxer (Live in Brussels)
6. Suede – Suede
7. Courteeners – St Jude
8. Mogwai – Ten Rapid
9. David Bowie – David Bowie
10. The Who – The Kids are Alright
US: Record Store Day 2018 – best selling albums
1. Bruce Springsteen – Greatest Hits
2. David Bowie – Welcome to the Blackout (Live London '78)
3. Neil Young – Tonight's the Night Live at the Roxy
4. Rage Against the Machine – Live at the Democratic National Convention 2000
5. Bob Dylan & The Grateful Dead – Dylan & The Dead
6. Pink Floyd – Piper at the Gates of Dawn (Mono)
7. Prince – 1999
8. The Cure – Mixed Up
9. Grateful Dead – Fillmore West, San Francisco, CA 2/27/69
10. Phish – Billy Breathes
11. Nas – Illmatic: Live From the Kennedy Center
12. The Doors – The Matrix Part II
13. Ramones – Sundragon Sessions
14. Madonna – Madonna (The First Album)
15. The Cure – Torn Down (Mixed Up Extra)
16. The National – Boxer Live in Brussels
17. The Rolling Stones – Their Satanic Majesties Request
18. Jerry Garcia – Run for the Roses
19. Soundgarden – A-Sides
20. Tom Waits – Bastards
21. Tom Waits – Brawlers
22. David Bowie – Bowie Now
23. Car Seat Headrest – Twin Fantasy (Mirror to Mirror)
24. Sublime – 89 Vision
25. Madonna – You Can Dance
US: Record Store Day 2018 – Best selling singles
1. Led Zeppelin – 'Friends' / 'Rock and Roll'
2. David Bowie – 'Let's Dance' (Full Length Demo)
3. Sufjan Stevens – 'Mystery of Love'
4. The Notorious B.I.G. – 'Juicy'
5. Jimi Hendrix – 'Mannish Boy' / 'Trash Men'
6. Fleet Foxes – 'Crack Up' (Choral Version) / 'In the Morning' (Live in Switzerland)
7. Cheech & Chong – 'Up In Smoke' (40th Anniversary)
8. Descendents – 'Who We Are'
9. The Police – 'Roxanne'
10. Phoenix – 'Monologue'
11. The Flaming Lips – 'The Story of Yum Yum and Dragon'
12. Florence & The Machine – 'Sky Full of Song' / 'New York Poem (For Polly)'
13. Steven Wilson – 'How Big the Space'
14. Def Leppard – 'Live at Abbey Road'
15. Mac DeMarco/Shamir – 'Beat Happening Covers'
16. The Regrettes/The Distillers – 'Side by Side'
17. Czarface – 'Man's Worst Enemy'
18. Elvis Costello – 'Someone Else's Heart'
19. Original Cast of Spongebob Squarepants, The New Musical – '(Just a) Simple Sponge'
20. Chris Bell – 'I Am the Cosmos/You and Your Sister'
21. First Aid Kit – 'You are the Problem Here'
22. Trampled by Turtles – 'Wildflowers'
23. Kevin Morby + Waxahatchee – 'Farewell Transmission/Dark Don't Hide It'
24. The Voidz – 'Qyurruys/Coul As a Ghoul'
25. MC5 – 'I Can Only Give You Everything/I Just Don't Know'
---
(Phonica photos by Rob Jones.)