Published on
March 8, 2017
Category
News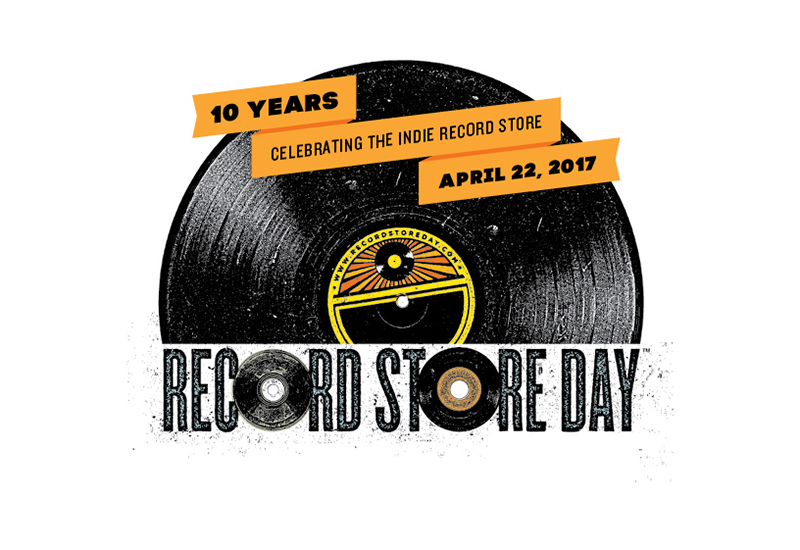 The Internet thinks it knows.
Cranking up for its tenth year of exclusive releases and events, the vinyl merry-go-round of announcements, debate and early morning queues that is Record Store Day is approaching fast.
And as in previous years, no build up would be complete without an annual leak or unofficial list, compiled by industrious record elves on Reddit and the gatekeepers of Vinyl Community, Exclaim reports.
Seeking comment from the organisers, The Vinyl Factory has reached out to Record Store Day UK's representative Megan Page, who said that "this is definitely not a definitive list of UK releases."
However, you can be sure many, if not all, of these titles will drop on Record Store Day, which will take place this year on 22nd April.
Of the slim pickings so far, a few stand-out artists releasing exclusive wax include Andre 3000, Animal Collective, Arthur Verocai, Big Star, Cinematic Orchestra, Danny Brown, Moondog, Robert Johnson, Run The Jewels, Soulwax, Sun Ra and Vanishing Twin. It's that or a picture disc of Toto's 'Africa'.
With the official list announcement expected later this month, you can peruse the rumoured list below and unpick the rest from this Reddit thread.
A.CHAL – Welcome To GAZI [LP] (Picture Disc, download, limited to 750, indie-retail exclusive) LP
Alice In Chains – What The Hell Have I/Get Born Again [2×7"] (gatefold, limited to 4000, indie-retail exclusive) 7″
All Time Low – MTV Unplugged [LP] (White & Black Vinyl, limited to 1300, indie-retail exclusive) LP
Andre 3000 – All Together Now [7"] (limited to 5000, indie-retail exclusive) 7″
Andre Nickatina – The New Jim Jones [2LP] (Picture Disc, download, limited to 1000, indie-retail exclusive) LP
Animal Collective – Meeting Of The Waters [10"] (limited to 1200, indie-retail exclusive) 10″
Anton Maiovvi & The Karakura – Abdullah (Soundtrack) [LP+DVD] (180 Gram Colored Vinyl, download, limited, indie-retail exclusive) LP
Art Pepper – The Art Pepper Quartet (Mono) [LP] (limited to 1000, indie-retail exclusive) LP
Arthur Verocai – Arthur Verocai [LP] (180 Gram, gatefold, limited to 1000, indie-retail exclusive)
Atomic Bomb Band – The Atomic Bomb Band (Performing the Music of William Onyeabor) [LP] (limited to 1400, indie-retail exclusive) LP
Avenged Sevenfold – Waking The Fallen [2LP] (Picture Disc, limited to 1000, indie-retail exclusive) LP
Bad Signs, The – Black Magic Moments [EP] (Black/White Swirl Colored 180 Gram Vinyl, booklet, page from Elvis' diary, St Jude charity release, indie-exclusive, limited to 1000) LP
Balance And Composure – Slow Heart [7"] (2 brand new unreleased songs, limited to 1000, indie-retail exclusive) 7″
Balkans-Pedro Four-Way (ft. Mike Watt) – Balkans-Pedro Four-Way [7"] (never-before heard recordings, limited to 1800, indie-retail exclusive) 7″
Ben Folds feat. West Australian Symphony Orchestra – Live In Perth [2LP] (150 Gram, download, limited to 2000, indie-retail exclusive) LP
Beny More – El Barbaro Del Ritmo: Mexico & Cuba Recordings 1947-1962 [2LP] (limited to 500, indie-retail exclusive) LP
Bert Jansch – The Black Swan [7"] (limited to 2000, indie-retail exclusive) 7″
Bettie Serveert – Damaged Good [LP+CD] (Tranparent Magenta Vinyl, download, limited to 1000, indie-retail exclusive) LP
Beverley Martyn – Picking Up The Sunshine [7"] (Feat. Jimmy Page & John Paul Jones, limited, indie-retail exclusive) 7″
Bevis Frond, The – Triptych [2LP] (White Vinyl, limited, indie-retail exclusive) LP
Big L – Devil's Son EP (From The Vaults) [12"] (150 Gram, limited to 3000, indie-retail exclusive) 12″
Big Star – Complete Third: Vol. 3: Final Masters [LP] (slip cover box, booklet, limited to 2500, indie-retail exclusive) LP
Big Thief – Mythological Beauty [7"] (exclusive B-side, limited to 700, indie-retail exclusive) 7″
Biters – Stone Cold Love / Callin' You Home [7"] (two brand new tracks, limited to 400, indie-retail exclusive) 7″
Black Angels, The – Death Song [LP] (Glow In The Dark Vinyl, black light cover, limited to 2000, indie-retail exclusive) LP
Black Lips, The – Cassette Box Set [4 Cassette Box] (Happy Meal box designed by William Keihn (Thee Oh Sees, Burnt Ones), limited to 450, indie-retail exclusive) Cas
Blind Mr. Jones – Stereo Musicale (Expanded) [2LP+7"] (remastered, extensive liner notes, limited, indie-retail exclusive) LP
Blitzen Trapper – Unreleased Recordings Vol. 1 [LP] (limited, indie-retail exclusive) LP
Blondie – Long Time [7"] (non-LP exclusive B-side, limited to 750, indie-retail exclusive) 7″
Blowfly – Forever Fly [LP] (Playable Etched Side and Dual parallel grooves, indie-exclusive, limited to 1000) LP
BNQT – Volume 1 [LP] (Colored Vinyl, limited to 750, indie-retail exclusive) LP
Bonnie "Prince" Billy and Nathan Salsburg – Beargrass Song + 2 EP [7"] (limited to 750, indie-retail exclusive) 7″
Brother Ali – The Undisputed Truth (10 Year Anniversary Edition) [3LP] (Colored Vinyl, download, spot gloss finish, 12-page lyric & photo booklet, limited to 1500, indie-retail exclusive) LP
Bruce Springsteen & The E Street Band – Hammersmith Odeon London '75 [4LP] (150 Gram, first time on vinyl, numbered/limited to 3000, indie-retail exclusive) LP
Bryan Lee – Live At The Old Absinthe House Bar… Friday Night [2LP] (180 Gram, gatefold, first time on vinyl, limited to 1400, indie-retail exclusive) LP
Buddy Guy – Sick With Love / She Got It Together [10"] (two brand new songs, limited to 1500, indie-retail exclusive) 10″
Busta Rhymes – Calm Down (feat. Eminem) [12"] (limited to 1000, indie-retail exclusive) 12″
Candlebox – Disappearing Live [LP] (limited to 1000, indie-retail exclusive) CD
Cheap Trick – The Epic Archive Vol. One 1975-1979 [2LP] (single mixes/edits, soundtrack, non-LP tracks and other rarities, limited to 1470, indie-retail exclusive) LP
Chills, The – Rocket Science [7"] (limited to 500, indie-retail exclusive) 7″
Cinematic Orchestra, The – Ma Fleur [2LP] (Colored Vinyl, gatefold, limited to 800, indie-retail exclusive) LP
Coheed And Cambria – Good Apollo, I'm Burning Star IV Volume One [2LP] (150 Gram Splatter Vinyl, gatefold, download, first time on vinyl, limited to 2500, indie-retail exclusive) LP
Conjure One – Conjure One [2LP] (180 Gram Colored Vinyl, gatefold, download features 3 new bonus tracks, first time on vinyl, limited to 900, indie-retail exclusive) LP
Corey Feldman – Go 4 It (feat Snoop Dogg) b/w Everybody (feat Doc Ice) [7"] (Swirl Colored Vinyl, indie-exclusive, limited to 1000) 7″
Creation Rebel – Starship Africa [LP] (limited to 1000, indie-retail exclusive) LP
CSC Funk Band – Above The Stars [LP] (color jacket, download, limited to 400, indie-retail exclusive) LP
Curtis Knight feat. Jimi Hendrix – Live At George's Club 20 [2LP] (150 Gram, gatefold, limited to 3000, indie-retail exclusive) LP
Czarface – First Weapon Drawn (A Narrated Adventure) [LP] (gatefold, 24-page comic book, limited to 2000, indie-retail exclusive) LP
Damnation A.D. – Pornography [LP] (Clear Blue Vinyl, first new album in 10 years, covers of The Cure's 'Pornography' album, download, indie-exclusive, limited to 800) LP
Danny Brown – Ain't It Funny [10"] (Picture Disc, limited to 1300, indie-retail exclusive) 10″
Darkest Hour – ST 7" [7"] (limited to 1000, indie-retail exclusive) 7″
Darkthrone – Arctic Thunder [LP] (Picture Disc, limited to 500, indie-retail exclusive) LP
Dave Alvin & Phil Alvin – Hard Travelin' [12"] (Transparent Red Vinyl, limited to 1000, indie-retail exclusive) 12″
Dave Matthews Band – Live At Red Rocks 8.15.95 [4LP Boxset] (150 Gram Metallic Silver Vinyl, download, limited to 2500, indie-retail exclusive) LP
David Crosby/The Lighthouse Band – The David Crosby & The Lighthouse Band [10"] (limited to 2500, indie-retail exclusive) 10″
Dennis Wilson – Bambu (The Caribou Sessions) [2LP] (150 Gram Translucent Green with Black Smoke Effect Vinyl, gatefold, limited to 3000, indie-retail exclusive) LP
Dexter Gordon – Walk The Blues [12"] (180 Gram, Colored Vinyl, limited to 1750, indie-retail exclusive) 12″
Dillinger Escape Plan, The – Instrumentalist [7"] (White Vinyl, limited to 1500, indie-retail exclusive) 7″
Districts, The – Ordinary Day/Lover, Lover, Lover [7"] (limited to 750, indie-retail exclusive) 7″
Dolly Parton – Puppy Love [7"] (limited to 2500, indie-retail exclusive) 7″
Electric Flag, The – Live From California 1967-1968 [2LP] (limited to 1000, indie-retail exclusive) LP
Emerson, Lake & Palmer – Brain Salad Surgery [7"] (limited to 1500, indie-retail exclusive) 7″
Enslaved – Roadburn Live [2LP] (Purple Vinyl, exclusive poster, limited to 500, indie-retail exclusive) LP
Evan Dando – Baby I'm Bored [2LP+BOOK] (limited to 500, indie-retail exclusive) LP
Evie Sands – Shine For Me [12"] (Colored Vinyl, a random number are surreptitiously signed by Evie, limited to 1000, indie-retail exclusive) 12″
Fat Joe & Remy Ma – Plata o Plomo [2LP] (Colored Vinyl, download, limited to 1500, indie-retail exclusive) LP
Field Music – Tones Of Town [LP] (180 Gram Yellow Vinyl, limited to 650, indie-retail exclusive) LP
Filthy Friends – Any Kind Of Crowd [7"] (Corin Tucker, Peter Buck, Scott McCaughey, Kurt Bloch, Bill Rieflin and occasionally Krist Novoselic, limited to 850, indie-retail exclusive) 7″
Flat Duo Jets – Wild Wild Love [2LP+10"] (first time on vinyl, 12" booklet will contain reprints from tour posters, flyers, concert tickets, live photos, limited to 800, indie-retail exclusive) LP
Flower Travellin' Band – Anywhere [LP+CD] (180 Gram White Colored Vinyl, hand-numbered/limited to 1000, indie-retail exclusive) LP
Frank 'n' Dank & Jay Dee – The Jay Dee Tapes [12"] (Red Vinyl, limited to 1500, indie-retail exclusive) 12″
Gene Clark – Back Street Mirror / Don't Let It Fall Through [7"] (Blue Transparent Vinyl, picture sleeve, limited to 1300, indie-retail exclusive) 7″
George Carlin – Jammin' In New York [LP] (first time on vinyl, limited to 1000, indie-retail exclusive) LP
Geraldine Fibbers, The – Lost Somewhere Between The Earth… [2LP] (Clear Vinyl, gatefold, limited to 1000, indie-retail exclusive) LP
Germs, The – Lexicon Devil [7"] (Red, Pink, Yellow And Orange with each color being limited to 500, indie-retail exclusive) 7″
Gil Melle – The Andromeda Strain (Soundtrack) [LP] (Hexagon Shaped Vinyl, silver foil die cut jacket, limited to 1500, indie-retail exclusive) LP
Goat – Goatfuzz [7"] (Splatter Vinyl, limited to 2000, indie-retail exclusive) 7″
Gram Parsons & The Fallen Angels – Live 1973 featuring Emmylou Harris [LP] (180 Gram, gold foil jacket and holographic numbered/limited to 2000, indie-retail exclusive) LP
Greg Graffin – Cold As The Clay [LP] (Metallic Gold Vinyl, first time on vinyl, limited to 1500, indie-retail exclusive) LP
Gram Parsons & The Fallen Angels – Nilsson Schmilsson [LP] (150 Gram Yellow & White Split Color Vinyl, 12×24 poster, download, limited to 3000, indie-retail exclusive) LP
Hawkwind – Best Of The United Artists Years: 1971-1974 [LP] (Colored Vinyl, limited to 2500, indie-retail exclusive) LP
Hudson Mohawke – Watch Dogs 2 (Game Soundtrack) [2LP] (limited to 700, indie-retail exclusive) LP
Ike Reiko – You, Baby [LP+CD] (180 Gram Green Colored Vinyl, hand-numbered/limited to 1000, indie-retail exclusive) LP
Inna Baba ft Ali Farka Toure – Sahel [10"] (die-cut retro sleeve, 4-page colour booklet, limited, indie-retail exclusive) 10″
Integrity – Humanity Is The Devil (Remix & Remaster) [LP] (new 36"x24" poster cover and layout, download, indie-exclusive, limited/numbered to 750) LP
Iron And Wine – Archives Series Volume No. 3 [LP] (Translucent Blue Vinyl, limited to 700, indie-retail exclusive) LP
Jason Isbell And The 400 Unit – Live From Welcome To 1979 [12"] (limited, indie-retail exclusive) 12″
Jeff Caudill – Reset The Sun [12" EP] (Sunburst Colored or Black Vinyl, new project from Gameface singer-songwriter, indie-exclusive, limited to 500) LP
Jerry Cole – The Astro-Sound from Beyond the Year 2000 [CD] (limited to 500, indie-retail exclusive) CD
Jerry Cole – The Astro-Sound from Beyond the Year 2000 [LP] (Colored Vinyl, limited to 1000, indie-retail exclusive) LP
Jerry Joseph & Little Women – Life's Just Bitchin' [LP] (limited to 500, indie-retail exclusive) LP
Jimmy Page & The Black Crowes – Live At Jones Beach [10"] (150 Gram Marbled Black & White Vinyl, limited to 3000, indie-retail exclusive) 10″
John Paul White & Donnie Fritts – John Paul White Sings Donnie Fritts, Donnie Fritts Sings John Paul White [7"] (limited to 1000, indie-retail exclusive) 7″
John Scoggins – Pressed For Time [LP] (180 Gram, first time on vinyl, original artwork, witty liner notes, limited to 1500, indie-retail exclusive) LP
John Sinclair – Mobile Homeland [LP] (Random 600 Red/600 White Vinyl, feats. Members of MC5 and The Detroit Cobras, insert, download, indie-exclusive) LP
John Trudell – AKA Graffiti Man [2LP] (180 Gram Translucent Red Vinyl, limited to 2000, indie-retail exclusive) LP
Johnny Cash – The Johnny Cash Children's Album [LP] (150 Gram, limited to 3000, indie-retail exclusive) LP
Johnny "Guitar" Watson – A Real Mother For Ya [LP] (Yellow Vinyl, limited to 600, indie-retail exclusive) LP
Johnny "Guitar" Watson – Ain't That A Bitch [LP] (Blue Vinyl, limited to 600, indie-retail exclusive) LP
Johnny Mathis – Wonderful! Wonderful! / When Sunny Gets Blue [7"] (limited to 500, indie-retail exclusive) 7″
Jowe Head – Cabinet Of Curios [2LP] (limited, indie-retail exclusive) LP
Katatonia – Proscenium [10"] (limited to 1000, indie-retail exclusive) 10″
Ken Boothe, Dillinger, Leroy Smart, Delroy Wilson – White Man In Hammersmith Palais [7"] (wrapped in a two-sided replica promotional poster, limited to 1000, indie-retail exclusive) 7″
Ken Kesey – The Acid Test [LP] (original cover artwork, limited, indie-retail exclusive) LP
Kevin Morby – Beautiful Strangers b/w No Place To Fall [7"] (limited to 1500, indie-retail exclusive) 7″
Kinks, The – All Day And All Of The Night [7"] (never available in the U.S., limited to 2500, indie-retail exclusive) 7″
Kinks, The – Got Love If You Want It [7"] (never available in the U.S., limited to 2500, indie-retail exclusive) 7″
Klaus Dinger & preJapandorf – 2000! [12" EP] (limited to 750, indie-retail exclusive) 12″
Klaus Dinger & preJapandorf – 2000! [CD] (limited to 750, indie-retail exclusive) CD
Kylesa – Live At Maida Vale Studio (A BBC Redording) [10"] (limited to 1000, indie-retail exclusive) 10″
Kylesa – Live At Maida Vale Studio (A BBC Redording) [Cassette] (limited to 150, indie-retail exclusive) Cas
Kylesa – Live At Maida Vale Studio (A BBC Redording) [CD] (limited to 1000, indie-retail exclusive) CD

Lalo Schifrin – Lalo Schifrin: My Life In Movies [2LP] (180 Gram, gatefold, download, liner notes, archival photos, limited to 1000, indie-retail exclusive) LP
Leon Russell – Guitar Blues [CD] (limited to 1000, indie-retail exclusive) CD
Lindsey Stirling – Brave Enough [LP] (autographed version, limited to 650, indie-retail exclusive)
Lumineers, The – Song Seeds [10"] (limited to 1500, indie-retail exclusive) 10″
M.D.C. – Magnus Dominus Corpus [LP] (limited to 1100, indie-retail exclusive) LP
Mad Professor Meets Jah9 – Mad Professor Meets Jah9… In the Midst of the Storm [LP] (limited to 900, indie-retail exclusive) LP
Madrigal – Madrigal [LP] (12-page booklet, photographs, limited to 600, indie-retail exclusive) LP
Malvina Reynolds – Little Boxes And Magic Pennies: An Anthology Of Children's Songs (1960-1977) [LP] (200 Blue, 200 White, 100 Black Vinyl ALL RANDOMLY INSERTED, gatefold, indie-retail exclusive) LP
Marcos Valle – Vontade De Rever Voce [LP] (180 Gram, limited, indie-retail exclusive) LP
Marcy Playground – Marcy Playground [LP+7"] (first time on vinyl, limited to 2500, indie-retail exclusive) LP
Marianne Faithfull – Rich Kids Blues [LP] (limited to 2000, indie-retail exclusive) LP
Mark Mulcahy – The Possum In The Driveway [LP] (Gold Colored Vinyl, limited, indie-retail exclusive) LP
Mayer Hawthorne – Party Of One [LP] (Luminescent Aquamarine Blue Vinyl, limited to 1500, indie-retail exclusive) LP
Metavari – Metropolis (Soundtrack) (limited deluxe 2xLP + MP3 download code)
Meters, The – A Message from The Meters: The Complete Josie, Reprise & Warner Bros. Singles 1968-1977 [3LP] (Red, Yellow & Green Vinyl, limited to 510, indie-retail exclusive) LP
Miley Cyrus – Bangerz [2LP] (150 Gram Hot Pink Vinyl, gatefold, numbered/limited to 1250, indie-retail exclusive) LP
Moe. – Live From San Francisco [2LP] (150 Gram Translucent Red with Black Splatter Vinyl, gatefold, download, gold foil stamping, color photo booklet, limited to 1500, indie-retail exclusive) LP
Moondog – Moondog [LP] (150 Gram White Vinyl, download, limited to 3000, indie-retail exclusive) LP
Motorhead – Clean Your Clock [2LP] (Picture Disc, limited to 1500, indie-retail exclusive) LP
Mungo Jerry – In The Summertime b/w Baby Jump [7"] (limited to 1500, indie-retail exclusive) 7″
No. 2 – What Does Good Luck Bring? [LP] (180 Gram Orange Vinyl, color jacket, 2 bonus tracks, limited to 500, indie-retail exclusive) LP
Noise Addict – 10,000 Kids With Guitars [2LP] (limited to 800, indie-retail exclusive) LP
Nothington – Cobblestones [7"] (limited to 350, indie-retail exclusive) 7″
NRBQ – High Noon: 50 Year Retrospective [LP] (limited to 2000, indie-retail exclusive) LP
Nuclear Valdez – Present From The Past [LP] (limited to 2000, indie-retail exclusive) LP
Null/GT – Live At Seasick Records [LP] (limited, indie-retail exclusive) LP
O+S – You Were Once The Sun, Now You're The Moon [LP] (Colored Vinyl, limited to 500, indie-retail exclusive) LP
Pearl Jam – Pearl Jam State Of Love And Trust / Breath [7"] (limited to 5000, indie-retail exclusive) 7″
Pete Krebs – Western Electric [LP] (first time on vinyl, limited to 500, indie-retail exclusive) LP
Peter Tosh – Legalize It [LP] (POT-SCENTED! Jamaican Red/Yellow/Green-Striped Colored Remastered Vinyl, limited/numbered to 2500, indie-exclusive) LP
Pickin' On Series – Nirvana Bluegrass Tribute w/ Iron Horse [LP] (180 Gram, download, limited, indie-retail exclusive) LP
Pink Floyd – Interstellar Overdrive [12"] (180 Gram, previously unheard / unreleased recording from 1966, poster, postcard, limited to 4000, indie-retail exclusive) 12″
Pink Floyd – London 1966-1967 [12"] (Picture Disc, limited to 2000, indie-retail exclusive) 12″
Pino Donaggio – Don't Look Now (numbered transparent red vinyl 7″)
Polica – Lipstick Stains / Still Counts [7"] (Colored Vinyl, limited to 450, indie-retail exclusive) 7″
Popol Vuh – Cobra Verde (Soundtrack) (green vinyl LP)
Pretty Things, The – The French EP's 1964-69 [5×7"] (limited to 200, indie-retail exclusive) 7″
Procol Harum – A Whiter Shade Of Pale (50th Anniversary) [12" EP] (White with Clear Splatter Vinyl, insert, includes unreleased track, indie-retail exclusive) 12″
R.L. Burnside – Long Distance Call: Europe Recordings, 1982 [LP] (limited to 2500, indie-retail exclusive) LP
Ra Ra Riot – Ra Ra Riot [12" EP] (first time on vinyl, numbered/limited to 1500, indie-retail exclusive) 12″
Robert Johnson – The Complete Recordings: The Centennial Collection [3LP] (150 Gram, gatefold, download, 12×24 poster, numbered/limited to 2500, indie-retail exclusive) LP
Rockabye Baby! – Lullaby Renditions Of The Doors [LP] (download, poster, limited, indie-retail exclusive) LP
Run The Jewels – RTJ RSD Record Tote Bag (recycled cotton canvas, gold pin set of 2 pins, limited, indie-retail exclusive) Acc
Santana – Woodstock Saturday August 16, 1969 [LP] (150 Gram, limited to 3000, indie-retail exclusive) LP
Saxon – Into The Labyrinth [LP] (Picture Disc, A-side features the original cover paining by Paul Gregory, B-side features a painting by Kai Swillus, limited to 1500, indie-retail exclusive) LP
Sharon Jones with the E.L. Fields Gospel Wonders – Heaven Bound b/w Key To The Kingdom [7"] ('picture frame' custom jacket with easel-back, limited to 2500, indie-retail exclusive) 7″
Sharon Jones, Corey Harris & Peter McGennis – Bubble Girl (Soundtrack) [12"] (limited, indie-retail exclusive) 12″
Shooter Jennings & Waymore's Outlaws – Live [12"] (Coke Clear Vinyl, single jacket with white inner sleeve, limited to 500, indie-retail exclusive) 12″
Sia – Spotify Sessions [LP] (150 Gram, limited to 1800, indie-retail exclusive) LP
Sinn Sisamouth & Ros Serey Sothea – Navy A Go Go/Old Pot Still Cooks Good Rice [7"] (limited to 500, indie-retail exclusive) 7″
Slick Rick – The Great Adventures Of…Children's Book [7"+CD+BOOK] (limited to 1400, indie-retail exclusive) 7″
Sloths, The – Makin' Love / You Mean Everything To Me [7"] (Gold Vinyl, limited to 1000, indie-retail exclusive) 7″
Snapcase – Lookinglasself [LP] (Colored Vinyl, download, limited to 2000, indie-retail exclusive) LP
Son House – Live At Oberlin College, April 15, 1965 [LP] (limited to 1000, indie-retail exclusive) LP
Soul Assassins – Muggs Presents … The Soul Assassins Chapter 1 [LP] (Picture Disc, limited to 2500, indie-retail exclusive) LP
Soulwax – Belgica (Original Soundtrack By Soulwax) [2LP] (180 Gram, limited to 250, indie-retail exclusive) LP
Southside Johnny & The Asbury Jukes – Live From E Street [LP] (limited to 600, four Bruce Springsteen covers on this live vinyl, indie-retail exclusive) LP
Spoon – Hot Thoughts Record Store Day 12" [12"] (two unreleased tracks, limited to 2000, indie retail exclusive) 12″
Stevie Ray Vaughan & Double Trouble – Live At Carnegie Hall [2LP] (150 Gram Marbled Brown Vinyl, download, limited to 3000, indie-retail exclusive) LP
Sublime With Rome – Unreleased Demos 2017 [12"] (Colored Vinyl, hand-stamped, hand-numbered/limited to 1500, indie-retail exclusive) 12″
Sun Ra – Discipline 27-11 [LP] (limited to 1000, indie-retail exclusive) LP
Sun Ra – Janus [LP] (Psychedelic Swirl Colored Vinyl, limited to 2000, indie-retail exclusive) LP
Sundays, The – Blind [LP] (25th Anniversary Edition, Colored Vinyl, limited to 1500, indie-retail exclusive) LP
Super Furry Animals – Fuzzy Logic [2CD] (unreleased bonus material, limited to 950, indie-retail exclusive) CD
Super Furry Animals – Fuzzy Logic [LP] (180 Gram, download offers unreleased bonus tracks, b-sides, demos, Live at The Phoenix Festival 1996 gig, limited to 2000, indie-retail exclusive) LP
Superchunk – Cup Of Sand [3LP] (3 rare bonus tracks, first time on vinyl, expanded track notes, limited to 1000, indie-retail exclusive) LP
Swet Shop Boys – Sufi La [12"] (White Vinyl, limited to 1000, indie-retail exclusive) 12″
Ted Wulfers – The Cubs Won It All In 2016 [7"] (limited to 750, indie-retail exclusive) 7″
Television Personalities – They Could Have Been Bigger Than The Beatles [LP] (Black on White Marbled Vinyl, download, limited to 1000, indie-retail exclusive)
Temples/Kadhja Bonet – Fortune / I Wanna Be A Free Girl [7"] (limited to 1500, indie-retail exclusive) 7″
Thomas & Friends – Steam, Rattle, and Roll [10"] (Transparent Blue Vinyl, lyric sheet, limited to 1500, indie-retail exclusive) 10″
Thomas de Hartmann – The Music Of Gurdjieff / de Hartmann [5LP] (essay, archive photos and download, etching on final side, limited to 1000, indie-retail exclusive) LP
Thrice – Sea Change [7"] (limited to 2500, indie-retail exclusive) 7″
Today Is The Day – How To Win Friends And Influence People: 25th Anniversary Vinyl Remaster [10"] (limited to 700, indie-retail exclusive) 10″
Todd Rundgren – Todd Rungren's Utopia Live At The Fox Theater 1973 [2LP] (limited to 1000, indie-retail exclusive) LP
Toto – Africa [12"] (Picture Disc, die cut, limited to 2500, indie-retail exclusive) 12″
Townes Van Zandt – Live At Austin City Limits [LP] (limited to 2500, indie-retail exclusive) LP
Trevor Jones – The Dark Crystal (Soundtrack) [LP] (35th Anniversary Vinyl Reissue, 140 Gram Crystal Clear Vinyl, limited to 2000, indie-retail exclusive) LP
Tribu Baharu – Vinyl Champeta [7"] (limited, indie-retail exclusive) 7″
Turtles, The – More Golden Hits [LP] (Mono Vinyl Reisue, Gold Vinyl, limited to 1000, indie-retail exclusive) LP
U.G.K. – Too Hard To Swallow [2LP] (Clear Vinyl, limited to 1000, indie-retail exclusive) LP
Uriah Heep – Live [2LP] (180 Gram Splatter Vinyl, first time on vinyl, limited to 1000, indie-retail exclusive) LP
U-Roy – Dread In A Babylon [LP] (18" x 24" color poster, limited to 1000, indie-retail exclusive) LP
Vanishing Twin – Dream By Numbers [10"] (Red Vinyl, limited to 700, indie-retail exclusive) 10″
Various Artists – Recutting The Crap Vol. 1 [LP] (Green or Black Vinyl, reinterpretations of The Clash 'Cut The Crap,' includes Joe Strummer interviews, download, indie-exclusive, limited to 1000) LP
Various Artists – A Bronx Tale (Soundtrack) [2LP] (Blood Pool Colored Vinyl, first time on vinyl, limited to 2500, indie-retail exclusive) LP
Various Artists – Ciao! Manhattan (Soundtrack) [2LP] ("Angel Shock" Color Vinyl, gatefold, first time on vinyl, 20-page book, photos, liner notes, limited to 3000, indie-retail exclusive) LP
Various Artists – Dogfish Head- Music To Drink Beer To: Volume 3 [LP] (150 Gram, limited to 2000, indie-retail exclusive) LP
Various Artists – Don (Soundtrack) (numbered yellow vinyl 12″)
Various Artists – Dr Who & The Pescatons & Sound Effects (Soundtrack) [2LP] (180 Gram Pescaton Green Colored Vinyl & Orange Vinyl, gatefold, limited to 2000, indie-retail exclusive) LP
Various Artists – Early L.A. [LP] (180 Gram, packaged in a silver foil album jacket, holographically numbered/limited to 1200, indie-retail exclusive) LP
Various Artists – Fawlty Towers (Soundtrack) [LP] (Picture Disc, limited to 2000, indie-retail exclusive) LP
Various Artists – Function Underground: The Black & Brown American Rock Sound 1969-1974 [LP] (download, 16-page booklet, limited to 2000, indie-retail exclusive) LP
Various Artists – Giant Single: Profile Records Rap Anthology Vol. 1 [2LP] (150 Gram Red Vinyl, gatefold, limited to 2500, indie-retail exclusive) LP
Various Artists – Girls In The Garage: Oriental Special Volume 9 [LP] (180 Gram Colored Vinyl, rare archival photos, hand-numbered/limited to 2000, indie-retail exclusive) LP
Various Artists – Guitars Of The Golden Triangle: Folk And Pop Music From Myanmar (Burma) Vol 2 [2LP] (gatefold, limited to 1000, indie-retail exclusive) LP
Various Artists – House Of Joy [15×7"] (poster, booklet, 45 adapter, keychain, limited to 700, indie-retail exclusive) 7″
Various Artists – Like A Drunk In A Midnight Choir: Record Store Day Celebrates The Music Of Leonard Cohen [LP] (download, limited to 2000, indie-retail exclusive) LP
Various Artists – Like Nashville In Naija: Nigeria's Romance with Country Music, Yesterday and Today [2LP] (limited to 1200, indie-retail exclusive) LP
Various Artists – Lost In Space: Title Themes from Irwin Allens Hit TV Series [LP] (DIE-CUT SHAPED Picture Disc with image of the iconic Lost in Space Robot, limited to 1000, indie-retail exclusive) LP
Various Artists – Pineapple Express (Soundtrack) [2LP] (first time on vinyl, limited to 1000, indie-retail exclusive) LP
Various Artists – Psychic Migrations (Soundtrack) [2LP] ("Pitted" Pink Vinyl, gatefold, download, insert sleeves with stills from the film, limited to 1000, indie-retail exclusive) LP
Various Artists – Really Rock 'Em Right: Sun Records Curated by Record Store Day, Volume 4 [LP] (limited to 3500, indie-retail exclusive) LP
Various Artists – Soul Jazz Records Presents:Nigeria Soul Power 70: Afro-Funk Afro-Rock Afro-Disco [5×7"] (limited to 500, indie-retail exclusive) 7″
Various Artists – Soul Jazz Records Presents:Soul 70 [5×7"] (limited to 500, indie-retail exclusive) 7″
Various Artists – Soul Jazz Records Presents:Studio One Hi-Fi [5×7"] (limited to 500, indie-retail exclusive) 7″
Various Artists – Southwest Side Story [LP] ("Texas Crude" Colored vinyl, limited to 2000, indie-retail exclusive) LP
Various Artists – Stories For Ways & Means [12"] (Colored Vinyl, limited to 2000, indie-retail exclusive) 12″
Various Artists – The Rough Guide To Bollywood The Psychedelic Years [LP] (download with bonus Bollywood tracks, limited to 1200, indie-retail exclusive) LP
Various Artists – The Rough Guide To Delta Blues [LP] (download contains extra tracks, limited to 1200, indie-retail exclusive) LP
Various Artists – We're Gonna Have A Party! The Sound Of Wand Records [LP] (Gold Vinyl, limited to 1000, indie-retail exclusive) LP
Various Artists – Where The Pyramid Meets The Eye: A Tribute To Roky Erickson [2LP] (gatefold, first time on vinyl, limited to 2000, indie-retail exclusive) LP
Veldt, The – Symmetry b/w Slow Grind [7"] (limited to 450, indie-retail exclusive) 7″
Venom – At War With Satan [LP] (Picture Disc, limited to 1500, indie-retail exclusive) LP
Vic Chesnutt – West Of Rome [LP] (Lavender Vinyl, 8 bonus tracks, first time on vinyl, limited to 1500, indie-retail exclusive) LP
Victoria Williams – Victoria Williams & The Loose Band 'Town Hall 1995' [LP] LP
Vitamin String Quartet – VSQ Performs Kanye West [LP] (180 Gram, download, limited to , indie-retail exclusive) LP
Walter Lure & The Waldos – Live In Brooklyn [LP] (limited to 1000, indie-retail exclusive) LP
Warbringer – Woe To The Vanquished [LP] (Picture Disc, limited to 400, indie-retail exclusive) LP
Waylon Jennings & The 357's – Waylon Forever [12"] (Clear Orange Vinyl, single jacket with white inner sleeve, limited to 250, indie-retail exclusive) 12″
Wipers, The – Better Off Dead [7"] (feat. original 1978 picture sleeve artwork, limited, indie-retail exclusive) 7″
Wolfman Jack & The Wolfpack – Boogie With The Wolfman [LP] (Picture Disc, limited to 1000, indie-retail exclusive) LP
Wombats, The – The Wombats Proudly Present…This Modern Glitch [LP] (limited to 500, indie-retail exclusive) LP
Young Dolph – King Of Memphis [2LP] (Colored Vinyl, download, first time on vinyl, limited to 1000, indie-retail exclusive) LP
Zipper Club – Breath / Regrets [7"] (Random Mix Color Vinyl, lavender scented insert, limited, indie-retail exclusive) 7″
Zombies, The – I Want You Back Again [7"] (limited to 1250, indie-retail exclusive) 7″