Published on
March 10, 2015
Category
News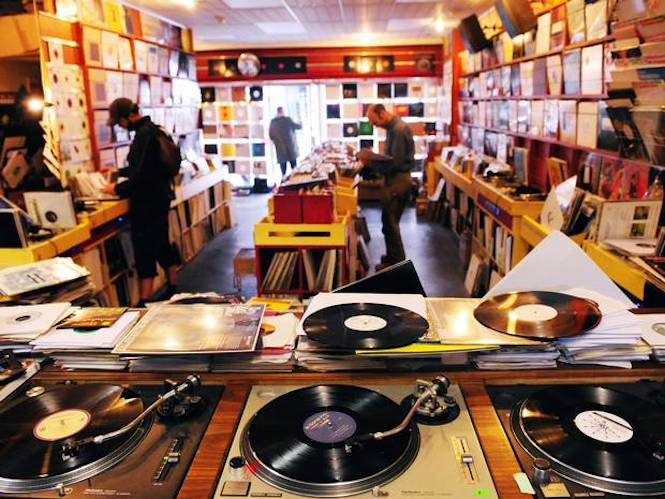 With Record Store Day fast approaching, here is the complete list of UK exclusives on offer this year.
A few weeks ago Foo Fighter's frontman Dave Grohl was unveiled as the Record Store Day 2015 Ambassador, a role previously occupied by Jack White, Chuck D and Iggy Pop, to name a few. "Every weekend I couldn't wait to take my hard earned, lawn-mowing cash down for an afternoon full of discovery", wrote Grohl in a blogpost upon receiving the appointment.
Now Record Store Day have announced the releases that will populate stores across the country on Saturday 18th April. More than 200 singles and 350 albums are on offer this year, so you better start saving the pennies from all that lawn-mowing.
To help you climb this mountainous vinyl offering in one go, we've pulled together an inventory check of every RSD release circulating UK stores this year. Grab your shovel:
A
A Pregnant Light – St Emaciation (7″)
a-ha – Take On Me (10″ picture disc)
A$ap Rocky – lpfj3 / multiply (7″)
Abbott, Luke – Music For A Flat Landscape (12″)
Acklin, Barbara / Sam Dees – Same Girl 2015 / Child of the Street 2015
Ad Libs, The – You'll Always Be In Style / The Boy From New York City (7″)
Adam And The Ants – Kings Of The Wild Frontier / Antmusic (7″)
Adams, Ryan – Come Pick Me Up (7″)
Added, Jeanne – A War Is Coming EP (10″)
Adonis – No Way Back (Azari & III / Mixhell Covers) (12″)
Air – Playground Love (7″ coloured vinyl)
Alexander, Amir presents Richie Ratchet – The Infinity! EP (12″)
Allman, Greg – TBC (10″)
Angelic Upstarts – Last Tango In Moscow (2LP)
Animal Collective – Prospect Hummer (LP)
Animals, The – We're Gonna Howl Tonight (LP)
Annabel (lee) – If Music presents: By the sea… and other solitary places (LP + CD)
Antorchas – Antorchas (7″)
Art (a.k.a. Spooky Tooth) – What's That Sound (For What It's Worth) / Rome Take Away Three (7″)
Automat / Camera – Automat / Camera (12″)
B
B-Movie – They Forgot / Trash And Mystery (7″)
Baby Godzilla Vs God Damn – Greedy Pete / We Don't Like You (10″)
Badbadnotgood Feat. Ghostface Killah – Stone Sour (Instrumentals) (LP)
Ballin, Chris – Endlessly (12″)
Bardo Pond – Is There A Heaven (12″)
Barnett, Courtney – Kim's Caravan (12″)
Barrett, Syd / R.E.M. – Dark Globe (Side by Side 7″)
Beat, The – 7″ Singles Box Set (13×7″)
Bee Gees – Extended EP (12″)
Bell, Becky / The Underground Band / Sweet Talks & Shelbra Deane – Under the Influence Sampler 2015 ft DJ Red Greg & Joey Negro Edits (12″)
Berry, Matt and Mark Morriss – This Is The Lie / October Sun (7″)
Better Than A Thousand – Just One (red vinyl LP)
Biffy Clyro – Puzzle (2LP)
Bis – I Love Bis (7″)
Black Keys, The / Junior Kimbrough – Meet Me In The City (7″)
Black Rebel Motorcycle Club – Weapon Of Choice / Need Some Air (7″)
Black Tambourines, The – No Action (7″)
Blackberry Smoke – Wood, Wire and Roses (10″ / 7″)
Blacker, Henry – Summer Tombs (LP)
Blackman, Don / Luther Vandross – Heart's Desire / Better Love (7″)
Blancmange – I Want More (Extended Version, 12″)
Blue Mountain Eagle – Blue Mountain Eagle (12″)
Blue Oyster Cult – Bad Channels (2LP)
Blunt, Doug Hream – Gentle Persuasion (remix) (12″ and magazine)
Bonamassa, Joe – Record Store Day Exclusive Pressing (12″)
Bowie, David – Changes (7″ picture disc)
Bowie, David – David Bowie (1966) (LP)
Bowie, David / Tom Verlaine – Kingdom Come (Side by Side 7″)
Bratley, Craig – Mannequin (Ewan Pearson Remixes) (10″)
Briggs, Anne – Anne Briggs (LP)
Brown, Barry – The Thompson Sound 1979-82 (7×7″)
Built To Spill – Untethered Moon (LP + CD)
Burgess, Mark – View from A Hill (book + download)
Burgess, Tim – Track Of My Life / I Already Do (12″)
C
Camouflage – Shine + Remixes (LP)
Carina Round – Tigermixes (7″)
Carlisle, Belinda – Heaven On Earth (Picture Disc)
Carthy, Martin – Martin Carthy (LP)
Cash, Johnny – Koncert v Praze – Live In Prague 1983 (LP)
Cash, Johnny – Man Comes Around / Personal Jesus RSD (7″)
Cathedral – VIIth Coming (2LP)
Charlatans, The Sinkane with The Charlatans / Laura Cantrell with The Charlatans (7″)
Chelsea – Right To Work: The Singles (2LP)
Chilton, Alex – Jesus Christ (7″)
CHVRCHES – Get Away / Dead Air (7″)
Cinerama – Torino (2LP)
Clark, Chris / Frank Wilson – Do I Love You (Indeed I Do) (7″)
Clinton, George – Chocolate City: London | P-Funk Live at Metropolis (DVD+ vinyl)
Close Lobsters – Firestation Towers: 1986 – 1989 (3LP)
Clutch – From Beale Street To Oblivion
Coachwhips, The – Bangers Vs Fuckers (LP)
Cole, Nat "King" – Unforgettable / The Magic Window (10″)
Collins, Shirley – English Songs EP (7″)
Continuum – TBC (7″ + DVD)
Coombes, Gaz – Detroit (10″)
Cooper Clarke, John – Gimmix EP (7″)
Copper, Bob and Ron – Traditional Songs from Rottingdean (LP)
Crispy Ambulance – Compulsion (LP)
Czukay, Holger – 11 Years Innerspace (2×10″)
Czukay, Holger – Hit/Flop (2×10″)
D
D'Angelo – The Charade / Thousand Deaths (7″)
Dag Nasty – Minority Of One (Translucent green vinyl LP)
Daughter/ Warpaint – Winter / Feeling Alright (12″)
Death By Stereo – If Looks Could Kill, I'd Watch You Die (LP)
Death Cab For Cutie / Freddy Johnston – Bad Reputation (Side by Side 7″)
Deep Purple – Out Of Hand (10″)
Deep Purple – Black Night / Speed King (7″ blue opaque vinyl)
Deep Purple – Live With Orchestra: Montreux 2011 (3LP)
Deep Purple – The Book of Taliesyn (Mono, white vinyl LP)
Dees, Sam / Barbara Acklin – Child of the Street 2015 / Same Girl 2015
Dells, The – It's All Up To You / Wear It On Your Face (7″)
Demob Happy – Young And Numb EP (10″)
Dettinger – Intershop (LP + CD)
Dexys Midnight Runners – Don't Stand Me Down (Purple vinyl LP)
Dilla, J – Love (7″)
Dils, The – I Hate The Rich (7″)
Dire Straits – Honky Tonk Demos (2×7″)
Dirty Three, The – The Dirty Three (2LP)
Disorder – Total Disorder (2LP)
DJ Vadim – Black Is The Night (7″)
Django Django – Beginning to Fade (7″)
Doors, The – Strange Days (Mono LP)
Down N Outz – Down N Outz EP (12″)
Dr Strangely Strange – Kip of the Serenes (LP)
Dunlap, Slim – The New Me / Times Like These (LP)
Dury, Ian – New Boots and Panties!! (2LP + popup)
Dylan, Bob – The Night We Called It A Day / Stay With Me (7″)
E
El Khatib, Hanni – Devil's Pie (7″)
Eno, Brian – My Squelchy Life (2LP)
Erasure – The Violet Flame Remixes (12″)
ESG – The Moody EP (12″)
Eyedea & Abilities – A & E (Picture disc LP)
Ezra, George – Wanted on Voyage (LP)
F
Faccini, Piers – Work Songs (LP)
Fame, Georgie – R&B From The Camden Theatre (LP)
Fame, Georgie – The Soul EP (7″)
Family – Scene Through The Eye Of A Lens / Gypsy Woman (7″)
Fever The Ghost / Temples – Keep In The Dark / Calico (7″)
Field Music – Drifters (LP)
Fields Of The Nephilm – Fallen (LP)
Finitribe – Side A: 101 (Timothy J Fairplay remix) / Side B: 101 (Scott Fraser 2015 re-shuffle) (12″)
Five Or Six – Cantame Esa Cancion Que Dice, Yeah Yeah Yeah (LP)
Flaming Lips, The – Bad Days (10″)
Flaming Lips, The – Brainville (10″)
Flaming Lips, The – This Here Giraffe (10″)
Flipper – Love Canal (7″)
Florence And The Machine – TBC (blue vinyl 12″)
Flynn, Johnny – Detectorists (OST) (7″)
Foo Fighters – Songs From The Laundry Room (10″)
Ford, Sheila – Here You Are / The Best of My Love (7″)
Fotheringay – Bruton Town / The Way I Feel (7″)
frnkiero andthe cellabration – Live At BBC Maida Vale (12″)
G
Gallagher, Noel ['s High Flying Birds] – In The Heat Of The Moment (remixes) (12″)
Gallagher, Rory – City Hall In Session (10″)
Gameface – Every Last Time (Translucent gold vinyl LP)
Garbage – TBC (10″)
Garnett, Carlos – Mystery of Ages – Anthology (2LP)
Garwood, Duke / Mark Lanegan – Fresh As A Sweet Sunday Morning / Needle of Death (7″)
Gaye, Marvin – Once Upon A Time (7″)
Genesis – From Genesis To Revelation (LP + 7″)
Ghostface Killah / Jay-Z – Whip You With A Strap / U Don't Know (7″)
Germs, The – Forming (7″)
Giant Sand – Beyond the Valley of Rain (2LP with download card)
Gibbs, Joe and The Professionals – African Dub Chapter Two (LP)
Glass Animals – The Remix EP (12″)
Go! Team, The – Ye Ye Yamaha / Till We Do it Together (7″)
Goblin – Chi? 7″)
God Damn Vs. Baby Godzilla – We Don't Like You / Greedy Pete (10″)
Gods, The – Genesis (Mono, splattered coloured vinyl LP)
Goodwin, Jimi / Pete Wiggs – Didsbury Girl (Tear Down Dub) / We've Got The Moves (7″)
Gorgon City – Sirens Remixes (12″)
Grant, John – John Grant and the BBC Philharmonic Orchestra : Live in Concert (LP/CD)
Grateful Dead, The – Wake Up To Find Out: Nassau Coliseum, Uniondale NY 3/29/90 (5×12″)
Grizzly Bear – Horn Of Plenty (LP)
Grotesque – In The Embrace Of Evil (2LP)
Gut Und Irmler / Moebius Story Liedecker – Gut Und Irmler / Moebius Story Liedecker (12″)
H
H Hawkline / TOY and Jane Weaver – It's A Drag / Fell From The Sun (7″)
Half Japanese – Volume 3: 1990-1995 (3LP + download)
Happy Mondays – Live Brixton (2LP)
Happy Mondays – Pills Thrills n' Bellyaches (coloured vinyl LP)
Harper, Nick – Wilderness Years Vol. 1 (LP)
Harris, Calvin – Motion (2LP)
Harrow, Richard – ∆ÇÎ∂ H∆MM€R (12″)
Harvey, Alex – Midnight Moses / Jumping Jack Flash (7″)
Hawklords – 25 Years On (2LP)
Hawkwind – Back On The Streets (7″)
Hawkwind – Hawkwind (Orange vinyl LP)
Hawkwind – Live Seventy Nine (2LP)
Hawkwind – Quark Strangeness And Charm (2LP)
Hayes, Gemma – Palamino (7″)
Heads, The – Nobody Knows (2LP)
Heartbreakers – Live At Max's Kansas City volumes 1 & 2 (2LP)
Hendrix, Jimi – Purple Haze / Freedom (7″)
Hersh, Kristin Hersh – Sundrops/The Cuckoo (7″)
Hinds ♥ Parrots – Split 7″
Hollins Gospel Singers – Live From Heaven (CD)
Honeyblood – No Big Deal / The Black Cloud (7″)
Hooton Tennis Club / Wytches, The – Barstool Blues / Wastybois (7″)
Hooverphonic – Blue Wonder Powder Milk (LP)
Hopkins, Jon – I Remember (10″)
I
I-Robots Present: Gene Hunt – Gene Vs Gene Part. I (12″)
I-Robots Present: The Stupid Set – Psychodisco (The I-Robots Edits) (CD/LP)
Icky Blossoms – Living In Fiction (7″)
Icons Of Filth – The Mortarhate Projects (2LP)
Iifman – Big Bad Wolves OST (LP)
Imagine Dragons – I Bet My Life (Bastille Remix) (7″ picture disc)
Inca Babies, The – Panthers (7″)
Infa Riot – The Best Of (2LP)
Isaac, Jake – Where We Belong (7″)
J
Jackson, Python Lee – In A Broken Dream (7″)
Jagaara – In The Dark (7″)
James – Curse Curse Remixes (12″)
James , Brian – The Guitar That Dripped Blood (LP)
James, Jose – The Dreamer (LP)
Jansch, Bert – Bert Jansch (LP)
Jansch, Bert – Needle Of Death EP (7″)
Jay-Z / Ghostface Killah – U Don't Know / Whip You With A Strap (7″)
Jean-Paul Sartre Experience – I Like Rain: The Story of The Jean-Paul Sartre Experience (3LP)
Jehst x Strange U – Dolph Lundgren (7″)
Jesus And Mary Chain, The – Psychocandy. Live. Barrowlands. (LP)
Jethro Tull – Live at Carnegie Hall (2×12″)
Jethro Tull's Ian Anderson – Thick As a Brick Live In Iceland (3LP)
Jinski – Live Long EP (10″)
Johnson, Robb And The Irregulars – Cheep And Cheerful / The Top Of This Wheel (7″)
Johnston, Freddy / Death Cab For Cutie – Bad Reputation (Side by Side 7″)
Jones, Grace – I Need A Man (12″)
Jones, Linda – Hypnotized (LP + 7″)
Jones, Sharon And The Dap-Kings – Little Boys With Shiny Toys (7″)
Jones, Tom – Chills And Fever / Breathless (7″)
Julius, Orlando and his Modern Aces – James Brown Ride On (7″)
K
Kagoule – The Bastard / Monarchy (7″ dirty gold vinyl)
Kaleidoscope – Unreleased Mixes (7″)
Karizma – Beats And Bobs (10″)
Kasher, Tim / Chris Farren – You Be Me For A While (7″)
KC And The Sunshine Band – I Get Lifted (Todd Terje Edit) (10″)
KC And The Sunshine Band – I'm Your Boogie Man (Todd Terje Edit) (10″)
Kenny Wayne Shepherd Band – A Little Something From The Road – Vol. 1 (12″)
Khruangbin – History Of Flight (12″)
Kiasmos – Looped EP (12″)
Kid Wave featuring Ben Romans Hopcraft / Caitlin Rose – Listen To Her Heart / Been Thinking About You All The Time (7″)
Killing Joke – Live At Hammersmith Apollo 16.10.10 Part 1 (2LP)
Killing Joke – Live At Hammersmith Apollo 16.10.10 Part 2 (2LP)
Kimbrough, Junior / The Black Keys – Meet Me In The City (7″)
Kinks, The – Kinksize Sessions (7″)
Kitty, Daisy And Lews & Slimkid3 – Bye Bye Bye (12″)
Koes Barat – Koes Barat (12″)
Kolstø/Atlanter/Frøkedal – Stand Still/Temple (7″)
L
Lamb – TFA / SH09 Is Back (10″)
Lanegan, Mark / Duke Garwood – Needle of Death / Fresh As A Sweet Sunday Morning (7″)
Last, James – Everyday People / Here Comes The Sun (7″)
Late Nite Tuff Guy – Party Time / Hands Up (12″)
Lazarus Clamp – The Bird Is Not The Metaphor (2LP)
Lazarus, Damian and The Ancient Moons – Vermillion (7″)
Leatherface – Razor Blades and Aspirin: 1990-1993 (3LP)
Lees of Memory, The – Soft Places / Within A Dream II (7″)
Leisure Society, The – The Fine Art Of Hanging On (LP)
Lemonheads, The – Bored on the 4th July (12″)
Lemonheads, The / Gram Parsons – Brass Buttons (Side by Side 7″)
Len Price 3, The – Walking On Your Head (7″)
Levitation – Never Odd Or Even EP (12″)
Liminanas, The – Time Will Tell (7″)
Little Boots – Business Pleasure (12″)
Lonely The Brave – Call Of Horses (12″)
Lonesound -Fallen Leaves / One For Jo (7″)
Loose Joints – Pop Your Funk (7″)
Lord Sitar Lord Sitar (Stereo, green vinyl)
Lost Midas / The Seshen – Reworked (7″)
Lovely Eggs, The – This Is Our Nowhere (LP)
Luv Jam, Cottam, Jasha Hagen & Ruf Dug – Gott Ep 2 (12″)
M
Maccabees, The – Colour It In (LP)
Machinedrum -Vapor City Remixes (12″)
Madness – Lovestruck / Le Grand Pantalon (pop up 7″)
Magic in Three's – Beatin' Tha Breaks (10″)
Major Accident – Clockwork Heroes: The Best Of (2LP)
Makovetskaya, Olga featuring Incognito – Got To Keep Moving On (12″)
Man Made – Carsick Cars / TV Broke My Brain / All Mine (12″)
Manic Street Preachers – The Holy Bible (LP)
Marley, Bob – The Early Years Collection 1960 – 1971 (12 x 7″ + poster)
Marling, Laura – False Hope (7″)
Marnie – Wolves (7″)
Marr, Johnny – I Feel You (7″)
Marsicans – Gone In A Second / Something English (7″)
Martyn, John – Cocaine / London Conversation (7″)
Mastodon – Atlanta (12″ picture disc)
Mbulu, Letta / Dexter Wansel – Nothin' Wrong / Life On Mars (7″)
McDowall, Rose – Don't Fear The Reaper (12″)
McLusky – McLuskyism (LP)
Meijer, Lavinia – Voyage (LP)
Membranes, The – Do The Supernova (7″)
Metallica – No Life 'Til Leather (cassette)
Midlake – Live In Denton (12″ + CD + DVD)
Milky Wimpshake – Encore, Un Effort! (7″)
Miller, Graeme And Steve Shill – The Moomins Theme (7″)
Mimms, Garnett – Prove It To Me / Looking For You (7″)
Ministry – Trax Box! (7CD + LP + Book)
Mission of Burma – Signals, Calls and Marches EP / Academy Fight Song (12″ + EP)
Misty, Father John – I Love You, Honeybee 7″
Modestep – Machines (12″)
Momrelle, Tony ft Chantae Cann – Back Together Again (7″)
Monte Cristos The – Love Missile F1-11 (7″)
Monty Python – Galaxy Song (Stephen Hawking Version) / Galaxy Song (7″)
Moody Blues, The – Magnificent Moodies (LP)
Morbid Angel – Juvenilia (LP)
Morricone, Ennio – Il mio nome è Nessuno (My name is Nobody) (LP)
Morris, Sarah Jane – I Shall Be Released (7″)
Moses, Bob – All In All (LP)
Moulin, Marc – Placebo Years (LP)
Mull Historical Society – The Best Of (2LP)
Mumford And Sons – Believe / The Wolf (7″)
Mungo's Hi Fi ft General Levy / Mungo's Hi Fi – Gideon Boot / Belly Skank (7″)
Mungo's Hi Fi Marina P/ Mungo's Hi Fi ft Ranking Joe – Divorce a I'italienne / I Love Jah (7″)
Mungo's Hi-FI – Belly Ska #1 (7″)
Mungo's Hi-FI – Belly Ska #2 (7″)
Muro, Don – As Long As Ive Got You (7″)
N
Nelson, Willie – Teatro (2LP)
Neon Judgement, The – Time Capsule 1980 -2015 (box set)
Nicholas, Grant – Everyday Socuety (7″)
Nicholls, Billy – Would You Believe / Girl From New York (take 2) (7″)
Nocturnal Sunshine – Take Me There (12″)
Nu Frequency Ft Ben onono – Fallen hero (MCDE / Mark E remix) (12″)
O
Ocean Colour Scene – Live at the Bridgewater Hall with Q Strings (12″)
Off! – Live From The BBC (10″)
Okkervil River – Sleep & Wake Up Songs (12″)
Oneohtrix Point Never – Commissions II (12″)
Onyeaborm, William – Atomic Bomb (12″)
OPM – In and Out of Love / City Life (12″)
Orchestral Manoeuvres In The Dark – Julia's Song (Dub Version) / 10 To 1 (10″)
Our Daughter's Wedding – Lawnchairs (7″)
P
Pablo -Feels Like (OPOLOPO Remix ) (10″)
Pagans – Pirate's Cove 9/24/79 (LP)
Pal Joey – Between The Lines (12″)
Parks, Tess and Anton Newcombe – Cocaine Cat (10″)
Parsons, Gram / The Lemonheads – Brass Buttons (Side by Side 7″)
Peace – Peace (12″)
Pearlfishers, The – The Strange World Of Tall Poppies (LP)
Pere Ubu – Elitism for the People Pere Ubu 1975-78 (4xLP)
Perry, Lee – Back on the Controls – The Session Reels (5×7″)
Perry, Lee – BlackBoard Re-Vision (12″)
Perry, Lee – Holiness Righteousness (LP)
Persson, Nina – Animal Crossbreed (12″)
Phillips, Anthony – The Geese And The Ghost (LP)
Placebo – Placebo (Red vinyl LP)
Plant, Robert – More Roar (10″)
Poison Idea – Just To Get Away / Kick Out The Jams (7″ picture disc)
Police Dog Hogan – Moutarde (10″)
Pop Group, The – Versions Galore (12″)
Pop, Iggy – Shot Myself Up (LP+7″)
Porter, N.F. – If I Could Only Be Sure / Keep On Keeping On (7″)
Power Glove – EP1 (12″)
Pre New, The – Speed Queen (7″)
Presley, Elvis – Elvis Sings (2LP)
Pretty Things, The – The Pretty Things EP (7″)
Procol Harum – Homburg EP (7″)
Prodigy, The – Ibiza (7″)
Psychedelic Furs, The – Mirror Moves (LP)
Public Image Ltd – Alfie 2009 Part 1 (2LP)
Public Image Ltd – Alfie 2009 Part 2 (2LP)
Public Image Ltd – Live At The Isle Of Wight Festival 2011 (2LP)
Pulled Apart By Horses – One Night In Heaven (LP)
Pullman – Turnstyles And Junkpiles (LP)
Pullman – Viewfinder (2LP)
Pulp – Dogs are Everywhere (12″)
Pulp – Freaks (LP + download)
Pulp – It (LP + download)
Pulp – Little Girl (With Blue Eyes) (12″)
Pulp – Separations (LP + download)
Pulp – They Suffocate at Night (12″)
R
R.E.M. / Syd Barrett – Dark Globe (Side by Side 7″)
Rainbow Ffolly – Sallies Fforth (Mono, LP splattered vinyl)
Real Friends – More Acoustic Songs EP (12″)
Red House Painters – Box Set (6xLP)
Redding, Otis – Otis Blue (2×12″)
Reich, Steve – Music For 18 Musicians (2LP)
Reitzell, Brian – 30 Days Of Night OST (LP)
Replacements, The – Alex Chilton (10″)
Residents, The – Satisfaction (7″)
Residents, The – Intermission (12″)
Restriction, Action EP (12″)
Reykjavik Kids – Reykjavik Kids (12″)
Riddles – Psychedelic Power Engine Iron Claw Thunder Mistress (7″)
Ride – OX4 (red vinyl LP)
Rival Sons – Black Coffee / Long As I Can See The Light (7″)
Roberts, Sam – Counting The Days (12″)
Rose, Caitlin / Kid Wave featuring Ben Romans Hopcraft – Been Thinking About You All The Time / Listen To Her Heart (7″)
Roxy Music – Ladytron (Previously unreleased unedited version) / The Numberer (Steven Wilson Stereo Remix) (10″)
Rubaiyats, The / John Williams & The Tick Tocks – Omar Khayyam / Do Me Like You Do Me (7″)
Run The Jewels – Bust No Moves EP (12″)
Rundgren, Todd, Hans-Peter Lindstrøm and Emil Nikolaisen – Put Your Arms Around Me (12″)
S
Saints, The – Eternally Yours (coloured vinyl, 12″)
Sakamoto, Ryuichi and David Sylvian – Bamboo Houses / Bamboo Music (7″)
Schneider, Roedelius – Schneider Kacirek (12″)
Section 25 – Mirror (7″)
Sex Pistols – Never Mind The Bollocks (Picture disc LP)
Sex Pistols – Spunk (LP)
Shocking Blue – Lovebuzz (7″)
Shockwave – The World Is Ours: The Complete Recordings (2LP)
Shura – Jungle (Indecision Remix) (12″)
Sic Kids – Rhythm Gurl (7″)
Side By Side 7″ – Mystery Artists
Side by Side 7″: David Bowie / Tom Verlaine – Kingdom Come (7″)
Side by Side 7″: Death Cab For Cutie / Freddy Johnston – Bad Reputation (7″)
Side by Side 7″: Dionne Warwick / The Stranglers – Walk On By (7″)
Side by Side 7″: Gram Parsons / The Lemonheads – Brass Buttons (7″)
Side by Side 7″: Syd Barrett / R.E.M. – Dark Globe (7″)
Sigmatropic – Every Soul Is A Boat (12″)
SikTh – The Trees Are Dead And Dried Up Wait For Something Wild (2LP)
Simon And Garfunkel – Homeward Bound
Simple Minds – Celebrate – Live From the SSE Hydro Glasgow (2LP
Simple Minds – Waterfront (7″ picture disc)
Sinatra, Frank – Songs For Young Lovers (10″)
Siouxsie And The Banshees – Join Hands (LP)
Slayer – When The Stillness Comes / Black Magic (Live At Wacken 2014) (7″)
Sleaford Mods – Tiswas EP (12″)
Sleazy McQueen / Luvless / Jkriv / Riccio / The Noodleman & more – Editors Kutz RSD (2×12″)
Slow Club – I Swam Out To Meet You (LP)
Slowdive – Blue Day (LP)
Sly And The Family Stone – Live At Filmore 1968 (LP)
Small Faces, The French EP Box (5×7″ set)
Small Faces, The – Afterglow Of Your Love (Alternate Single Mix) / Up The Wooden Hills To Bedfordshire (7″)
Small Faces, The – Ogden's Nut Gone Flake (LP)
Smile Down Upon Us – Smile Down Upon Us (LP + download)
Soft Machine – Wonderland (LP)
Soko – Ocean Of Tears (7″)
Solyst / Tarwater – Solyst / Tarwater (12″)
Somerville, Jimmy – 12 Inches Of Homage (2×12″)
Soul Stirrers, The – The Darjeeling Limited (LP)
Sound, The – Propaganda (2×10″)
Spaceape, The (Ft Kode9 & The Bug) – Ghost Town / At War With Time (7″)
Springfield, Dusty – What's It Gonna Be / Spooky (7″)
Springsteen, Bruce – Born In The USA (LP + download)
Springsteen, Bruce – Nebraska (LP + download)
Springsteen, Bruce – The River (LP + download)
Springsteen, Bruce – Darkness On The Edge Of Town (LP + download)
Springsteen, Bruce – The Wild, The Innocent And The E Street Shuffle (LP + download)
Springsteen, Bruce – Greetings From Asbury Park, NJ (LP + download)
Springsteen, Bruce – Born To Run (LP + download)
St Paul & The Broken Bones – Live From the Alabama Theater (7″)
Stackwaddy -Bugger Off Two (The Strawberry Studios Out-Takes) (LP)
Stalin, Cecilia and Khari Cabral Simmons – The Story Of Love LP)
Starvue / Ruben Wilson – Body Fusion / Gotta Get Ya Own (7″)
Stealing Sheep / The Voyeurs – Murmur Earth / Rhubarb Rhubarb (Third Webb Rhubarb and Custard mix) (7″)
Stone Sour – TBD (black/white marbled vinyl LP)
Stooges, The – Live at Ungano's (2×12″ grey/white spattered vinyl, plus poster)
Stranglers, The / Dionne Warwick – Walk On By (Side by Side 7″)
Subways, The – Taking All The Blame (7″)
Suede – Dog Man Star. Live. Royal Albert Hall (2LP)
Summer, Donna – Another Place And Time – The UK 12" Singles (5×12″)
Sun Dial – Other Way Out (LP)
Sun Ra – Planets Of Life Or Death: Amiens '72 (LP)
Sunshipp, Leo / Tavasco – Give Me The Sunshine / Love Is Trying To Get A Hold On Me (7″)
Supergrass – Sofa (Of My Lethargy) (7″)
Swans – Swans EP (12″)
Swift, Richard – Ground Trouble Jaw (12″)
T
T D Q (Royal-T, DJ Q and Flava D – Day and Night (12″)
T.Rex – Light Of Love (picture disc LP)
Talk To Angels – TBC (7″)
Tamikrest – Taksera (LP)
Tavasco / Leo Sunshipp – Love Is Trying To Get A Hold On Me / Give Me The Sunshine (7″)
Taylor, Joanne Shaw – Feels Like Home (12″)
Taylor, Maria – 11.11 (LP)
Taylor, Maria – Lynn Teeter Flower
Tears For Fears – Shout (12″)
Tegan And Sara – Live at Zia Records (coloured vinyl 12″)
Temples / Fever The Ghost – Calico / Keep In The Dark (7″)
Test Department – Tested Product (12″)
Thompson, Linval – Dub Vocal Meet Version (LP)
Thorn, Tracey – Songs from The Fallin' EP (7″)
Thunder – When The Music Played (10″)
Thunders, Johnny and the Heartbreakers – L.A.M.F (LP)
Tierra Blanca – Shadowlands (12″)
Tobin, Amon – Dark Jovian (2×12″ box set)
Tomcats / Los Juniors – A Tu Vera / Te Fuiste (7″)
Tomorrow – Tomorrow (Mono, splattered coloured vinyl)
TOY and Jane Weaver / H Hawkline – Fell From The Sun / It's A Drag (7″)
Trembling Bells – Hallelujah / Wah Wah (7″)
Trey Anastasio Band – Bounce/Never
Turbowolf – Solid Gold (10″)
TV On The Radio – TBC (12″)
Two Bears – Bears In Space (12″ + CD + art print)
Typheni / Melissa B & Sheila Ford – Danny Krivit Edit & John Morales Mix & DJ Spen Rmx (12″)
U
U2 – Songs Of Innocence (2×10″)
UK Decay – Rising From The Dread (12″)
UK Subs – Huntington Beach (2LP)
UK Subs – Japan Today (LP)
UK Subs – Mad Cow Fever (LP)
UK Subs – Normal Service Resumed (2LP)
UK Subs – Universal (2LP)
Ukrainians, The – A Short History of Rock Music in Ukrainian (LP)
Unity – You Are One (7″)
Urges, The – Passing Us By / Corners Of Her Mind (7″)
Used, The – Shallow Believer (coloured vinyl LP)
V
Vampire Weekend – Step (12″)
Van Vliet, Don and The Magic Band – Rough Raw and Amazing (LP)
Vandross, Luther / Don Blackman – Better Love / Hearts Desire (7″)
Vanilla Pod – Seeing Out The Sunrise (LP)
Varukers, The – Another Religion, Another War: The Riot City Years (2LP)
Venetian Snares – 2370894 (2LP)
Venetian Snares – Huge Chrome Cylinder Box Unfolding (2LP)
Venetian Snares – Rossz Csillag Alatt Szuletett (2LP)
Venetian Snares – Winter In The Belly Of A Snake (2LP)
Venetian Snares & Speedranch – Making Orange Things (2LP)
Venom – From The Very Depths (2LP)
Verlaine, Tom / David Bowie – Kingdom Come (Side by Side 7″)
View, The – Marriage (7″)
Vinalog Vs Ben Sims – Fuck Me / In the Middle (12″)
VKNG – EP (10″)
Voyeurs, The / Stealing Sheep – Rhubarb Rhubarb (Third Webb Rhubarb and Custard mix) / Murmur Earth (7″)
W
Wake, The – Clouds Disco (7″)
Wansel, Dexter / Letta Mbulu – Life On Mars / Nothin Wrong (7″)
Warpaint / Daughter – Feeling Alright / Winter (12″)
Warwick, Dionne / The Stranglers – Walk On By (Side by Side 7″)
Waterboys, The – Puck's Blues EP (10″)
We Are Scientists – TV En Français Sous La Mer (12″)
Wedding Present, The – Plugged In (LP)
Wedding Present, The – Take Fountain (2LP)
Wedding Present, The – The Hit Parade (2LP)
While She Sleeps – Four Walls (7″)
White Stripes, The – Get Behind Me Satan (2LP)
Who, The – Be Lucky (Coloured vinyl 7″)
Wibbley Brothers, The – Go Weird (LP)
Wiggs, Pete / Jimi Goodwin – We've Got The Moves / Didsbury Girl (Tear Down Dub) (7″)
Wilden, Gert – Schulmadchen Report (7″)
Wilkinson And TC – Hit The Floor (12″)
Williams, John & The Tick Tocks / Rubaiyats, The – Do Me Like You Do Me / Omar Khayyam (7″)
Wilson, Brian – New single (7″)
Wilson, Frank / Chris Clark – Do I Love You (Indeed I Do) (7″)
Wilson, Ruben / Starvue – Gotta Get Ya Own / Body Fusion (7″)
Winter, Johnny – It's My Life Baby: The Best Of The Alligator Years (LP)
Witchfinder General – Friends Of Hell (LP)
Wobble, Jah – Merry Go Round / Lets Go Psycho (10″)
Wombats, The – Greek Tragedy (7″)
Wonder Philharmonic, The – Shogun Assassin 1990 OST (LP)
Wright, Betty – Man Of Mine (7″)
Wright, Sandra – Wounded Woman (LP)
Wytches, The / Hooton Tennis Club – Wastybois / Barstool Blues (7″)
X
X- Adult Books (7″)
Y
Yardbirds, The – Rarities EP (7″)
Yardbirds, The – Roger The Engineer (picture disc LP)
Yorkston, James – The CRAWS Demos (LP)
Young Knives, The – Something Awful (10″)
Z
Zombies, The – She's Not There (7″)
#
!!! – All U Writers / Gonna Guetta Stomp (12″)
101ers, The – Elgin Avenue Breakdown (Revisited) (2×12″ red vinyl)
16 Horsepower – Folklore (LP)
16 Horsepower – Olden (2LP)
1975, The – Facedown EP (12″)
1975, The – IV (12″)
1975, The – Music For Cars EP (12″)
1975, The – Sex EP (12″)
999 – Biggest Prize In Sport / Biggest Tour In Sport (2LP)
ORIGINAL CAST RECORDING
Original Cast Recording – Hedwig & The Angry Inch (Pink vinyl LP)
Original London Cast Recording – The Rocky Horror Show (LP)
ORIGINAL SOUNDTRACK
Original Soundtrack – Frank (LP)
Original Soundtrack – Nightsatan And The Loops Of Doom (LP)
Original Soundtrack – Psycho (7″)
Original Soundtrack – Utopia Series 2 / Cristobal Tapia De Veer (2LP)
VARIOUS ARTISTS
Various Artists – Electroconvulsive Therapy Vol 3 (LP)
Various Artists – An On-U Journey Through Time And Space (10″)
Various Artists – Northern Soul – The Soundtrack (2LP)
Various Artists – Soul Jazz Records Presents Down Beat Special – Limited Edition Studio One (5×7″ box set)
Various Artists – Cinevox 5 (5 x 7″ boxset)
Various Artists – Compiled by Amorphous Androgynous: A Monstrous Psychedelic Bubble (Exploding In Your Mind) (2LP)
Various Artists – Creation Records Artifact (10×7″)
Various Artists – Drum & Bass Arena 2015 (2x yellow vinyl 12″)
Various Artists – Eclectic Journeys (12″)
Various Artists – Genius of Time – Larry Levan sampler (12″)
Various Artists – Gods Of Grind (Cathedral, Carcass, Entombed , Confessor) (2x neon yellow vinyl)
Various Artists – Guitar Safari (LP)
Various Artists – Lows In The Mid Sixties Volume 54: Kosmic City Part 2 (LP)
Various Artists – Moton Records Inc (3×7″ box)
Various Artists – MTR RSD 2015 (12″)
Various Artists – Next Life (3LP)
Various Artists – Now! 1 (2LP)
Various Artists – Ork Complete Singles (16×7″)
Various Artists – Party After Hours (10″)
Various Artists – Polyvinyl 4-Track Single Series Vol 1 (LP)
Various Artists – R&B Hipshakers Vol. 3 (2LP)
Various Artists – Sensible Record Labels (LP + download)
Various Artists – Shirley Inspired (3LP Gatefold + download)
Various Artists – Soho Scene '62 – Jazz Goes Mod (LP)
Various Artists – Texas Soul 64 (LP)
Various Artists – Thai Pop Spectacular 1960s – 1980's (2LP)
Various Artists – The First Rock n Roll Record (4LP + 7inch + 3CD + download)
Various Artists – Thing Leaves The House (7″)
Various Artists – Trashmouth Records' Record Store Day EP (12″)
Various Artists – Truth & Soul 2015 Forecast (LP)
Various Artists – Continuum (7″+DVD)