Published on
September 28, 2016
Category
News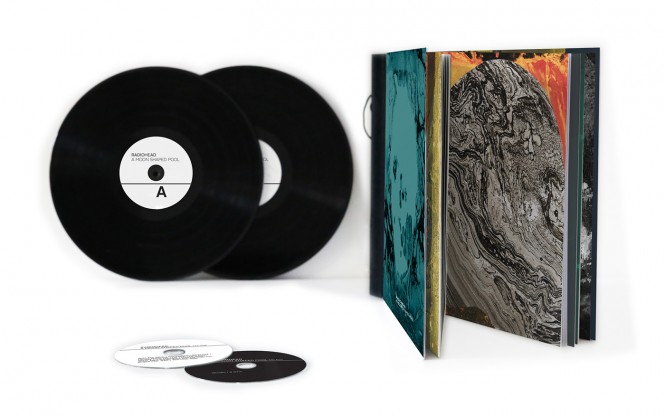 Radiohead share unboxing video of lavish limited edition.
Released on beautiful white and standard vinyl earlier this year, we've been promised a deluxe casebound edition of Radiohead's phenomenal new album A Moon Shaped Pool ever since the record was announced back in May.
As reported at the time, this edition has been presented in a casebound album inspired by the albums for 78rpm shellac records in the library of La Fabrique in France.
Read next: The 10 most collectable Radiohead vinyl editions
Featuring 32 pages of artwork, the complete 11-track album has been pressed onto two heavyweight vinyl records, will include a double compact disc featuring two extra tracks. The whole thing has been gift wrapped in a piece of Radiohead ½ inch master tape from an actual recording session going back to the band's 2000 album Kid A.
As the product description explains:
The tape degrades over time and becomes unplayable. We thought rather than it ending up as landfill we would cut it up and make it useful as a part of the special edition. A new life for some obsolete technology…

Each loop contains about ¾ of a second of audio – which could be from any era in the band's recording past going back to Kid A. You may have silence, you may have coloured leader tape, you may have a chorus… It's a crapshoot.

We have copies. Don't worry.
Announcing that the edition is finally being shipped, Radiohead have released an unboxing video (of sorts) on their Facebook page which shows off the casebound set in all its glory.
Check it out below: