Published on
June 27, 2016
Category
News
New York band collect the broken images and ephemera of the golden age of psych.
Working within a tradition that has defined visual and musical tropes can be tough. As their fifth studio album in ten years illustrates, Psychic Ills know this all too well. Led by duo Tres Warren and Elizabeth Hart, the New York outfit found the process of creating the record fitted neatly with its title.
"Making this one was kind of a blur, definitely a journey like the title suggests," Warren has said, both personally, and as the record's stoned soul picnic of influences suggests, a document of what's it's like to try and carve a new space in a psychedelic tradition that has already explored all manner of altered states.
To help capture this tradition, in all its non-specific imagery, the band enlisted Justin Lowe and Jonah Freeman to provide the artwork, the pair putting their experience of creating immersive installations into building a conceptually coherent visual identity for the release.
Being well-versed in the ephemera of psychedelia obviously helped, with the gatefold sleeve invoking a Dadaist scrapbook of collaged newspaper clippings and blurred photography.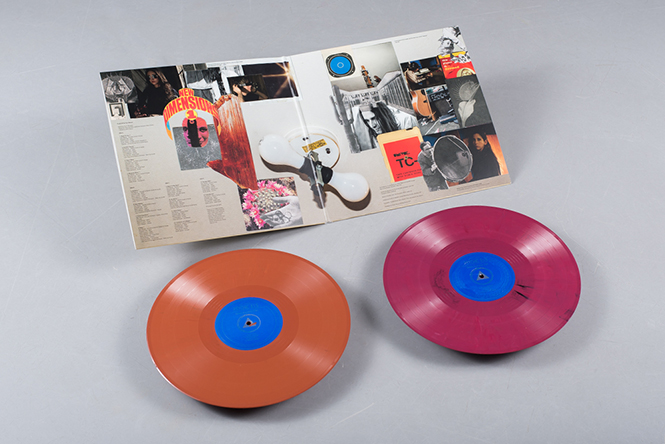 Quotes and lyrics from Dion DiMucci and Sun Ra drift between the imagery, both of which evoke a sense of personal discovery that yearns for a misplaced history. The latter's collection of science fiction poetry This Planet Is Doomed features below, juxtaposed with a vintage botanical image of a venus fly trap. There are snippings from the cover of Robert Silverberg's collection of sci-fi fiction New Dimensions 1 from 1971, early macro-computing systems, and the Univox TC-1 retro tape cartridge. A vision of the future that never materialised.
The record's materiality follows the same path. Its inner sleeves are brown paper bags, while an op-art futurist poster pressed onto newsprint folds out from one of the envelopes. Even the cover itself is trying to root itself in a psych rock lineage, mimicking the utilitarian neutrality of classic-era bootlegs.
"I am trying to find myself, find the ideas from which I sprang", Sun Ra writes. Even if the journey is still not over, Psychic Ills have done their best to lay theirs out visually, in a double LP release that you can explore in more detail below:
Psychic Ills' Inner Journey Out is out now on Sacred Bones.
Photos by Michael Wilkin.