Published on
February 8, 2023
Category
News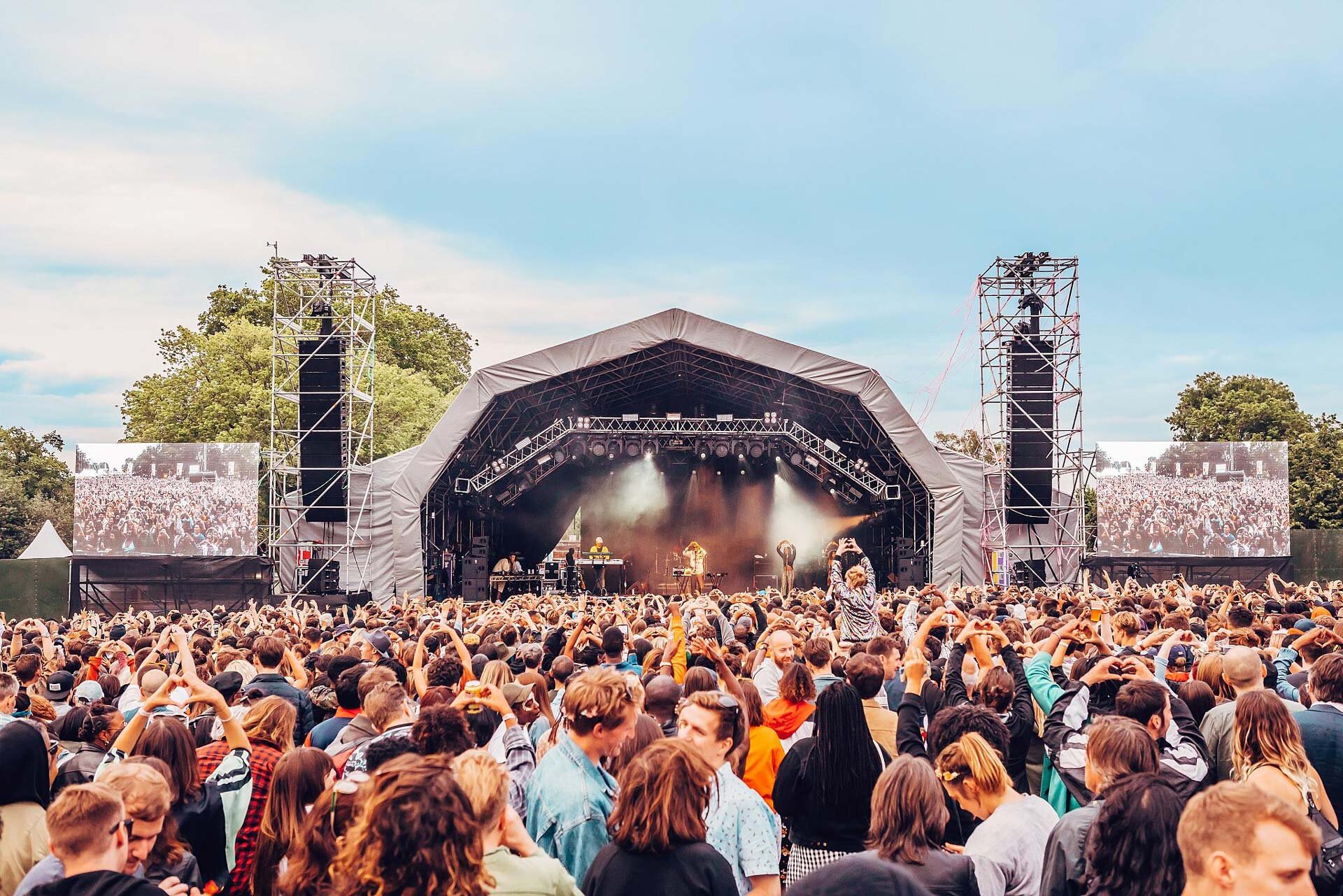 A new festival is heading to London's Brockwell Park.
Project 6 will be bringing a mix of drum n' bass, jungle, grime, hip-hop and electronic music to Brockwell Park in South London.
The festival will house six stages at Brockwell Park with over 100 artists, DJs and collectives, and then continues in venues across London for its evening programme.
The day festival features performances from Fabio & Grooverider and The Outlook Orchestra, Ghetts, Shy FX, Pip Millett, D Double E, Children of Zeus, Ojerime, Mala & Joe Armon Jones and more.
As the night falls, the likes of Village Underground, Fabric, XOYO, Phonox and more will host sessions from Lenzman's label The North Quarters, 23 Degrees, Calibre and more.
The team behind Project 6 said: "We're proud to announce Project 6, a brand new event with a carefully curated line-up that covers a daytime festival and ten nighttime sessions across some of London's best dance floors. Clubs are a vital part of this city's vibrant music scene and we wanted to create a festival where music lovers can enjoy music outdoors in the summer sun, while placing equal focus on the city's treasured club spaces. Project 6 is about community, supporting venues, artists, labels, collectives and bringing people together celebrating the music we love."
Tickets are on sale now. Tickets start at £30.
Check out the full-lineup: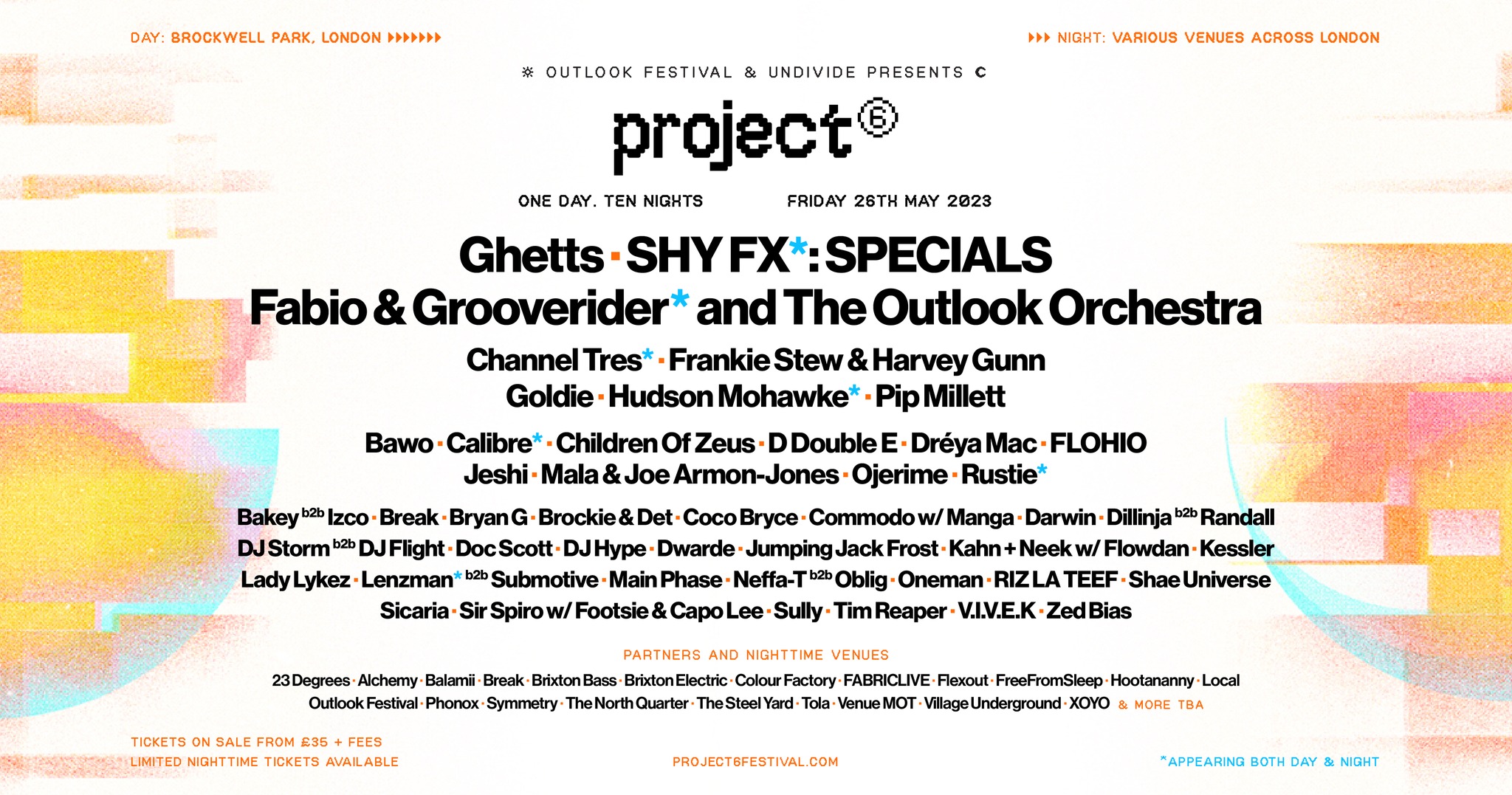 Daytime line-up (listed A-Z): Ama, Amoss, Bailey, Bakey, Bawo, Break, Bredren, Brockie & Det, Bryan Gee, Calibre, Capo Lee, Channel Tres, Charli Brix, Children Of Zeus, Coco Bryce, Collette Warren, Commodo, D Double E, Darwin, Dexta, Dillinja, Diverge, DJ Flight, DJ Hype, DJ Perception, DJ Storm, Djinn, Doc Scott, Dréya Mac, Dwarde, Emerald, Fabio & Grooverider And The Outlook Orchestra, FLOHIO, Flowdan, Footsie, Frankie Stew & Harvey Gunn, Ghetts, Goldie, GQ, Grey Code, Hudson Mohawke, Izco, J Oh Zee, Jeshi, Jumping Jack Frost. Kahn + Neek, Kessler, Lady Lykez, Lady Passion, LaMeduza, LARA, Lenzman, Lex Amor, Loxy, Main Phase, Mala & Joe Armon-Jones, Manga, Medic MC, Neffa-T, Oblig, Ojerime, Oneman, P Money, Phase, Pip Millett, QZB, Randall, RIZ LA TEEF, Rustie, Saiming, SCAR, Shae Universe, SHY FX: SPECIALS, Sicaria, Sir Spyro, Steo, Submotive, Sully, Sweetpea, Tailor Jae, Tim Reaper, V.I.V.E.K, Visionobi, Zed Bias.
Nightime sessions:

Outlook Festival at Brixton Electric
Location: Brixton Electric, SW2
Line-up: SHY FX & more TBA
FABRICLIVE at Fabric, London
Location: Fabric, London, EC1M
Room 1: Curated by Hudson Mohawke
Room 2: Channel Tres and guests
Room 3: Curated by Rustie
Flexout at Steelyard
Location: The Steel Yard, EC4R
Line-up: Fabio & Grooverider, Bredren, Brix ft Bassi, QZB, Amoss, Arkaik, Charlo and more TBA
Calibre & Friends at Venue MOT
Location: Venue MOT, SE14
Line-up: Calibre, V.I.V.E.K & more TBA
23 Degrees at Village Underground
Location: Village Underground, Shoreditch, EC2A
Line-up: Sully b2b Tim Reaper b2b Coco Bryce b2b Dwarde, Main Phase, Decibella, VXRGO
Alchemy at Colour Factory
Location: Colour Factory, Hackney Wick, E9
Line-up: TBA
Balamii at Tola
Location: Tola, Peckham, SE15
Line-up: TBA
The North Quarter at Phonox
Location: Phonox, Brixton, SW9
Line-up: Lenzman & more TBA
Symmetry at XOYO
Location: XOYO, Shoreditch, EC2A
Line-up: Break (all night long)
Brixton Bass at Hootananny
Location: Hootananny, Brixton, SW2
Line-up: Jumping Jack Frost's Birthday: DJ Hype, Bryan Gee, Brockie & Det, DJ Inter, Rufus
MC's: Moose, Finsta, Shabba, Fearless, Ragga Twins, Lady MC