Published on
April 28, 2017
Category
News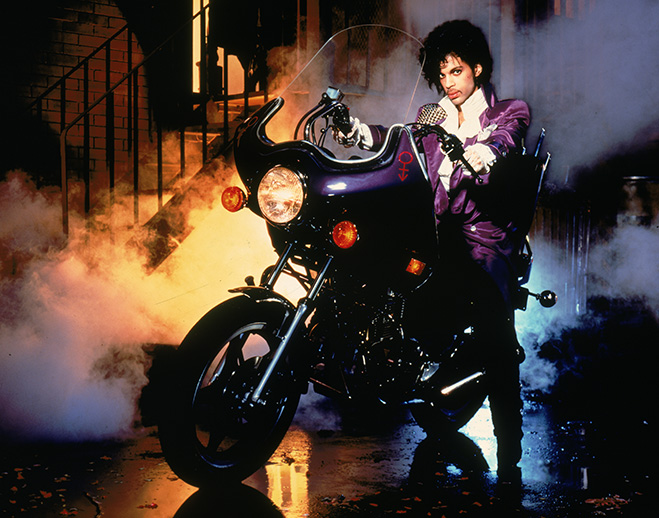 "Never released or distributed in the collector or bootleg community."
Prince's massive Purple Rain vinyl reissue release is set to include a number of previously unheard tracks form the fabled Paisley Park vaults.
Released as both a Deluxe and Deluxe Expanded edition, Rolling Stone reports that the unheard material will include a 1983 solo version of 'Possessed', a studio version of 'Electric Intercourse,' a longer version of 'Father's Song,' which only appeared in snippet-form in the album's film, a full 10-minute version of 'We Can Fuck,' and a finished version of 'Katrina's Paper Dolls,' previously only available in demo form.

The Purple Rain Deluxe release is born from the 2015 Paisley Park remaster of the soundtrack's original tapes and is accompanied by a disc called From the Vault & Unreleased.
You can listen to the studio version of Electric Intercourse now and pre-order the reissues here.
Purple Rain Deluxe Track List
Disc One: Original Album (2015 Paisley Park Remaster)
1. "Let's Go Crazy"2. "Take Me With U"
3. "The Beautiful Ones"
4. "Computer Blue"
5. "Darling Nikki"
6. "When Doves Cry"
7. "I Would Die 4 U"
8. "Baby I'm a Star"
9. "Purple Rain"
Disc Two: From The Vault & Previously Unreleased
1. "The Dance Electric"2. "Love and Sex"
3. "Computer Blue" ("Hallway Speech" version)
4. "Electric Intercourse" (studio)
5. "Our Destiny / Roadhouse Garden"
6. "Possessed" (1983 version)
7. "Wonderful Ass"
8. "Velvet Kitty Cat"
9. "Katrina's Paper Dolls"
10. "We Can Fuck"
11. "Father's Song"
Purple Rain Deluxe ­– Expanded Edition Track List (includes Deluxe discs listed above)
Disc Three: Single Edits & B-Sides
1. "When Doves Cry" (edit)2. "17 Days"
3. "Let's Go Crazy" (edit)
4. "Let's Go Crazy" (Special Dance Mix)
5. "Erotic City"
6. "Erotic City" ("Make Love Not War Erotic City Come Alive")
7. "Purple Rain" (edit)
8. "God"
9. "God" (Love Theme From Purple Rain)
10. "Another Lonely Christmas"
11. "Another Lonely Christmas" (extended version)
12. "I Would Die 4 U" (edit)
13. "I Would Die 4 U" (extended version)
14. "Baby I'm a Star" (edit)
15. "Take Me With U" (edit)
DVD: Prince And The Revolution, Live at the Carrier Dome, Syracuse, NY, March 30, 1985
1. "Let's Go Crazy"2. "Delirious"
3. "1999"
4. "Little Red Corvette"
5. "Take Me With U"
6. "Do Me, Baby"
7. "Irresistible Bitch"
8. "Possessed"
9. "How Come U Don't Call Me Anymore?"
10. "Let's Pretend We're Married"
11. "International Lover"
12. "God"
13. "Computer Blue"
14. "Darling Nikki"
15. "The Beautiful Ones"
16. "When Doves Cry"
17. "I Would Die 4 U"
18. "Baby I'm a Star"
19. "Purple Rain"