Published on
July 24, 2013
Category
News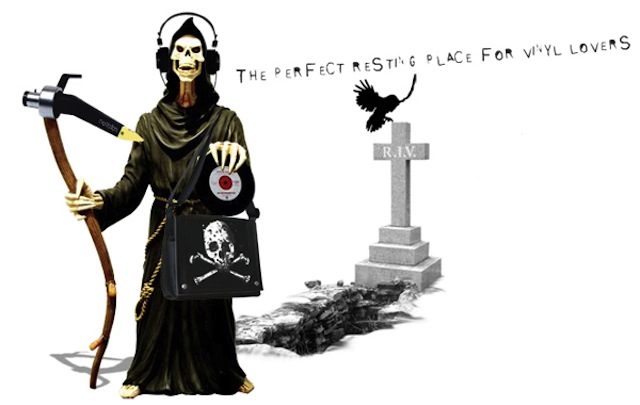 Join your own record collection with And Vinyly's bespoke funeral service.
It may sound like an alternate ending to Spinal Tap, but And Vinyly's puntastic cremation service seems to be the real deal. Offering a range of options for the newly departed vinyl junkie, And Vinyly will not only press you ashes into a record of music of your choice but will have either James Hague of The National Portrait Gallery or street artist Paul Insect paint your portrait for the cover.
While the basic package of up to thirty discs will set you back £3000, And Vinyly also offer a range of light-hearted add-ons, from 'bespook' music to pet pressings. Highlighting the ten easy steps to a "life beyond the groove" (step 6 is "Die"), And Vinyly also go to pains to reassure potential customers that "despite the site's light-hearted tone, all our services are carried out with the utmost respect and care".
Find out more and sign up for the Raveyard here.