Published on
August 2, 2018
Category
News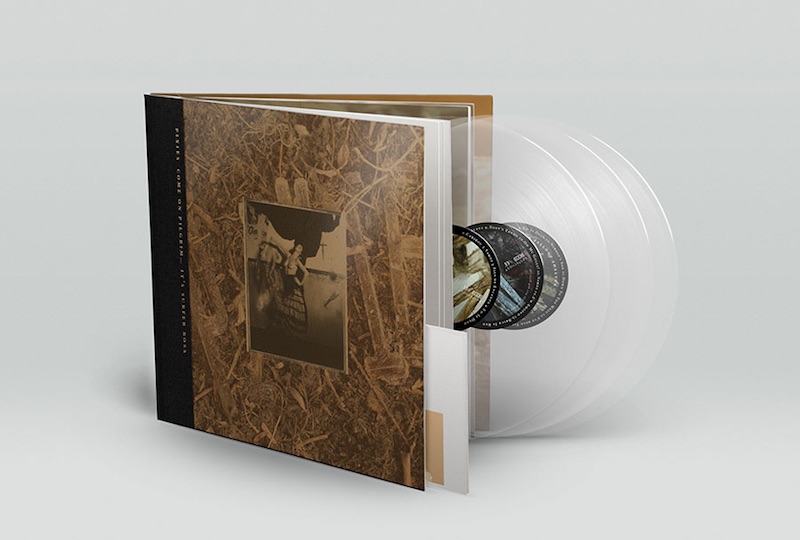 The deluxe edition will be pressed on clear vinyl and bound in a hardback book.
Celebrated by artists ranging from Kurt Cobain to David Bowie, the Pixies changed the course of alternative rock with their violent surrealism and quiet-loud-quiet structure.
Collected for the first time, the reissue will contain the Pixies' 1987 eight track mini-LP, Come on Pilgrim, and their 1988 debut album, Surfer Rosa. It also includes a bonus radio session, Live From The Fallout Shelter, which aired on WJUL-FM in 1986. Vaughan Oliver has returned to reinterpret his original artwork.
The new editions are available for pre-order as both three-CD and three-LP sets. The vinyl edition features a wide spine cover and three gold records, as well as a download card for 'Live From the Fallout Shelter'.
4AD is also releasing a deluxe three-LP set in November. The limited edition will be pressed on clear vinyl, bound in a hardback cover containing a lyric booklet and an art book.
The Pixies have announced five shows at London's Roundhouse, from October 30th to November 3rd. They will perform Come on Pilgrim and Surfer Rosa from start to finish.
Come on Pilgrim … It's Surfer Rosa will be released on September 28th. You can pre-order both editions here.