Published on
February 21, 2017
Category
News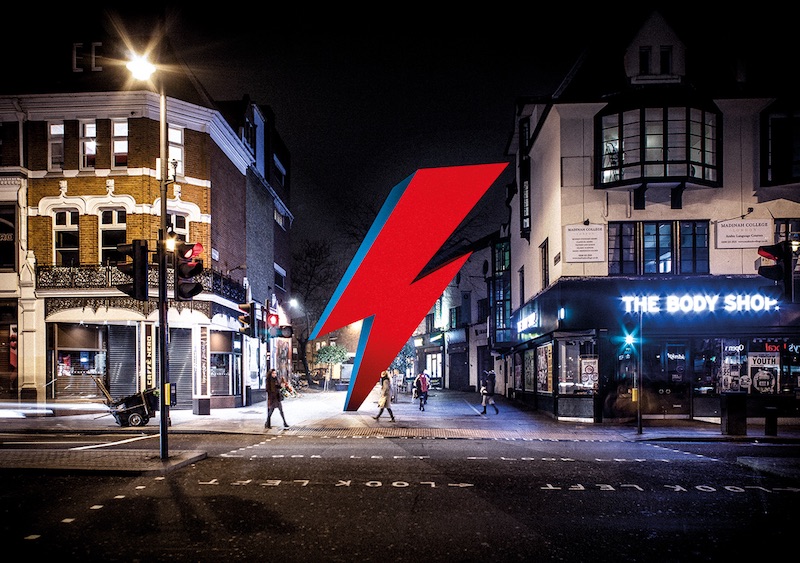 Brixton to honour its favourite son with 9-metre lightning bolt.
A permanent David Bowie memorial is set to be built in the heart of Brixton, the south London neighbourhood in which he was born.
Read next: The art of David Bowie on 7″
Launched via a crowdfunding campaign today (21st February) the planned lightning bolt memorial will take inspiration from Bowie's iconic make-up on the cover of Aladdin Sane and rise nine metres out of the pavement opposite Brixton underground station.
Charlie Waterhouse, of creative agency This Ain't Rock'n'Roll, said: "It's a monument that's at once baffling yet immediately familiar – a reminder that there's always another narrative. Startling, stupid and utterly joyous in equal measure this is a piece of public art that the whole community can be proud of.
"It's totally Brixton, utterly Bowie. Where the Man Who Fell to Earth fell to earth, a heartfelt tribute, from one London character to another."
Located five streets from his place of birth on Stansfield Road and close to Jimmy C's Aladdin Sane mural, the folks behind this "monumental piece of public art" hope to raise £990,000 via a crowd-funding campaign to make the project a reality. Click here to find out more. [via Brixton Blog]