Published on
April 1, 2014
Category
News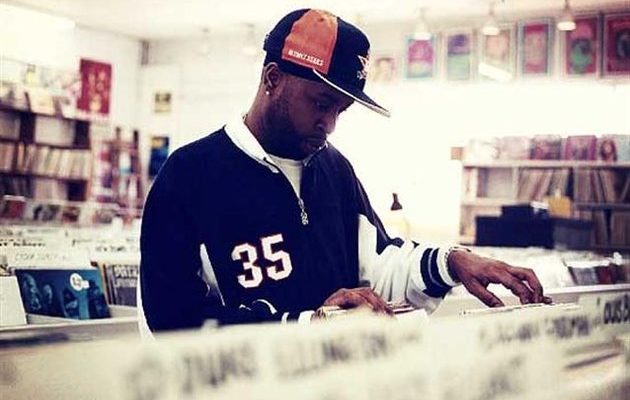 "We pressed up 1000 copies on green vinyl and I sold them ONLY in Japan."
With their new label biopic Our Vinyl Weighs a Ton on a screening tour of the UK this week, Stones Throw head honcho Peanut Butter Wolf has spent more time than most retracing the last eighteen years of business at the forward-looking, avant-garde hip hop label.
In an interview with The Vinyl Factory in which he selects the records that have defined the label over this time, PB Wolf slipped in a lovely little vignette about how he first came to work with the late great beat maker J Dilla, how he first heard his music over the telephone and was eventually invited to press a limited run of just 1000 green vinyl copies that were only sold in Japan. With the originals nigh on impossible to find and a rare repress going for $100 on Discogs, you can read about the origin of this most fruitful of hip hop collaborations below:
I first heard about Dilla before I started Stones Throw. It was 1994 or 1995 and I had just self-released a record of my beats called Peanut Butter Breaks on a label I called "Heyday Records", but I didn't know at the time there was another label with that name.

So the phone number on the record was my pager number with a VM, and a DJ named House Shoes who worked at a record store in Detroit called the number on the record and left a message. I called him back and sent him some records to his store and he started telling me about a guy named Jay Dee who made beats. He'd play me Dilla beats over the phone.

We stayed in touch and one day he told me Q Tip signed Jay Dee to management and that things were starting to take off for him. Eventually, Q Tip showed Dilla's music to every rapper and R&B singer and Dilla would do remixes for them on spec through the major labels and a lot of the times, they wouldn't get chosen because Dilla wasn't a big enough name.

So House Shoes called me and told me he and Dilla wanted to press a vinyl of those remixes and asked if I wanted to get involved. By that point, I was doing Stones Throw and knew how to deal with pressing plants and distributors and that sort of thing. We pressed up 1000 copies on green vinyl and I sold them ONLY in Japan. That was my first project with him. It was around 1997.
Check out Peanut Butter Wolf's interview in full here.