Published on
January 23, 2014
Category
News
George Clinton heads to London "to make history" with direct-to-disc vinyl recording in front of a live audience.
Now here's an opportunity that doesn't come along very often. P-funk grand-daddy George Clinton is opening up to reveal the inner workings of his legendary and amorphous band Parliament-Funkadelic to an intimate audience for a 'weekender' hosted at London's legendary mastering studio Metropolis. As if that wasn't enough, the three day ride around the mind of George Clinton will see the mothership connection starchild and his astral funkateers record a "super limited edition album" direct to vinyl at one of the only UK studios equipped to do so.
A real treat for funk aficionados who can buy tickets with various privileges for the whole weekend over at PledgeMusic, visitors will be given a chance to "sit in on rehearsals and witness how studio magic is made… see how the Metropolis engineers and producers capture lightning on lacquer and get an up-close look at the musical brilliance that marks Parliament-Funkadelic as one of the greatest live bands in history."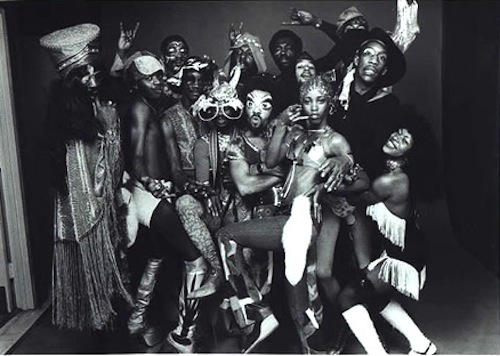 The weekend event is also set to include a live recording of the band powering through some of their most iconic tracks for a forthcoming legacy DVD and a masterclass with George Clinton himself, who will deconstruct the band's original multitracks to reveal a few of their most guarded production secrets.
With Parliament-Funkadelic ready to "land the mothership on Metropolis Studios in London", Metropolis' CEO Ian Brenchley said: "George is a legend and we're delighted that he has decided to make history at Metropolis with the George Clinton weekender. Funkadelic are the perfect outfit for a live vinyl cut and I expect the gig to be crazy!" It's a sentiment that anyone who's ever witnessed their 30-minute "Maggot Brain" jams will doubtless echo.
Nestled amid the rest of the weekend's itinerary, the album recording may well be the trailblazing outfit's first new live material to be released on vinyl for over 15 years, and is slated to be pressed in a limited edition run of just 500 copies, which will also be available through crowd-funding platform PledgeMusic, although the name and tracklist are yet to be announced.
The weekend will take place over the 31st January, 1st and 2nd February at London's Metropolis Studios. Find out more and buy tickets for the event HERE.
A staunch defender of artists' rights and an activist for copyright group Flashlight 2013, George Clinton last year petitioned Barack Obama to "give back the funk" in a bid to secure more protection for the rights of musicians in the United States.