Published on
May 23, 2013
Category
News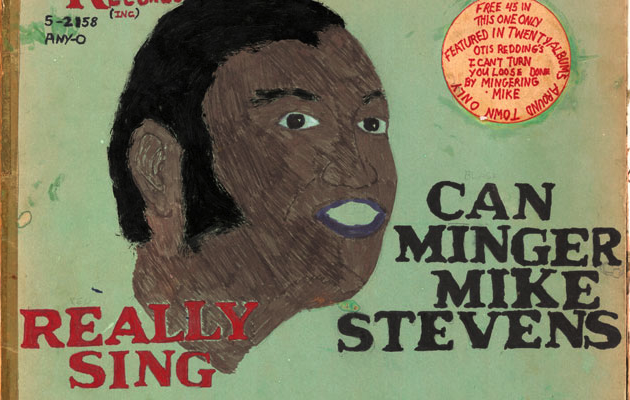 Mike Stevens' extraordinary collection of hand-drawn record sleeves, cardboard 45's, and musical ephemera belonging to his fictional soul superstar and alter-ego Mingering Mike has been acquired by The Smithsonian Institute.
The story is an incredible one. Between 1968 and 1977 singer and soul sensation Mingering Mike recorded over fifty albums and soundtracks, managed thirty-five record labels including the likes of Fake Records, Sex, and Mother Goose, and performed around the world, even taking part in a live benefit concert in aid of Sickle Cell Anemia.
Wonder why you've never heard of him? Until ten years ago, Mingering Mike existed solely in the imagination of a youthful Mike Stevens who, as a lonely teenager growing up in 60's and 70's Washington DC, lived out his dream of becoming a world-famous soul star by creating a fictional discography of hand-painted albums, cardboard records, 45's and soundtracks for his alter-ego Mingering Mike.
Although the music belonging to this fantastical discography never existed, Stevens' recorded a handful of demos and tapes in his bedroom to accompany the intricately crafted gatefold interiors, extensive liner notes, and grooved cardboard records.
As The Smithsonian explain on their website:
The lines between reality and fantasy are fluid in this body of work—commercially produced tapes with Mingering Mike's fabricated labels mingle with tapes and demo records holding his original music; made–up reviews supposedly written by real musicians (such as James Brown) dot the covers, and recordings are stamped with claims of having been made live in D.C. venues such as the Howard Theatre. Comprehensively, the uncanny detail of Mingering Mike's synthetic career powerfully evokes black America in the 1960s and 1970s.
The covers paint a poignant picture of the split between the fantasy of life in the limelight and the stark reality of drugs and disenfranchisement of Civil Rights era Black America.
Having gone missing in the 80's, Mike's fictional discography was discovered by crate-digger Doni Hagar at a flea market in DC in 2003. Fascinated by this haul of unknown, hand-made records, Hagar has since become the manager of Stevens' collection, which has been acquired by The Smithsonian American Art Musuem for a retrospective of over 100 pieces of original Mingering Mike memorabilia planned for the start of 2015. [via Okay Player]
Watch this mini-doc about Mingering Mike:
The show will be Mingering Mike's first solo retrospective, having appeared in the exhibition The Record: Contemporary Art and Vinyl and been featured in a book published by Doni Hagar in 2007. Artist Mike Stevens has chosen to remain largely anonymous in this whole process, although he was photographed covering his face in a recent interview with The Washington Post.
Find out more at The Home of Mingering Mike.
Check out some highlights from Mingering Mike's archive below: