Published on
March 27, 2017
Category
News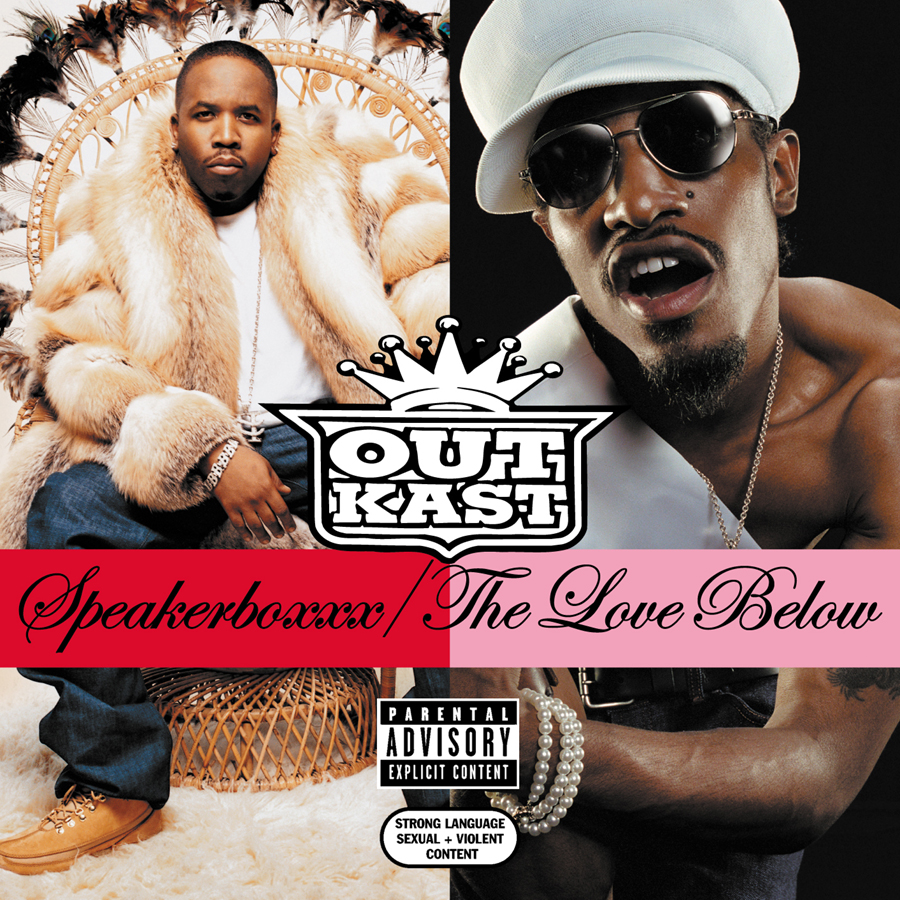 Hey Ya!
Outkast will reissue give their beloved fifth studio album, Speakerboxxx/Love Below, a reissue, according to a listing on www.recordstore.co.uk.
Originally released back in 2003 by LaFace Records, the release is split into two solo albums by the group's members. Big Boi's Speakerboxxx is a P-Funk-influenced 808-driven hip hop album, while André 3000 draws on a range of flavours including psychedelic, pop, funk, electro, and jazz on The Love Below.
"Both albums display the playful experimentation of their two very distinct styles and yet it is still undoubtedly an Outkast album," says the label. Find the tracklist below.
Due on 7 April via Legacy Vinyl, place pre-orders here.
Speakerboxxx
Side A
1 Intro (1:29)
2 GhettoMusick (Club Mix) (3:56)
3 Unhappy (3:19)
4 Bowtie (3:54)
5 The Way You Move (Club Mix) (3:53)
Side B
1. The Rooster (3:57)
2. Bust (3:08)
3. War (2:43)
4. Church (Main) (3:27)
Side C
1. Bamboo (Interlude) (2:11)
2. Tomb Of The Boom (4:44)
3. E-Mac (Interlude) (0:24)
4. Knowing (3:31)
5. Flip Flop Rock (4:35)
Side D
1. Interlude (1:15)
2. Reset (4:35)
3. D-Boi (Interlude) (0:40)
4. Last Call (3:57)
5. Bowtie (Postlude) (0:35)
Love Below
Side A
1. The Love Below (Intro) (1:27)
2. Love Hater (2:49)
3. God (Interlude) (2:20)
4. Happy Valentine's Day (5:23)
5. Spread (3:51)
6. Where Are My Panties (1:54)
Side B
1. Prototype (5:26)
2. She Lives In My Lap (4:27)
3. Hey Ya! (Radio Mix/Club Mix) (3:58)
4. Roses (6:09)
Side C
1. Good Day, Good Sir (1:24)
2. Behold A Lady (4:37)
3. Pink & Blue (5:04)
4. Love In War (3:25)
5. She's Alive (4:06)
Side D
1. Dracula's Wedding (2:32)
2. My Favorite Things (5:12)
3. Take Off Your Cool (2:38)
4. Vibrate (6:33)
5. A Life In The of Benjamin Andre (Incomplete) (5:11)