Published on
January 22, 2019
Category
News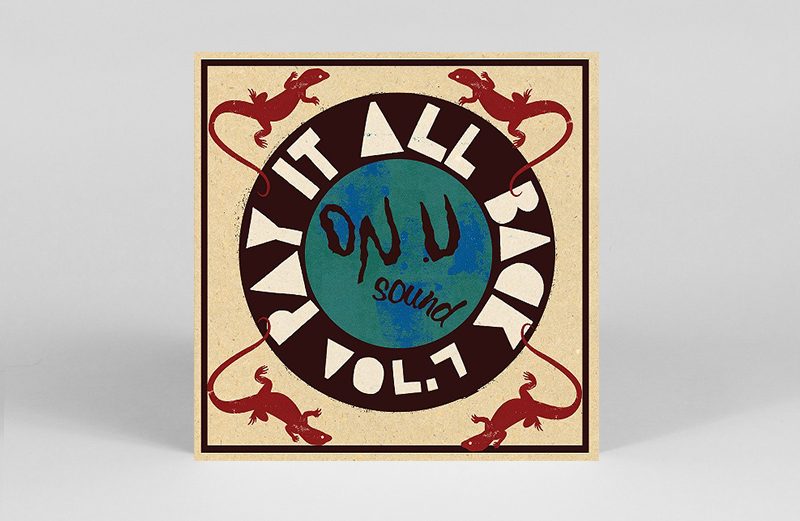 With 15 previously unreleased tracks.
Adrian Sherwood's dub, reggae and bass imprint On-U Sound label is releasing a seventh instalment of its seminal Pay It All Back series, this March.
Read more: An introduction to On-U Sound in 10 records
"The Pay It All Back series started 35 years ago!" Sherwood explains. "These compilations were designed to promote the world of On-U, a 'payback' for the people who supported us and to encourage others to investigate the label's work."
"Pay It All Back features previews of several forthcoming On-U releases, unique mixes, deep cuts, and unreleased tracks from Roots Manuva, Sherwood & Pinch, Lee "Scratch" Perry, Coldcut, Ghetto Priest, Gary Lucas (Captain Beefheart's Magic Band), Mark Stewart, Horace Andy, and Little Axe."
As has become tradition, the tunes are bridged by "special pirate radio style" intro and outro segments.
Its 2xLP edition, which lands 23 years after volume 6 was released, includes an 8-page booklet, as well as a vinyl-only track.
Pay It All Back follows Adrian Sherwood's 2018 collaboration with Jeremy Deller, which saw the pair sampling bat frequencies on their new glow-in-the-dark Freetail Dub EP.
Pre-order a copy of Pay It All Back here ahead of its 29th March release, listen to Sherwood & Pinch's 'One Law For The Rich' and check out the track list below.
Tracklist
Side A
1. Roots Manuva & Doug Wimbish – Spit Bits
2. Sherwood & Pinch (ft. Daddy Freddy & Dubiterian) – One Law For The Rich
3. Horace Andy – Mr Bassie (Play Rub A Dub)
4. Neyssatou & Likkle Mai – War
Side B
1. Lee "Scratch" Perry – African Starship
2. Denise Sherwood – Ghost Heart
3. Higher Authorities – Neptune Version
4. Sherwood & Pinch ft. LSK – Fake Days
5. Congo Natty – UK All Stars In Dub
Side C
1. Mark Stewart – Favour
2. LSK and Adrian Sherwood – The Way Of The World
3. Gary Lucas with Arkell & Hargreaves – Toby's Place
4. Nisennenmondai – A' – Live in Dub (Edit)
Side D
1. African Head Charge – Flim
2. Los Gaiteros de San Jacinto – Fuego de Cumbia / Dub de Sangre Pura (Dub Mix)
3. Little Axe – Deep River (The Payback Mix)
4. Ghetto Priest ft. Junior Delgado & 2 Bad Card – Slave State
5. Coldcut ft. Roots Manuva – Beat Your Chest