Published on
June 13, 2016
Category
News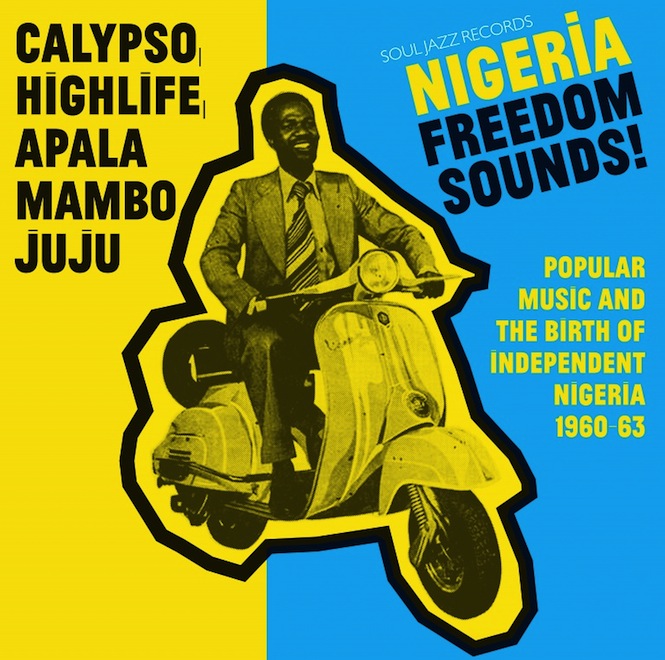 Soul Jazz dig deep with new collection from '60s Nigeria.
Charting the vibrant popular music scene of early '60s Nigeria, Soul Jazz's new compilation Nigeria Freedom Sounds! is the latest collection of music to look back at the country's vastly rich musical heritage.
Read more: How Nigeria rock emerged form the shadows of civil war
Revelling in its newly gained independence from Britain, the young nation saw an explosion of popular music in the years between 1960 and '63 as traditional Nigerian styles like juju and apala coalesced with Ghanaian highlife, Caribbean calypsos and mambo.
Only ever released on 45s, the collection paints a vivd picture of a scene often overshadowed by the stars the country produced in the following years.
And while many of the names featured on the compilation will not be as familiar as The Funkees, Fela Kuti or Orlando Julius, who helped bring the country's music to a worldwide audience in the late '60s and '70s, Soul Jazz have gone to great lengths to put artists like I.K. Dairo and his Blue Spots in context, with full liner notes, photography, biographies and Nigerian independence posters included in the typically complete release.
Nigeria Freedom Sounds! Popular Music and The Birth Of Independent Nigeria 1960-63 will be released on 2xLP vinyl Soul Jazz Records on 17th July.
See the tracklist and listen to Chris Ajilo And His Cubanos' 'Ariwo' from the compilation below:
Tracklist:
1. I.K. Dairo and his Blue Spots – E Ma Mobun Saya
2. Chris Ajilo and his Cubanos – Ariwo
3. I.K. Dairo and his Blue Spots – Aye Wa Kael
4. Charles Iwegbue and his Archibogs – Baby I Tire
5. Haruna Ishola and his Group – Iba Awon Agba
6. E.C. Arinze – Chukwu Fulum Nanya
7. Victor Ola-Iya and his Cool Cats – Cool Cats Invitation
8. Ganiyu Kale and his Guinea Mambo Orchestra – Iyawo-Ile
9. E.C. Arinze – Freedom Highlife
10. I.K. Dairo and his Blue Spots – Bonfo
11. Haruna Ishola and his Group – Owo Ni Fari
12. Apolos Empire Rhythm Orchestra – Cut your Coat According To Your Size
13. E.C. Arinze – Lumumba Calypso
14. Sammy Akpabot and his All Stars – Save For A Rainy Day
15. Ishie Brothers – Onyeoma Rosa
16. Godwin Omobuwa and his Soundmakers – Look, Look, Look
17. E.C. Arinze – Saturday Night
18. J.O. Araba and his Rhythm Blues – Iyawo Ma Pa Mi
19. Godwin Omobuwa and his Soundmakers – You Cheat Me
20. E.C. Arinze – Ozo Emena
21. Tes Dandies Dance Band – Obo Mi Ebe Mi
22. J.O. Araba and his Rhythm Blues – Olowofuja Sawa
23. I.K. Dairo and his Blue Spots – Omo Alara