Published on
September 12, 2016
Category
News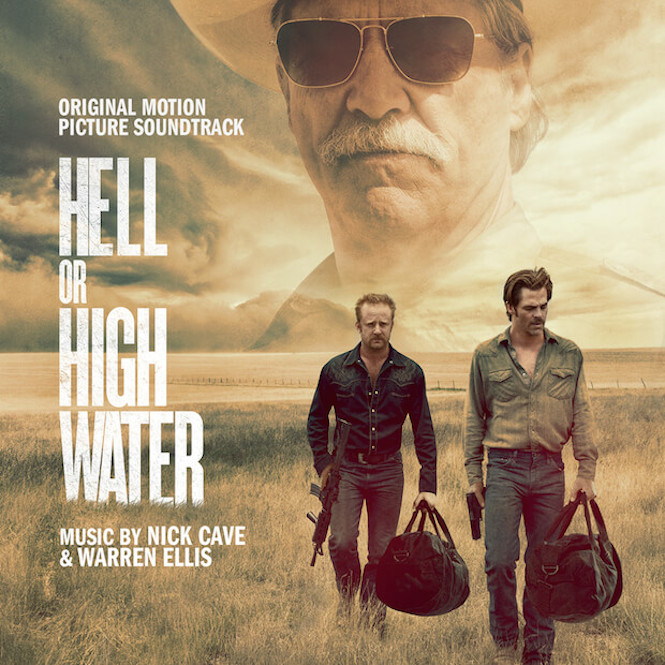 The Jeff Bridges-starring Western.
Nick Cave and his musical partner Warren Ellis' have scored Hell or High Water, a David Mackenzie-directed film starring Jeff Bridges, Chris Pine and Best Foster. The movie hit screens on August 12, same day the soundtrack dropped digitally via Milan Records. Now a vinyl edition has been listed for 9 December.
Hell or High Water is set in West Texas, in an area formerly known as Comancheria, and tells the story of two brothers who plan a bank robbery to save their family farm. The composers' moody and minimalist score fits the dry and arid landscape in which the characters strive to survive. The soundtrack album also includes songs by Waylon Jennings, Townes Van Zandt, Chris Stapleton, and others. Find the tracklist below.
Cave and Ellis have steadily built a reputation for providing outstanding scores for the likes of Lawless and The Assassination of the Jesse James. Last week, Nick Cave released his sixteenth album The Skeleton Tree, along with concert film One More Time With Feeling, which together address the tragedy of his son's passing.
Tracklist
01 Nick Cave and Warren Ellis: "Comancheria"
02 Townes Van Zandt: "Dollar Bill Blues"
03 Nick Cave and Warren Ellis: "Mama's Room"
04 Ray Wylie Hubbard: "Dust of the Chase"
05 Nick Cave and Warren Ellis: "Texas Midlands"
06 Nick Cave and Warren Ellis: "Robbery"
07 Waylon Jennings: "You Ask Me To"
08 Nick Cave and Warren Ellis: "Mountain Lion Mean"
09 Colter Wall: "Sleeping on the Backtop"
10 Nick Cave and Warren Ellis: "From My Cold Dead Hands"
11 Nick Cave and Warren Ellis: "Lord of the Plains"
12 Scott H. Biram: "Blood, Sweat and Murder"
13 Nick Cave and Warren Ellis: "Casino"
14 Nick Cave and Warren Ellis: "Comancheria II"
15 Chris Stapleton: "Outlaw State of Mind"