Published on
November 29, 2018
Category
News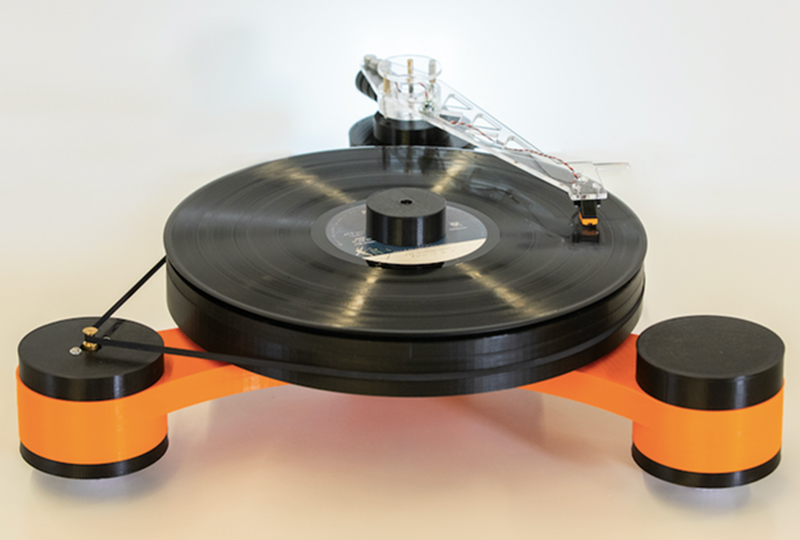 With wireless, solar charging and speaker add-ons.
A new modular turntable you can 3D print at home called the Lenco-MD is crowdfunding on Kickstarter.
The first of its kind aimed at the consumer market, the Lenco-MD was created by By Qeske Community company, and modelled on iconic Lenco turntables.
If you own a 3D printer you can purchase Lenco-MD's customisable designs, or order the modules pre-printed. (The Kickstarter standard module allows for two additional modular attachments.)
Made of a biodegradable thermal plastic called PLA, the Lenco-MD features a tonearm with unipivot bearing, as well as a suspended counterweight design to balance its horizontal tracking angle.
An Audio Technica AT3600 is provided with the turntable, which can be upgraded to an AT95E for an additional €25.
The standard turntable includes a built-in stereo pre-amp, headphone jack, and DC power supply, with a solar charging module available at extra cost.
Lenco-MD is available in seven colour options – white, blue, green, red, yellow, pink, orange – and also features soft golf balls which serve as vibration damping feet.
Modular units include the 'Lenco-MD Solar Module' to power the turntable outside, a 'Lenco-MD Speaker Module', and a 'Lenco-MD Bluetooth Module'.
Head here for more information