Published on
January 24, 2014
Category
News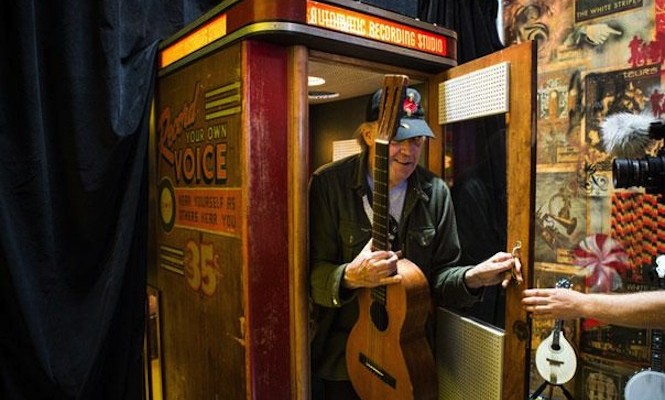 Neil Young describes recording of new album A Letter Home as "one of the lowest-tech experiences I've ever had".
Neil Young is to release his new album A Letter Home on Jack White's Third Man Records, dispelling rumours that the two analogue enthusiasts were recording a joint album. Instead, as Rolling Stone report, the announcement of the new album was made on Young and Third Man's websites and attributed to one "Homer Grosvenor", who had this to say about the forthcoming release. The cryptic message reads:
An unheard collection of rediscovered songs from the past recorded on ancient electro-mechanical technology captures and unleashes the essence of something that could have been gone forever.
Having been spotted emerging from Third Man's 1947 Voice-O-Graph – a pre-pop recording booth which allows customers to record themselves direct to 6″ phonographic disc while-U-wait – in 2013, in which he cut a "mystery" single, it seems logical to suppose that this is the "ancient electro-mechanical technology" referred to.
As Rolling Stone point out, Young's speech earlier this week on accepting the President's Merit Award from the Producers & Engineers Wing also points to the Voice-O-Graph as Young's medium of choice: "There's something that happens with one mic. When everyone sings into one mic, when everybody plays into the same mic: I've just never been able to do that, with some rare instances like when I record in a recording booth from a 1940s state fair. I got that sound by closing myself into a telephone booth. And I notice, it sounds just like an old record. And I like the sound of old records! I've always loved that."
Young's fondness for analogue sound is no secret, what with his high-quality digital audio device the Pono now set to be unleashed at this years SXSW festival in March. He also has a thing or two to say about bootlegs, as documented in this fascinating and hilarious video from 1971.
While Jack White unveiled the 1947 Voice-O-Graph as part of Third Man's lavish Record Store Day celebrations in 2013, he was not the only one to embrace anachronistic recording methods last year, which also saw the first release of a new single on phonograph cylinder in almost 100 years.
You can watch our film from Third Man Records below: