Published on
June 6, 2013
Category
News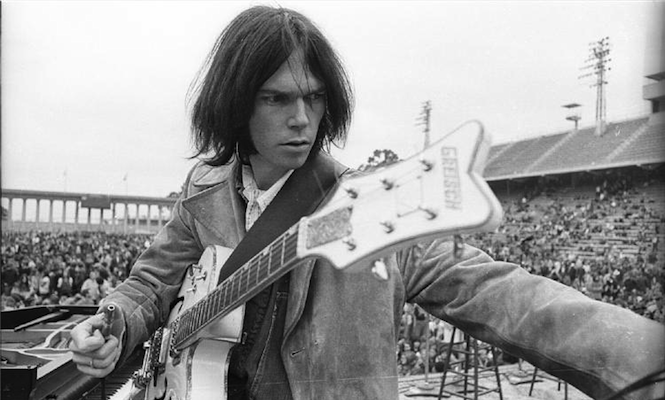 The original secret shopper; record digging with Crosby, Stills, Nash & Young star turns nasty after Young finds a bootlegged live performance on sale in 1971.
Oh the good old days, when musicians could combat individual cases of copyright infringement by simply removing bootlegged records from stores one by one. In this wonderful clip from 1971 which surfaced on Youtube recently, Neil Young takes exception to finding a bootlegged CSN&Y live performance while out searching for the latest Bob Dylan release.
The set-up is almost too good to be true, with The Beatles' Magical Mystery Tour on in the shop creating the perfect soundtrack to the surreal events about to unfold.
Taking matters into his own hands, Young berates the record store guy on grounds of copyright infringement ("What about the artists who made the record?"). Not keen to be drawn on the subject, the clerk plays dumb ("I don't listen to records, so I don't know"), somewhat unnerved by the attentions of this lanky, long-haired dude he clearly doesn't recognise.
Having attempted to steal the record, Young is coaxed back inside where he settles matters over the telephone with the owner, and eventually ends up taking the record with him for nothing anyway.
However, Young does end up leaving some money at the store, making out a cheque to replace the candle he knocks off the counter on the way out.
Watch the exchange, in all its glory, below: